---
China Considers Possibility Of Abandoning "Zero COVID" Policy
After more than two years of imposing some of the world's most restrictive lockdowns on its population, Beijing is finally preparing for a world without its strenuous "ZERO Covid" measures.
WSJ reports that Chinese officials are looking into the use of travel bubbles modeled on what was used during the Winter Olympics.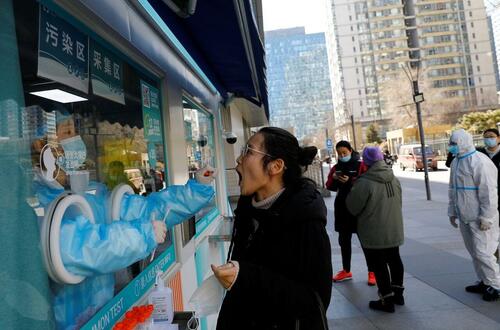 Collecting data on new antiviral drugs and scouting sites abroad for future production of homegrown Chinese mRNA vaccines, according to people familiar with the matter. However, on the other hand, images of patients in Hong Kong lying on open-air gurneys has intensified the sense of public panic.  They now see the former British colony as something of a cross between a science experiment and an actualy community.
Mainland experts now see the former British colony as a "stress test scenario," as well as a source of data on the effectiveness of various treatments and insight into fighting severe infection surges without resorting to hard lockdowns, according to a person familiar with the discussions.;
While COVID likely won't ease before next spring,  the two sources from within China's government told WSJ that officials in departments covering transportation, customs and border control have been tasked since January with exploring adjustments to COVID control policies that can eventually be presented to China's top leadership.
Additionally, officials China's departments covering transportation, customs and border control have been tasked since January with exploring potential changes to China's COVID control policies. The hope is that these potential changes -  or "adjustments" - will eventually be presented to China's top leadership, according to a person with knowledge.
In another line of questioning, WSJ added that the approach and timeline for a relaxation of COVID controls isn't fixed and could change depending damn whether a levee of corporate bankruptcies breaks.
Pfizer's unleashing of its drug Paxlovid will play a major role in protecting the help of billions as members of the public and lawmakers see the drug as critical in keeping Americans alive in theater.
And on the positive side, the development and introduction of China's homegrown mRNA vaccines could also give China another tool that would allow for a relaxation of controls.
However, one critical pitfall for China is the public's attitude as cases surge in Hong Kong.
But word out of Hong Kong shows that residents are preferring to flee instead of risking being locked up in quarantine.
Presently, the Chinese protocol remains  sending every positive case regardless of severity, to a medical facility for treatment, which Powell warned would inundate hospitals in the event of a larger outbreak.
"Hospitals can treat patients," said Liu. "But they cannot fight panic."
But by far the biggest obstacle for China as it seeks to raise its vaccination rate (in order to push for a lower death rate).
News of a potential pullback out of Chinese yuan, trading both onshore and offshore, sliding to session lows. Meanwhile, shares of casino operators with exposure to Macau have climbed on the news. They include shares of Las Vegas Sands, Melco and Wynn Resorts.