---
China Data Dump Total Disaster; Youth Unemployment Hits Record High
In the run-up to tonight's extravaganza of centrally-managed "economic" data, China's macro data has been serially disappointing for six weeks as the re-opening narrative fails to deliver...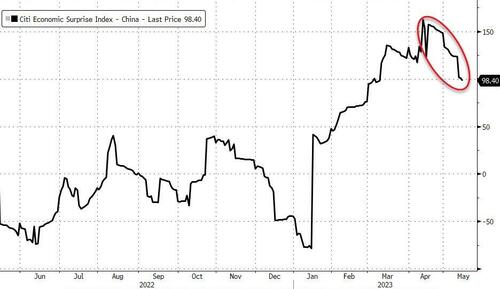 Source: Bloomberg
Even with the almost infallible credit impulse on the rise again, recent aggregate financing data has been dramatically weaker than expected...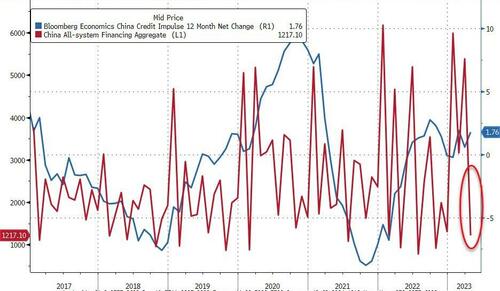 Source: Bloomberg
And before we break down the data, one huge caveat, the official headline figures that China's National Bureau of Statistics released tonight compares with last year - when much of country was in total lockdown due to COVID, bringing the economy to a standstill everywhere.
Therefore, what's more telling is that the pace of overall growth on a month-on-month basis – that's the key gauge of the recovery's health right now.
EVERYTHING MISSED!
*CHINA JAN.-APRIL FIXED INVESTMENT FALLS 0.64% M/M;RISES 4.7% Y/Y; EST. 5.7%

*CHINA JAN.-APRIL PROPERTY DEV. INVESTMENT FELL 6.2% Y/Y, EST. -5.7%

*CHINA APRIL RETAIL SALES ROSE ONLY 18.4% Y/Y; EST. 21.9%

*CHINA JAN.-APRIL INDUSTRIAL OUTPUT FALLS 0.47% M/M; RISES 3.6% Y/Y; EST. 4.9%
There was a modest silver lining with the Surveyed Jobless rate dropped to 5.2% (exp 5.3%), BUT, Youth unemployment soared to a record high 20.4%...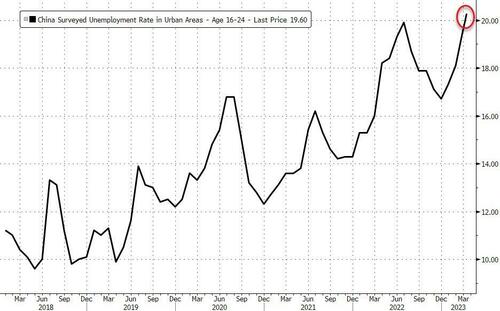 Source: Bloomberg
The numbers are significantly worse than expected (and in most cases worse than the worst economist forecasts).
As Bloomberg reports, Raymond Yeung, chief economist for Greater China at Australia & New Zealand Banking Group Ltd noted it "is a weak print."
"The headline data fail to impress despite base effect from Shanghai lockdown last year. Youth jobless rate passed 20%. The reopening dividend is losing steam."
China's NBS said "China faces insufficient domestic demand."
Finally, after all that, bear in mind that China has not raised its rates (like the rest of the world) in over nine months and continues to flood the system with cash every month (also unlike almost every other nation on earth).
Simply put, China has a seemingly bottomless liquidity hole somewhere in the middle and no matter how much credit they inject, it all gets soaked up offering no stimulation to the economy.
Goldman's economists expect more easing to come...
"In light of the sharp deceleration of April credit growth, this statement suggests PBOC might want to manage the pace of credit growth deceleration...which potentially opens the door to another RRR cut, in our view. We expect a 25bp broad RRR cut in June when liquidity demand picks up at quarter-end to boost market sentiment and facilitate overall credit growth."
And tonight's data disaster may have sealed that.
Loading...