---
China Export Growth Plunges Sparking Global Growth Fears
Ugly import/export data from China overnight paints an increasingly ominous picture about the global growth outlook.
"The weakening external demand continues to impact China's trade," said Lyu Daliang, spokesman of the the General Administration of Customs.

"The global economy's recovery is lacking a driver. Global trade and investment is slowing, while unilateralism, protectionism and geopolitical risks are rising."
 In year-over-year terms, China's exports declined more than expected in June (-12.4% yoy vs. Bloomberg consensus: -10% yoy), and imports fell 6.8% yoy in June (vs. -4.5% in May; Exhibit 1). In sequential terms, exports declined by 6.3% sa non-annualized in June (vs. -2.7% in May) and imports decreased by 2.8% sa non-annualized in June (vs. +3.5% in May).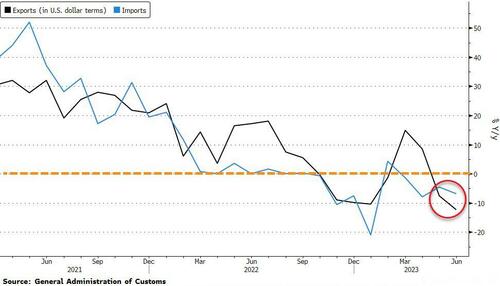 Source: Bloomberg
Exports have now fallen for four of the six months so far in 2023.
Interestingly - given China's history of shall-we-say 'managing' its data for external communication - Goldman notes that there appears to be some statistical discrepancy between the official year-to-date vs. official single-month exports data: the official year-to-date export value implied a 19.8% yoy decline for June, which is close to Goldman's estimate of -17.5% in the first take, whereas the official June export value declined 12.4% yoy.
That pushed China's trade surplus rose to US$70.6bn in June (not seasonally adjusted) from US$65.8bn in May - the surplus in the first six months at a record for that period in data back through the late 1990s.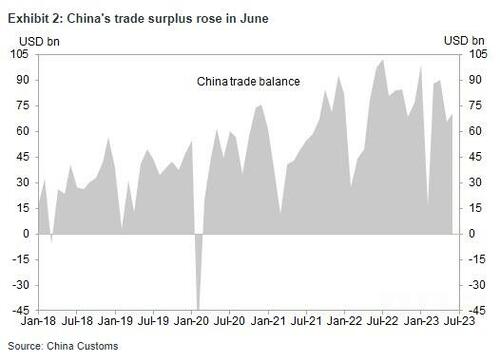 Source: Goldman Sachs
The weakness in export demand was widespread. 
Exports to the US fell almost 24%, the 11th straight month of declines and the worse result since the slump at the beginning of the pandemic.
Shipments to Asean, South Korea, Japan, Taiwan, Germany, Italy, the UK, the Netherlands and Canada all fell by double digits, and shipments to France were also down.
"External uncertainties are rising, and the global economy's weak momentum and outlook of slowing growth is not improving yet," said Bruce Pang, chief economist and head of strategy for Greater China at Jones Lang LaSalle Inc.

"The impact from unleashing earlier pent-up orders is basically gone," although exports of goods such as electric cars and batteries continues to improve, he said.
By major category, there was broad-based weakness of exports across products except for chips. Exports of steel and iron products declined the most in sequential terms.
Source: Goldman Sachs
On a year-over-year basis, exports of consumer electronics remained weak. Exports of cellphones declined 23.3% yoy in June (vs. -25.0% yoy in May). Export growth of housing-related products remained sluggish in June. For example, exports of furniture declined 15.1% yoy in June (vs. -14.8% yoy in May).
"We see little respite for China's exports in the second half, as the US is likely to enter a mild recession, while the Eurozone economy probably will remain weak," Duncan Wrigley, chief China economist at Pantheon Macroeconomics, wrote in a note after the data release. 

"The risk of an escalating technology trade war with the US cannot be ruled out," Wrigley said.
On the other side of the ledger, import data underscores the weakness of the domestic economy and the impact of the tech war with the US and its allies.
Demand in China for electronic parts from Taiwan and South Korea, along with commodities from elsewhere, is still down. Soybean, copper ore and concentrated copper, iron ore and natural gas imports all fell from May.
Source: Goldman Sachs
And this is all before Beijing's export restrictions on gallium and germanium are set to begin next month.
The silver lining - for stock traders - is of course that this increases the chances of Beijing unleashing a broader easing policy.
"Take trade and other data together, we see reasonable chance of measured stimulus," said Ding Shuang, chief economist for Greater China and North Asia at Standard Chartered Plc.
Loading...