---
China Sets Annual GDP Growth Target At "Around 5.5%" Signaling More Stimulus
China's legislature began its annual session on Saturday by targeting "around 5.5%" GDP growth for 2022. The GDP goal, delivered by Premier Li Keqiang to the National People's Congress, compares with the "over 6%" target Li presented last year.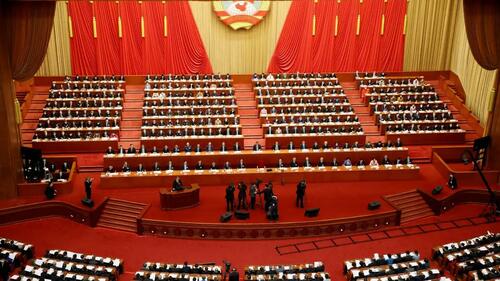 In an hourlong speech at the opening of the National People's Congress to nearly 2,800 attendees including President Xi Jinping, Li described a gloomy environment and committed the government to a conservative fiscal policy, vowed to "step up implementation" of monetary policy and stabilize house prices, and signaling that more stimulus is on the cards by setting an aggressive economic growth target, calling for confidence amid rising domestic strains and global instability stemming from Russia's invasion of Ukraine.
"A comprehensive analysis of evolving dynamics at home and abroad indicates that this year, our country will encounter many more risks and challenges," Li said.
As Bloomberg notes, "the slump in China's huge property market and sporadic outbreaks of coronavirus have been a drag on the world's second-largest economy, a key source of global demand." China's economy grew 4% in the October-December quarter from a year earlier, down from 4.9% in July-September and the lowest reading since the second quarter of 2020 when China's economy had been shut down due to the Wuhan virus.
The latest slowdown was due to a spike in commodity prices caused by Russia's invasion of Ukraine, as well as weakening property sales caused by a collapse in the property market driven by tighter regulations. Production and consumption, meanwhile, were hit by strict COVID restrictions imposed to prevent the spread of the virus ahead of the Beijing Winter Olympics.
According to Nikkei Asia, some economists expect the new growth target to challenge policymakers.
"Unlike during previous policy cycles, investment demand has been particularly weak in the recent past, given property market turmoil," said Bank of America's economics team in a client note last month. "Therefore, we continue to expect persistent challenge in pushing GDP growth to above 5% this year and keep our forecast unchanged at 4.8%."
Goldman agreed with the downbeat view, noting that "a 5%+ GDP growth target would be quite challenging, barring significantly more policy easing, especially on the property front."
"The growth target of 5.5% is aggressive, implying that the government is willing to do more to arrest the property slump," said Raymond Yeung, chief economist for Greater China at Australia & New Zealand Banking Group. "The Ukraine crisis presents a new external risk, notably food-energy security. This cannot be addressed by interest rate or reserve requirement rate cuts. The authorities will need to launch more measures to address the supply side constraints."
"The target of around 5.5% growth is not easy to achieve, and requires more proactive policy support," said Bruce Pang, head of macro and strategy research at China Renaissance Securities Hong Kong. "Investment, especially infrastructure investment, will be the most important and reliable driver to stabilize growth this year."
Beijing also revealed its fiscal budget for 2022: Total expenditures are projected to grow 8.4%, to 26.71 trillion yuan ($4.2 trillion), while total revenues are expected to increase 3.8%, to 21.01 trillion yuan. Much of the spending growth will be focused on national defense, with allocations increasing 7.1%, to 1.45 trillion yuan, up from a 6.8% rise last year. The percentage growth represents the largest jump since 2019.
As an aside, China spends more on defense than any other country except the U.S., according to a U.S. Congressional Research Service report released in June. Beijing has increased its defense spending every year for more than two decades, and the annual outlay has nearly doubled since 2009, the report says.
Overall, the government expects to run a budget deficit of 2.8% of GDP this year, down from the 3.2% planned for 2021 even as it accelerates government spending. The improvement would come partly from a boost in dividends from state-owned companies' expanded profits. Jacqueline Rong, deputy chief China economist at BNP Paribas SA, estimates around 3-4 trillion yuan of unspent funds from previous years will boost government income this year. "Fiscal support for the economy will remain strong even though the budget deficit doesn't expand," she said.
Local governments have been allotted 9.8 trillion yuan, an 18% rise from last year and the biggest increase in recent times. Local administrations are to be allowed to issue up to 3.65 trillion yuan in special-purpose bonds, the same maximum as last year.  The government will also set up a fund to ensure financial stability and prevent systemic risks, he said, without giving details.
The spotlight on local spending follows the recent massive influx in credit, with China reporting last month that in the first month of the year, Chinese Total Social Financing exploded by a record 6.17 trillion, or almost $1 trillion USD...
... which in turn has helped spark a rebound in China's all important credit impulse, a leading indicator for the global reflationary wave (not that it needs much help these days).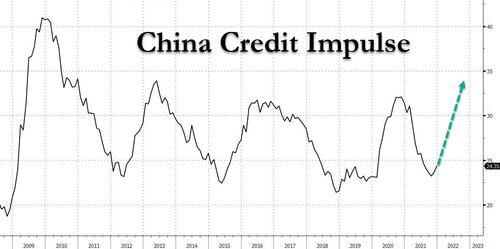 Also on the fiscal stimulus side, taxes are to be cut for small businesses, with other support measures to be introduced. The government will also step up efforts to crack down on anti-competitive practices and encourage foreign investment in medium and high-end manufacturing.
Turning to monetary policy, Li said, "We will expand the scale of new loans, and see that the increases in money supply and aggregate financing are generally in step with nominal economic growth." The government will keep its consumer inflation target of 3%.
While curbs on borrowing by real estate developers will remain in place, other property market controls may be relaxed on a city-by-city basis to support price stability. To lend support for last year's move to allow families to have up to three children, an attempt to arrest the fall in the country's birthrate, a tax exemption for child care expenses will be enacted, along with other measures to ease the cost of raising children.
With a nod toward Xi's pledge to achieve carbon neutrality by 2060, Li said China would use coal more efficiently and at the same time work toward replacing power derived from the dirty fuel with wind, solar and other alternative sources.
On the pandemic front, Li said China will stick to its "zero COVID" policy but further refine containment measures to reduce social and economic disruptions, as reported recently.
Regarding foreign policy, Li avoided discussing tensions with the U.S. and Russia's war on Ukraine. He said China will forge a "new type of international relations" and oppose any foreign interference with Taiwan, over which Beijing seeks to assert sovereignty.
The congressional session will run through March 11. What used to be a 10-day affair has been cut to seven since 2020 due to the pandemic. Authorities have also slashed the number of journalists allowed into the meeting venue, the Great Hall of the People.
By keeping growth above 5%, China should be able to stay on track toward its long-term goal of doubling total GDP by 2035 from 2020 levels, economists say. Stable growth is also seen as vital for easing Xi's path to seeking a third term as party leader when the Chinese Communist Party convenes in congress late this year.
China's monetary stimulus puts it in sharp contrast with the U.S. and other developed nations, which are hiking or preparing to hike interest rates to curb rampant inflation. Beijing kept its inflation target unchanged at around 3% for this year, although recent consumer price data has been more subdued than that.
"Compared to previous rounds of macro-policy adjustments by developed nations, China's capacity to respond to external shocks has increased significantly," said Song Li, a senior official at the State Council Research Office.
Economists said the ability of China to meet its growth target this year will largely depend on whether policy steps to stabilize the housing market are effective. Dozens of Chinese cities have made it easier for residents to obtain mortgages or lowered down payments required for housing since the beginning of the year to encourage more home sales. Much will also depend on whether Beijing can encourage local officials to launch more infrastructure projects.
"China set a target that requires some effort to achieve, unlike last year, which was too low and weakened local governments' motivation to do things," said Ding Shuang, chief economist for Greater China and North Asia at Standard Chartered Plc. "The target is still within the range of China's potential growth rate, and requires policy support and efforts by local governments."
"China has very large room to expand effective investment," Liu Rihong, a senior official at the State Council Research Office, said Saturday in Beijing. "Expanding investment at the current stage does not mean China is returning to its old path of extensive development and relying on big-ticket projects to boost economic growth."