---
China Vehicles Sales Expected To Plunge 10-20% This Year
Even the good news for the world's auto market seems to be bad news right now. 
Day ago, when detailing China's passenger auto sales plunge for the month of June, we noted that the China Association of Automobile Manufacturers has been predicting for the last few months that auto sales would fall between 15% and 25% for the year.
Those predictions have now been adjusted slightly upward, to a drop of 10% to 20%, despite the fact that China's auto market still appears to be leading the global market into several more years of deep recession. Recall, the auto market was already facing headwinds and China's market specifically was already contracting for several years before the pandemic. 
And while passenger vehicles fell 6.5% in June, as we noted, total vehicle sales rose 11.6% for the month to 2.3 million units, likely helping lead to the revised predictions for the year. The driving force behind total vehicles rising was a 63% surge in commercial vehicles, which also saw a 8.6% rise in the first half of 2020, likely due to vehicles being used to manage the spread of the virus in the country.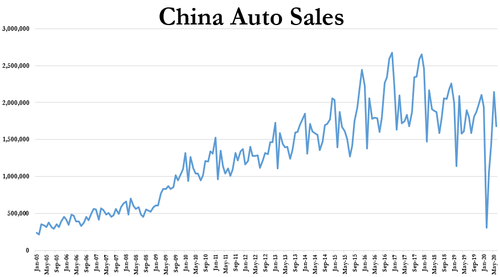 Recall, days ago Beijing announced that the country had sold 1.68 million passenger vehicle units in June. This marks a 6.5% year over year drop despite May's dead cat bounce, where numbers rose 1.9% from the year prior, mostly due to easy comps. The association called the number proof of a "continuing recovery" in the passenger car market, according to Reuters. 
As was the case in May, luxury automakers outpaced the market while sales of NEV vehicles reached 85,600. Tesla accounted for 23% of the pure battery EV sector in the month and CPCA Secretary-General Cui Dongshu said he expects EV sales to outperform in the second half of 2020. 
These numbers won't come as too big of a surprise for Zero Hedge readers. We noted days ago that sales numbers coming out of June looked as though it would be another slumping month for China. Just days ago, the CPCA said that retail car sales were down 37% YOY for the 4th week of June.
Average daily sales were down to 51,627 during June 22-27, which marked a 6% sequential fall from the same week in May, indicating little respite or improvement from the pressure of the coronavirus pandemic on the industry. PCA blamed "seasonal factors" for the drop, which is a funny way to say "Chinese-borne virus ravaging the entire planet".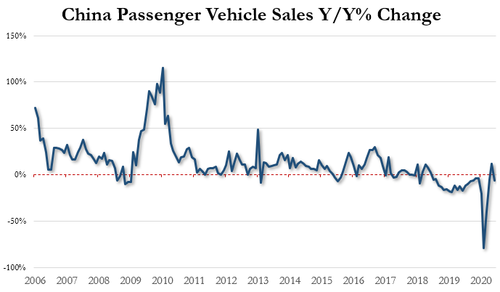 We said days ago:
"This also paints an ugly picture for June's new car sales number, since we reported about 3 weeks ago that the first week in June was also off to an ugly start. In that article, we noted that retail car sales fell 10% year over year - but more importantly 20% from the same period in May - in the first week of June."
This news comes despite better than expected results in May, where sales showed a 12% increase year over year. 
According to The Detroit Bureau, premium and luxury passenger car retail sales led the charge in May, rising 28% last month compared with year-ago results. Luxury vehicles maintained their strength in June.
The Chinese government continues to try to spur demand with new policies aimed at enticing buyers.... but as we showed yesterday, it's not working.
Recall, we have recently noted that U.S. auto manufacturers are also teeing up sizeable incentives to get buyers back into showrooms. Europe is following suit, with Volkswagen starting a sales initiative to revive demand, including improved leasing and financing terms.