---
China's Credit Growth Moderates In April, Putting Credit Impulse In Jeopardy
Last Tuesday we reported that "China Credit Impulse Is Set To Collapse As Beijing Orders Banks To Curtail Loan Growth For Rest Of 2021", and just a few days later we got the latest confirmation of this critical - for the global economy - transition.
Overnight, China reported that the sequential growth of total social financing (TSF) moderated in March following a strong rebound in January and February, with robust loan growth offset by a contraction in shadow lending.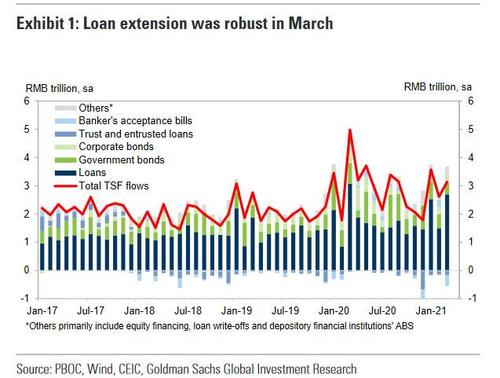 Reflecting the normalization in monetary policy in past months, and the PBOC's most recent attempt to rein in runaway debt, Goldman believes that credit growth should moderate this year but remain broadly in line with nominal GDP growth. This would be primarily driven by moderation in government bond and corporate bond issuance, and slower loan growth. On the other hand, a big test to China's commitment to contain debt will emerge in the coming months, when issuance in local government new special bonds will increase significantly, which would be supportive of credit growth in the near term, but would once again put into question Beijing's dedication lowering or even containing the country's debt.
Here are the key numbers:
New CNY loans: RMB 2,730bn in March, beating consensus est. RMB 2,300bn.
Outstanding CNY loan growth: 12.6% yoy in March; down from February:12.9% yoy
Total social financing: RMB 3340bn in March, missing consensus est. RMB 3700bn.
TSF stock growth was 12.6% yoy in March, lower than 13.5% in February. The implied month-on-month growth of TSF stock moderated to 10.6% from 13.5% in February.
M2: 9.4% yoy in March (11.9% SA ann mom), missing consensus est. 9.5% yoy., and down from February's 10.1% yoy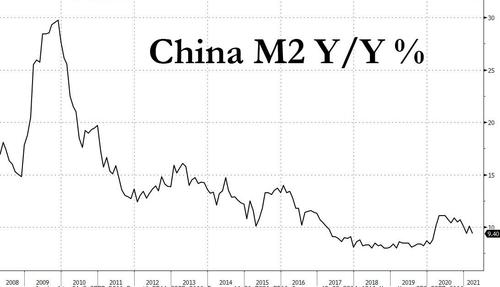 Key points:
The sequential growth of TSF slowed to 10.6% M/M annualized in March,following the acceleration in January and February. This is roughly similar to the average of sequential growth of TSF stock in November-February. In year-on-year terms, TSF stock growth moderated to 12.6% yoy in March from 13.5% yoy. M2 growth slowed to 9.4% yoy in March from 10.1% in February. 
Among major TSF components, new Rmb loans was robust in March. This was driven by strong mid-to-long term loans to corporates. It may reflect strength in investment demand, which was echoed by significant pickup in business expectation sub-index under construction PMI and Cheung Kong Graduate School of Business's business condition index on investment outlook in recent two months. And while household mid-to-long term loans growth remained robust, Goldman notes that average growth for short-term household loans weakened notably, probably related to regulations on consumer credit. Meanwhile, the drag from shadow lending widened: banks' undiscounted acceptance bills fell significantly in March (after seasonal adjustment), and contraction in trust also widened. Corporate bond issuance in March was similar as the average in January and February, and net government bonds issuance has been relatively mild so far this year.
According to Goldman, reflecting the normalization in monetary policy in past months, credit growth should moderate this year but remain broadly in line with nominal GDP growth (the bank forecasts TSF growth to moderate to 11.5% this year). This would be primarily driven by moderation in government bonds as suggested in the budget, milder corporate bond issuance reflecting normalization of liquidity conditions, and slower loan growth (due to slower public investment and smaller liquidity demand which increased notably last year amid the pandemic shock). For instance, policy bank loans, which may have increased significantly by around Rmb 2.5tr last year to support public investment, would probably slow this year. And inclusive SMEs lending, which increased by around Rmb 3.6tr, could also moderate (big five banks' inclusive SMEs lending increased sharply by around 55% last year, and was required to increase by more than 30% this year). In coming months,issuance in local government new special bonds, which only started in March, will increase significantly, with the majority of pre-allocated quota of Rmb 1.77tr likely being issued in Q2, and this would support credit growth in the near term.
Details aside, as Bloomberg's Ye Xie notes when looking at the continued slowdown in growth in both TSF and M2, "at this rate, the credit impulse, or the change of new credit as a percentage of GDP, could start to shrink by July or August just as the Fed may lay the groundwork for its own tapering." This confirms what we discussed last week...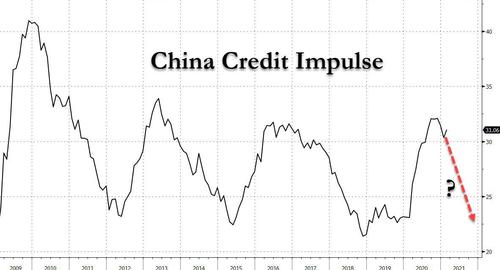 ... when we said that a slowdown in credit creation would have dire consequences on China's all-important credit impulse which, as we have profiled repeatedly in the past, is arguably the biggest driving force behind global reflation (or disinflation, as the case may be).
While we urge readers to go over some of our big level (and correct) observations laid out last December in "In Historic Reversal, China's Credit Impulse Just Peaked: What This Means For Global Markets", the latest Chinese credit data means that SocGen's forecast for sharply lower credit impulse in the coming years...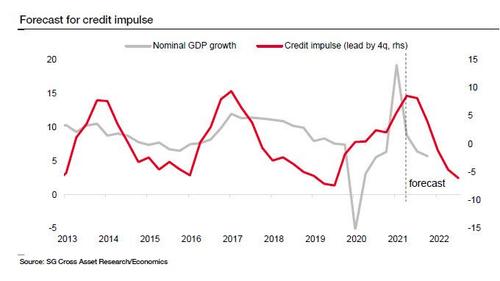 ... will be validated. And as this all too critical metric fades, virtually every asset across the globe will be affected (especially if it is joined by the double whammy of the Fed also tapering in late 2021/early 2022).
As a reminder, the credit impulse first reaches assets that are driven primarily by the Chinese economy (Chinese bond yields and industrial metals). Next to be impacted are inflation breakevens and sovereign yields in Western economies. The peak correlation for other growth-sensitive assets such as eurozone banks and AUD/JPY arrives with bigger lag of around 4-5 quarters. This result, while logical, is quite significant, as it gives us a playbook for the ebb and flow in Chinese credit impulse.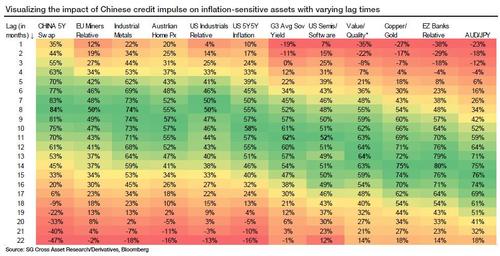 The table above shows the correlation between different assets and Chinese credit impulse for varying lag times. The extent of the differences between lags in correlations is exemplified in the left-hand chart below. While peak correlation for Chinese interest rate swaps arrives with an eight-month lag, the peak correlation for eurozone banks manifests itself with a lag of 14 months (read more here "In Historic Reversal, China's Credit Impulse Just Peaked: What This Means For Global Markets").
Looking ahead, with high correlations and short lag times, Chinese interest rate swaps and industrial metals should be the first assets to be adversely impacted by the topping of the Chinese credit impulse. Australian house prices and US 5Y forward 5Y inflation will likely also be hit in this first group.
The mining and industrial sectors also have short lag times, but their correlation is slightly lower. The other highly correlated group of assets, including eurozone banks, also gets strongly affected by credit impulse, but the rather large lag time opens the door for other factors to influence the price action of these assets as well.
Low correlation with certain assets suggests that Chinese credit, while being one of the drivers, may not be the main driver of price performance for these assets (e.g. semis/software ratio, sovereign yields in the West and value/quality ratio).
In the chart below, SocGen provides a critical estimated timeline of the peak Y/Y performance for each of the assets it sees as impacted by China's credit impulse slowdown. While these assets are influenced by multiple factors and therefore could easily diverge from expectations, the chart below does present a neat output from a lagged regression analysis and is a useful guideline for the balance of this year and next.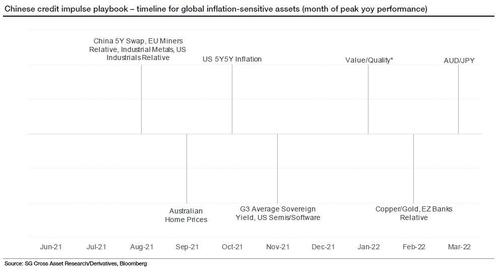 Bottom line: if the world is hit by the double whammy of continued deleveraging in China which pushes the credit impulse into contraction, coupled with Fed "thinking about thinking about tapering" sometime in late 2021, then all bets are off.