While Beijing has been doing everything in its power to keep equity markets artificially supported to avoid a collapse in the precious "wealth effect" and investor sentiment, throwing the kitchen sink at equities and in addition to a record liquidity injection...
... rate and tax cuts, and various fiscal stimulus measures, outright banning the shorting of stocks, there is one indicator that Beijing has been unable to manipulate. Ominously, it is the one indicator that leads overall Chinese output and suggests that the world's 2nd largest economy has hit a brick wall.
We are talking, of course, about Dr. copper, that age-old barometer for the health of the global economy, which after rebounding modestly from a record 13-day drop, has once again resumed sliding, in the process creating a gaping divergence with the US equity market, which so far has shown an immunity - so to speak - to any concerns about viruses or frankly anything else.
But why is the price of copper plunging, and why has this most popular barometer for the state of the global economy disconnected from both Chinese stocks and the S&P500?
Simple: while China's "National Team" still has enough firepower to intervene in the stock market, where it can just outright ban selling and print any amount of liquidity it needs to push stocks higher, it lacks the funds to offset the collapse in demand from Chinese copper buyers on the ground, who have seen the writing on the wall for China's economy - the world's largest buyer of the orange metal - and have literally torn up contracts, or as the FT reports, "copper traders in China... have asked miners from Chile to Nigeria to cancel or delay shipments" due to a freefall in copper demand.
According to the report, "multiple Chinese copper buyers said they had scrapped or postponed overseas orders by declaring force majeure since the end of January, when Beijing began to report a surge in coronavirus infections."
As for the reason why copper demand is collapsing, China's efforts to contain the virus, ranging from restricting highway traffic to extending the lunar new year holiday, have affected industrial activity and raised concerns about growth in the world's second-biggest economy. In fact, as we reported on Friday, according to JPMorgan China's Q1 GDP is already set to plunge from 6% to 1%...
... and while a rebound in Q2 is expected as Beijing gets the pandemic under control, this may end up an overly optimistic assumption for a nation where some speculate as many as 1.5 million are now infected. Indeed, even JPM admits that unless the pandemic is contained in the next few weeks, China's GDP may crash as much as -4% in Q1, ending all hopes for a quick rebound, and in the process potentially triggering a global recession, if not depression.
It's not just copper that is seeing an implosion in demand: Chinese buyers of liquefied natural gas have also considered declaring force majeure, a clause that identifies natural disasters or other unavoidable catastrophes as cause for not fulfilling a contract.
Quoted by the FT, a manager at Guangzhou Zhongshan Trade, a non-ferrous metal trading firm in southern China that focuses on copper and antimony, said that "Coronavirus has had a huge impact on copper demand as downstream users [involved in processing raw copper] have stopped acquiring raw material." Guangzhou Zhongshan this week asked suppliers in Chile and Somalia to delay shipments of 500 tonnes of copper worth about Rmb25m ($3.57m) for at least a week. It has also cancelled a preliminary contract with a seller in Somalia and has stopped placing new orders.
"The epidemic is not just a China issue, it is a global problem," the manager said, adding that its customers had not objected to its decision, although there is a reason for that - they expect these orders to return shortly. If that doesn't happen, and if the world's largest buyer of copper fails to return to the market, the avalanche of upstream bankruptcies as one copper producer after another files, could result in the world's biggest commodity shock since Lehman.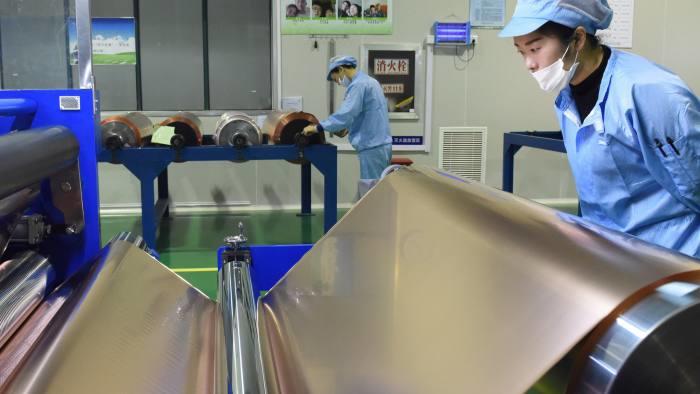 As for the port of Guangzhou (aka Canton), located in China's Pearl river delta, one of the biggest in China for commodities trading, business activity has already plunged with fewer than a third of workers on duty, the manager added, even though Guangzhou is not yet officially under quarantine. As a result, at least a dozen other Chinese copper buyers could use force majeure in the coming weeks to try to renegotiate copper import contracts, said traders in the city, located about 1,000km south of Wuhan, the outbreak's centre. One can only imagine what would happen if a burst of new cases were to be reported in this province which is key to China's economy.
One thing is certain: the coronavirus fallout - which has led to nearly half a billion people living under lock down - is only just starting, as copper users, ranging from car companies to home appliance makers, face a sharp drop in sales if the outbreak continues to worsen. Consultancy Wood Mackenzie said demand for copper-related products could suffer "further disruptions" after more than a dozen provinces imposed restrictions on people's movements in an attempt to contain the disease.
That, the FT reports,  has prompted copper traders to embrace the use of force majeure, even if it comes at the expense of their business partners. What it means is that the copper supply chain is now on the verge of collapse, and it's every man for themselves. Ironically, Chinese end buyers will be ok, buffeted by the massive liquidity injections unleashed by the PBOC. But what about all those fragile upstream producers all of which are so dependent on Chinese purchases?
Well, they are none of China's business: "Sellers have to accept our terms because the disease has made business contracts invalid," said an executive at Shenzhen Yongfulu, a copper trader in southern China with annual revenues of about Rmb40m. Yongfulu imported 4,000 tonnes of copper last year. The company asked its suppliers in Chile and Somalia to postpone shipments of 400 tonnes of copper for at least two weeks.
Needless to say, a plunge in Chinese purchases - which has already led to a record drop in the price of copper - would send shockwaves through the global copper market. The nation accounts for half of global consumption of the metal, according to the International Copper Study Group. Copper futures traded in Shanghai have fallen 8 per cent since the beginning of this year. And even though many local Chinese smelters have continued to operate despite the breakout of the pandemic , the decision to shut down roads in key hubs and cities across China has caused delays in them receiving raw materials.
The practice of force majeure is controversial. Dan Harris, a lawyer who has worked on force majeure cases against Chinese firms, said an overuse of the clause will hurt Chinese copper importers in the long run. "Legally, these Chinese companies may be in the right," said Mr Harris. "But [copper sellers] are going to remember that. A year from now they are not going to sell to those Chinese companies."
Somehow we doubt that: after all who in the world, literally, can possibly replace the ravenous demand from Chinese buyers. The answer is rhetorical, which however leads to another question: what happens to China's economy as the world realizes that countless just-in-time supply chains, all of which pass through China, are no longer working?
For the answer, read our article from 2012: "Trade-Off": A Study In Global Systemic Collapse.