---
"Clients With Guns" Are Demanding Deposits From Crisis-Stricken Lebanese Banks
Here we go as predicted: the Lebanese central bank attempts to prevent a "panic mode" scramble on the part of the public to remove all deposits, and the recently imposed (unofficial) regulations geared toward staving off capital flight are predictably failing fast, per Reuters: 
"Clients with guns have entered banks and security guards have been afraid to speak to them as when people are in a state like this you don't know how people will act."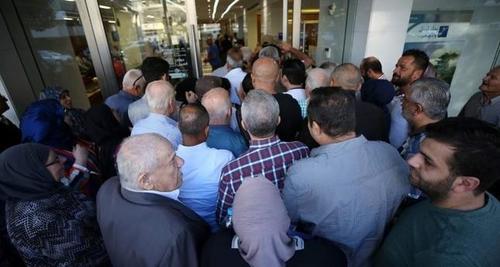 Lebanon's private banks reopened a week ago on Friday following a two-week closure due to massive anti-government protests which created gridlock across the country's main cities, including closure of other public institutions such as schools. 
The Nov. 1 bank re-openings followed Prime Minister Saad Hariri's resignation last week, which the some one million demonstrators flooding Lebanon's streets since early last month have touted as a 'success'; however, the economy remains on the brink of collapse, given growing fears of a major run on the banks.
Since reopening banks have blocked most transfers abroad and maintained tight controls over hard-currency withdrawals, policies which have led to reports of threats against bank staff. Some of these heated encounters are being filmed and posted to the internet. Likely the situation is about to become explosive into next week after the banks close for the weekend. 
"This is our money!... We can't get our money - you have money in the banks and you're not giving it to the people! You're stealing from us!" (our translation) the man in the below video shouts inside his bank. 
Situation in Lebanese Banks is extremely dangerous, shortage to lack of US dollars for depositors. https://t.co/MrCicTg4yF

— Bassem (@BBassem7) November 8, 2019
Chaotic scenes played out from the moment the banks reopened, as Lebanon's Daily Sabah described: 
Large queues starting forming outside banks from early morning and people rushed in as soon as doors opened to cash in their salaries and make transfers.

Tellers struggled to handle the flood of customers trying to cram inside bank branches, as queues spilt onto the streets.
And now with the situation getting increasingly dangerous, the crisis could be compounded given bank staff are pondering a strike amid the broader protests still underway, and which have been raging for over the past month: 
Bank staff are considering going on strike, he said.

"Clients are becoming very aggressive; the situation is very critical and our colleagues cannot continue under the current circumstances," added Hajj, whose union has around 11,000 members, just under half of the total banking staff.
"Anything that touches the liquidity of the bank is being restricted," one Lebanese banker told Reuters.
bank friday#يسقط_حكم_المصرف pic.twitter.com/keeHmg0Q2I

— Ali Reslan (@Ali___lb) November 1, 2019
Fights and riots have been reported both inside and outside commercial banks. Tellers and managers have reported being assaulted as exasperated customers demand their money:
مدير bank od beirut يعتدي على المودع #لبنان_ينتقض ريمون خوري pic.twitter.com/TCtxdMJrOu

— nadine (@nadineabdulwah) November 8, 2019
The World Bank weighed in on Friday, urging leaders in Beirut to form new Cabinet within a week, citing risks to Lebanon's stability as "deeply concerning," according to the AP. 
Given the country's high unemployment and extreme lack of confidence in the Lebanese Lira, citizens are understandably enraged at not accessing their dollars, and are apparently now taking matters into their own hands: 
Some banks have lowered the cap on maximum withdrawals from dollar accounts this week, according to customers and bank employees. At least one bank cut credit card limits from $10,000 to $1,000 this week, customers said.

...One bank told a customer that a weekly withdrawal cap of $2,500 had been slashed to $1,500.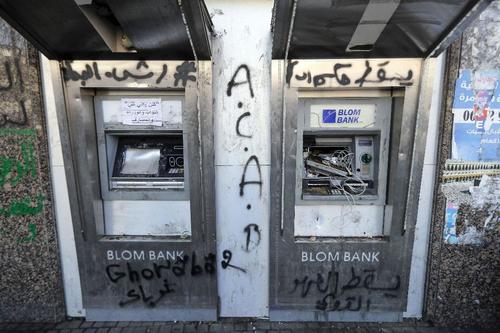 The massive anti-government protests, focused in large part on rooting out endemic corruption, comes after Lebanon has in recent years suffered a severe slowdown in capital flows, and difficulty of importers securing dollars at the pegged exchange rate, as well as periodic collapse of public services - due to frequent strikes, work stoppages, and lack of public funding.
The tiny Middle East country currently has a crippling debt of $86 billion - roughly 150% of the gross domestic product - and some 80% of that debt is believed owed either to the central bank or to Lebanese commercial banks.