---
Consumer Debt Growth Tumbles 50% Amid Sharp Slowdown In Credit Card Usage, Decline In Student Loans
One month after a shocking consumer credit report, which saw the biggest increase in history driven by a mind-blowing surge in revolving credit (i.e., credit card usage), moments ago the Fed released the latest consumer credit report for the month of December which saw a dramatic drop in growth rate, with total credit rising just $18.9BN, well below the consensus estimate of $25 billion, and a 50% plunge from the November increase of $38.8 billion.
Some details:
In the last month of the year, consumer credit rose at a 5.1% annual rate to $4.431trillion, according to the Federal Reserve. The total increase was $18.898BN from the previous month.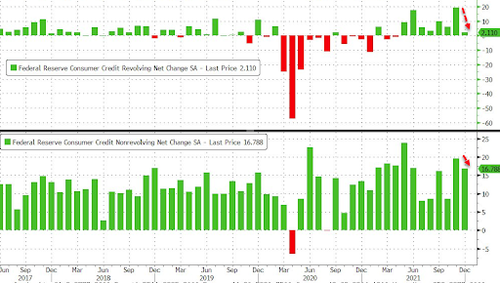 Looking at the components, the big highlight was the collapse in credit card growth, which one month after surging at a record monthly pace of $19.3 billion, collapsed to just $2.11 billion, the lowest monthly increase since April when it was a negative print. One possible reason: not only are consumers tapped out - as even Morgan Stanley now warns - but they suddenly find themselves nursing a prodigious credit card bill which they will have to pay back for the next several months, leading to continued slow down in spending in 2022, just as we have cautioned would happen.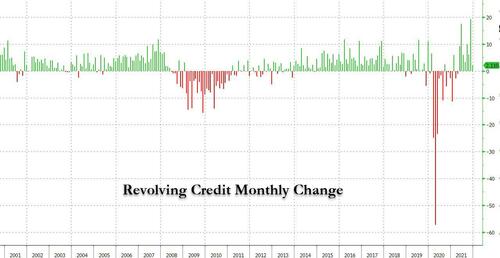 There were few surprises on the non-revolving credit front, which grew $16.79 billion, slightly below November's $19.5 billion and in line with the monthly increase in this series which compiles growth in auto and college debt.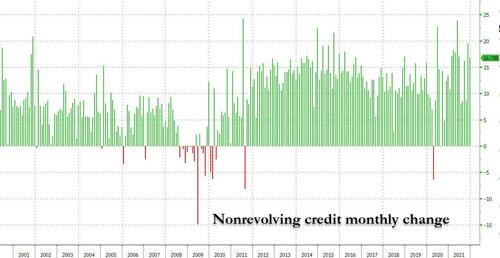 But while there were no surprises at the aggregate level, drilling into the two main components, we find that while car loans rose at their usual gingerly pace of $11.2 billion in the quarter, hitting a record $1.312 trillion, student loan unexpectedly saw a decline in Q4, dropping by $1.9 billion to $1.749 trillion, only the second quarterly drop in the series (the first taking place during the peak of the post-covid crisis period when the amount declined by $2.3 billion in Q4 2020).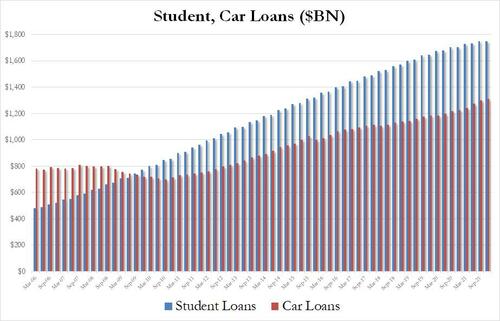 The question, of course, is why the sharp decline in credit card growth, and while some will suggest that it has to do with the Omicron wave that hit in December we believe that it is more than just this, and has to do with the overall slowdown in spending which Morgan Stanley discussed earlier today, and which - if confirmed in the next month's data - bodes poorly for any expectations that the current soft patch in the economy will prove to be merely "transitory."