---
Durable Goods Orders Rebound Keeps Dream Of "V"-Recovery Alive (Barely)
After March and April's collapse, US Durable Goods Orders were expected to rebound strongly in May and according to preliminary data, they did as headline data soared 15.8% MoM - the most since July 2014. However, on a year-over-year basis, duirable goods orders remain down 21.4%...
The MoM rise of 15.8% was better than the expected 10.% rise (but off a revised lower -18.8% drop in April)...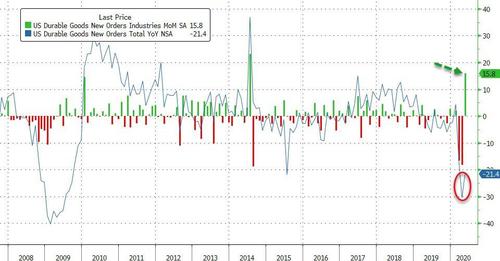 Source: Bloomberg
Is the 'V' you've been looking for?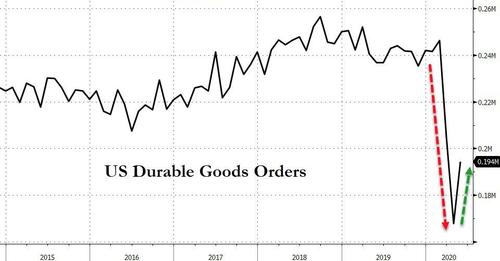 Source: Bloomberg
Closely watched core capital goods orders, which exclude aircraft and military hardware, rebounded 2.3% in May after a 6.5% revised lower decrease a month earlier. Shipments of those goods, a proxy for equipment investment in the government's gross domestic product report, rose just 1.8% (after a revised lower 6.2% drop in April)...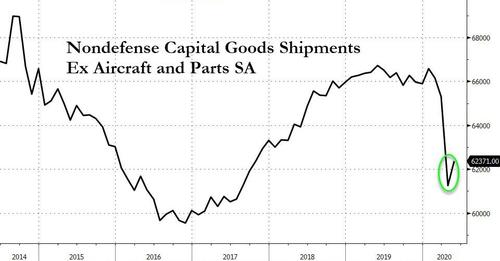 While states have begun letting business reopen, manufacturing will likely remain slow to recover as fewer people shop and businesses rein in capital spending projects. But, of course, this is all in the rear-view mirror, stocks tell you what happens next, right? V-shaped recovery any second!