---
EBITDALGBT? Harvard Prof Slams Friedman's 'Impact-Ignorant' Capitalism
On the same week as the NASDAQ releases its authoritarian 'diversify or delist' plan, and Credit Suisse introduces its LGBT-350 index...
Because when one thinks FAAMG the first thing that comes to mind is LGBTQ.

Nothing like more "shaming" of passive capital into just 5 stocks on the basis of "virtue".

And then people get angry that 5 people own more wealth than 100 million https://t.co/2c44wNkUaT

— zerohedge (@zerohedge) December 1, 2020
Bloomberg reports that a team of Harvard professors, led by 38-year-old George Serafeim is taking direct aim at Milton Friedman's magnum opus of shareholder value management, aiming to adjust a company's financials for its "impact" on people and the planet.
"Without monetizing impacts, we're left with the illusion that businesses have no impact," Serafeim said. Companies that show big profits can have enormous negative effects on society, he said.

"They're just cheating because they're operating in a context that doesn't price all those impacts."
One example that the Harvard group highlight is Intel.
The chipmaker was credited $6.9 billion in 2018 for paying its employees well and for boosting local economies where it has offices.

But they deducted $3.1 billion for what they said was a shortage of women employees, the difficulty of career advancement and not enough attention paid to workers' health.
As Bloomberg's Saijel Kishan reports, Serafeim's research throws out the playbook of measuring business performance primarily by shareholder value, which was popularized last century by Nobel Prize-winning economist Milton Friedman.
Instead, Serafeim plans for his work to culminate in a set of impact-weighted financial accounts.
EBITDALGBT?
It will come as no surprise to readers to find that Serafeim is well-known in the world of environmental, social and corporate governance investing -- in his words, he was "doing ESG before it was cool."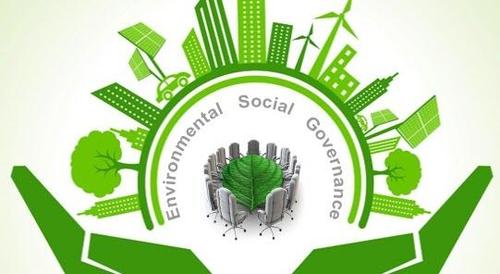 However, Serafeim's ideas of "adjusting" a company's financials - and hoping to drive management decisions - is by measuring second-order effects such as charging credit-card companies for the medical costs of depression connected to indebtedness, debiting airlines for the human toll of flight cancellations and making food producers accountable for health issues related to obesity. Their calculations also credit automakers for the safety of their vehicles and companies that hire in areas of high joblessness.
Where does all this end? Who knows.
But one thing is for sure - the ongoing intrusion of the state into private enterprise won't end well and as @HipsterTrader so succinctly concluded:
"The year is 2027, there's no stocks left to trade because none of the companies meet all of the exchange's listing requirement"
For now, record flows are entering the ESG space and ideas like Serafeim's will only be lauded by the liberalati.
Just remember though, as Social Capital founder and CEO Chamath Palihapitiya stated this year:
ESG investing a "complete fraud."

"These are useful statements. It's great marketing. But again it's a lot of sizzle, no steak,"
So, be careful what you virtue-signal for America!