---
ECB's Lagarde Pours Cold Water On Trader Hopes For Imminent Central Bank Bailout
With the Dow Jones entering a correction just 6 trading days after it hit an all time high, the market which has no idea how to trade in a down tape, is freaking out and predictably has spawned a rumor that an emergency rate cut is imminent, a rumor which may have been sparked by Kocherlakota's recent Bloomberg oped as well as Janet Yellen's hints last night at Brookings for coordinated global central bank action, and which has helped stocks recoup half their intraday losses.
Unfortunately for the bailout-starved investors, ECB head Christine Lagarde poured cold water on expectations of an imminent coordinated central bank market rescue, when she downplayed the chances of the ECB providing an imminent response to the spread of the coronavirus, which has prompted economists to slash their eurozone growth forecasts.
The ECB president told the Financial Times the ECB was monitoring the outbreak "very carefully" but said it was not yet at the stage where it would have a lasting impact on inflation and, therefore, require a monetary policy response.
"It is a fast-developing phenomenon, which requires that we monitor very carefully," said Ms Lagarde. "It is clearly not an area where a central bank has actually an opinion. It is really for the health service and health experts to give us their take . . . on the evolution and particularly importantly on containment."

Lagarde said all of the bank's base-case scenarios are "based at the moment on containment in reasonably short order".

"I was very pleased to see that the numbers in China on deaths relative to contagion seem to have declined for the third or fourth day, which seems to indicate that there is a degree of improvement," she added.
Lagarde's amusing faith in Chinese numbers aside (as the former IMF head she knows better than anyone just how fake Beijing's "data" is) her comments indicate that not only is an emergency intervention by the ECB (and likely Fed) unlikely, but that the central bank is hoping to keep interest rates on hold when it meets to discuss monetary policy in two weeks according to the FT, despite calls from economists for it to cut rates and step up its bond purchases.
At the same time, she said the bank would have to determine whether coronavirus was set to cause a "long-lasting shock" that would impact supply and demand as well as inflation. "But we are certainly not at that point yet," she added.
Needless to say, this stance by the head of the ECB, which has kept its deposit rate unchanged at minus 0.5% since a cut last September, could disappoint investors who are pricing in more rate cuts by the central bank in coming months. Earlier in the day, Europe's Stoxx Europe 600 tumbled 4%, as it entered a 10% correction it hit just over a week ago.
After ignoring the dire consequences of the coronavirus for weeks, economists finally started paying attention after the pandemic spread to other nations, rising fear that the impact of the virus will continue to disrupt global supply chains and compound the woes of European manufacturers, which have suffered two years of falling orders and production. They also worry the health crisis could weigh on weak growth in the eurozone, which last year fell to its lowest level in seven years.
Earlier in the day, Bank of America cut its 2020 global growth forecast to 2.8%.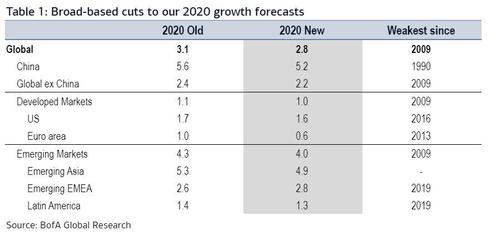 This would be the lowest reading since 2009 as the world careens into its first recession since the financial crisis.