---
Eurozone Narrowly Avoids Recession In Q4 Thanks To Ireland
Despite double-digit inflation and Russia's invasion of Ukraine, the Eurozone looks set to avoid recession as GDP grew 0.1% in the final quarter (against expectations of a 0.1% decline).
Only a few months ago, economists had forecast a deep recession and energy shortages.
But a less cold winter than feared, falling gas prices and generous government support have all helped avoid that scenario, helping the region to grow in each quarter of 2022 and by 3.5% over the course of the year.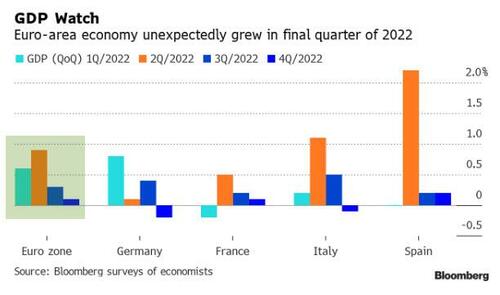 While German and Italian output shrank, France and Spain recorded expansion. There was also stronger-than-anticipated data on Monday from Ireland.
"The Irish economy, propelled by the presence of multinational corporations, expanded by 3.5% contributing 0.1 percentage points to the euro-area figure and tipping the balance such that the bloc expanded overall," said Jamie Rush, chief European economist at Bloomberg Economics.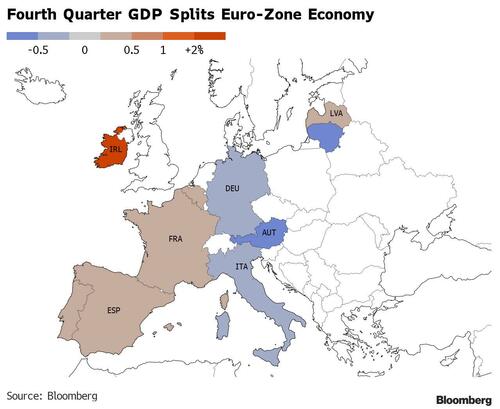 Bert Colijn, senior economist at ING, the bank, said the region's economy was showing "incredible resilience" in the face of the energy crisis triggered by Russia's invasion of Ukraine.
"The worst scenarios for this winter have been avoided," Colijn said.

"But the economy remains sluggish."
While Lagarde and he lackeys can celebrate for now, the bloc isn't out of the woods yet, as economists continue to predict output will dip in the first quarter.
The euro spiked lower early in the EU session, but has recovered most of that drop since...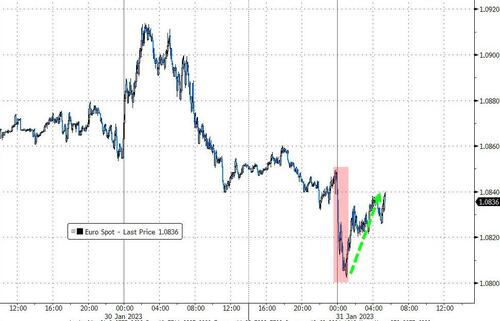 The economy holding up better than feared means the ECB can stay focused on tackling high and persistent inflation.
Loading...