---
Fed Admits Its Own Failures, Management Error Behind SVB Collapse, Not "Russian Conspiracy Theories"
Shortly after the monumental collapse of Silicon Valley Bank last month, an absurd theory emerged that it was the "first Twitter-fueled bank run," which, according to CIA-linked organizations such as the Alethea Group, was amplified by websites such as ZeroHedge for allegedly contributing to "increased online panic about SVB."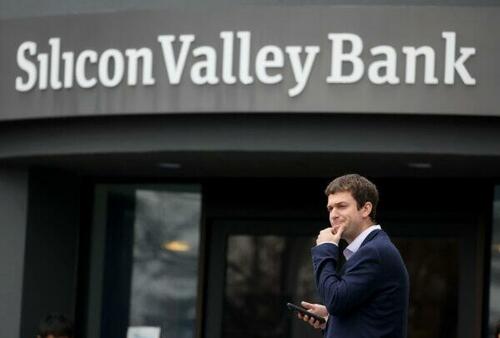 Alethea even shopped a 'dossier' to various media outlets - including Bloomberg (which excluded ZeroHedge from their report following a brief email exchange). And when one 'journalist' did peddle the dossier on Twitter, she was mercilessly mocked as a propagandist.
You mean a financial newsblog published a number of stories about a significant bank failure? How dare they!!

— Reason and analytics in Dallas (@DallasAnalytics) March 17, 2023
Then, in late March, Bloomberg reported that "SVB's demise swirled on private VC founder networks before hitting Twitter."
"It wasn't phone calls; it wasn't social media," said one Silicon Valley startup founder who wishes to remain anonymous. "It was private chat rooms and message groups."
Facts: 1, CIA Alethea: 0
Now, the Federal Reserve has admitted in a new report that its own regulatory failures contributed to SVBs collapse.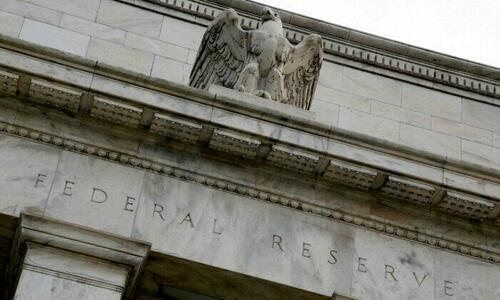 As the Wall Street Journal reports:
The Federal Reserve's banking supervisors failed to take forceful action to address growing problems at Silicon Valley Bank before it collapsed last month, the central bank's top regulator said, signaling a broad push to toughen rules on the industry.

Michael Barr, the Fed's vice chair for supervision, said supervisors didn't fully appreciate the extent of the vulnerabilities as SVB grew in size and complexity. When supervisors did find risks, they didn't take sufficient steps to ensure the firm fixed those problems quickly enough, he said in a report Friday.
In fact, three of the four top takeaways about the events leading to SVB's collapse are tied to perceived shortcomings with Fed oversight responsibilities.
Mr. Barr said mistakes by Fed regulators were driven in part by the Trump-era changes that generally eased rules on midsize banks. He also said a shift in the agency's culture appears to have resulted in a lighter-touch form of supervision.

Those changes "impeded effective supervision by reducing standards, increasing complexity, and promoting a less assertive supervisory approach," he said.
Meanwhile, the Fed said while supervisors had identified issues regarding interest-rate risk which contributed to SVB's failure, its own process was "too deliberative" and focused on building too much evidence before taking action. In fact, SVB had 31 open supervisory findings - or warnings - from regulators at the time of its failure, a figure 3x that of peer firms, according to the Fed.
"...the Fed overlooked broader problems in recent years as the bank grew. For example, for a long time, it used metrics for liquidity that suggested SVB had a stable deposit base and rated the bank's interest-rate risk as satisfactory despite the firm breaching internal risk limits over a number of years."
In response to the findings, Barr on Friday called for a revamping of rules that apply to banks with more than $100 billion in assets, as well as a re-evaluation of how regulators treat deposits above the $250,000 FDIC limit.
Meanwhile, Fed Chair Jerome Powell said in a coordinated statement that he backed steps outlined by Barr to toughen industry oversight - effectively reversing some moves made earlier during Powell's tenure to ease rules on midsize banks in order to create "a stronger and more resilient banking system."
Back to the propagandists...
It's worth noting that Alethea - run by 32-year-old Deep State figurehead and former staffer for Sen. Angus King - cropped up in 2019, and last November received $10 million from Ballistic Ventures, whose general partner is Ted Schlein. Ted "provides counsel to the U.S. intelligence community, serves on the Board of Trustees at InQTel (CIA), and was recently named as a board member of the CISA Cybersecurity Advisory Committee."
And what's this? As we learned from the "Twitter Files," Last June, the advisory board recommended that CISA [on whose board Schlein sits] should work with and provide support to external partners "who identify emergent informational threats," and find ways to mitigate "false and misleading narratives."
Last June, the advisory board recommended that CISA should work with and provide support to external partners "who identify emergent informational threats," and find ways to mitigate "false and misleading narratives."

…The group worried about how to "strategically approach MDM…

— Michael Shellenberger (@shellenberger) March 24, 2023
In short, government-linked 'external partners' were peddling narrative-shaping propaganda using proprietary "Hamilton 68-esque" methods they pulled from various orifices - when in reality, the Fed's oversight failures and VC chatter in 'private chat rooms and message groups' contributed to the collapse of SVB.
Read the Fed's report below:
Loading...