---
Fed's Favorite Inflation Indicator Surges To 40 Year High In Feb As Real Spending Shrinks
Nominal income and spending was expected to rise in February (with the former accelerating and the latter slowing from January), and they both did with Personal Incomes rising 0.5% Mom (as expected) and Spending rising 0.2% MoM (worse than expected)...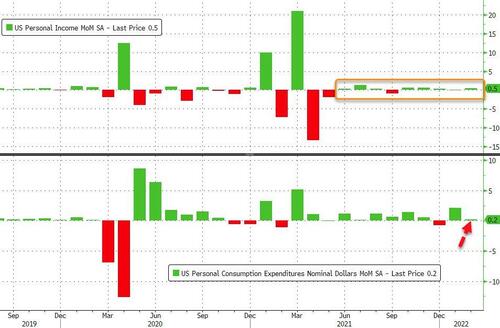 Source: Bloomberg
On the income side, Feb Private wages rose 12.6% Y/Y, up from 11.2% and highest since Sept 2021 (12.8%), while Feb Govt wages 5.5%, up from 4.9% and highest since Oct 2021 (8.75%)...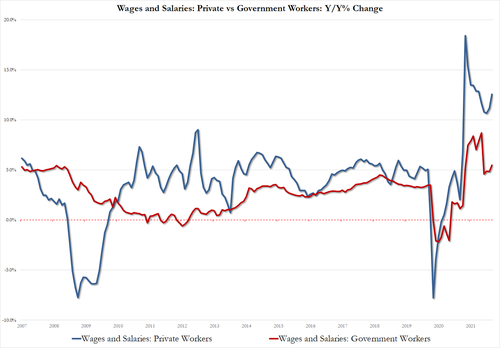 Real personal spending was expected to drop 0.2% MoM (in other words, spending is shrinking adjusted for inflation), but in fact dropped 0.4% MoM as perhaps demand destruction is showing up...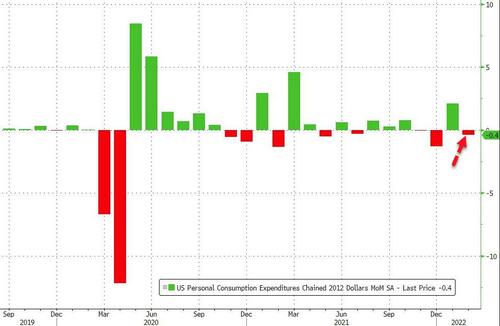 Source: Bloomberg
All of which left the personal savings rate hovering at its lowest since 2013...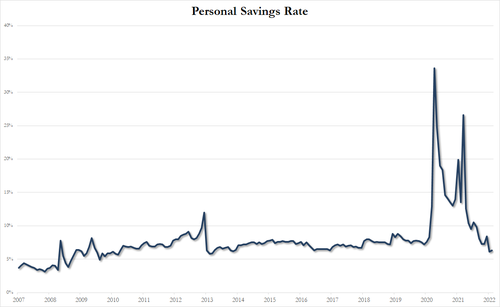 Finally, and most importantly, The Fed's favorite inflation indicator - Core PCE Deflator - which was expected to rise from +5.2% YoY to +5.5% YoY in Feb. The headline PCE Deflator surged to +6.4% YoY - the highest since 1982...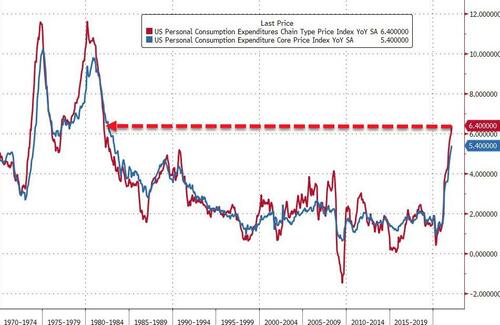 Source: Bloomberg
Key contributors to the spike in PCE include 'Motor Vehicles & Parts', 'Housing', and 'Gasoline & Other Energy Goods'...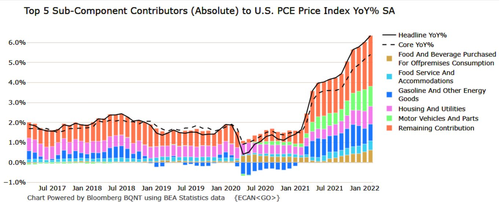 Source: Bloomberg
And bear in mind that all of this was before Putin invaded Ukraine!
Is it any wonder the market is pricing in 9 rate-hikes for the rest of the year? (and then 3 rate-cuts in 2023/24 to rescue the nation from recession)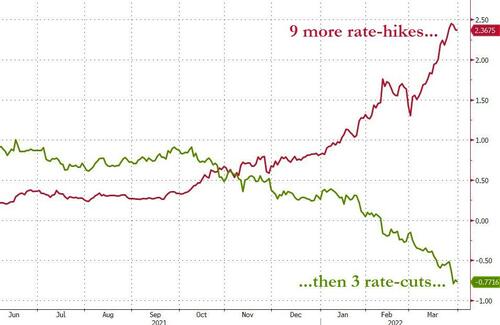 Source: Bloomberg
Stagflation is priced in... get back to work Mr.Powell