---
Got Wood? Lumber Prices Explode To Record Highs Amid "Supply Chain Screw Ups"
When builders go to the lumberyard, they expect two-by-fours in ample supply. As Galvnews.com reports, it's like expecting to find milk at the supermarket.
But, in recent months, something has changed... dramatically... Since the lows in early April, the price of Lumber (futures) has exploded 200%...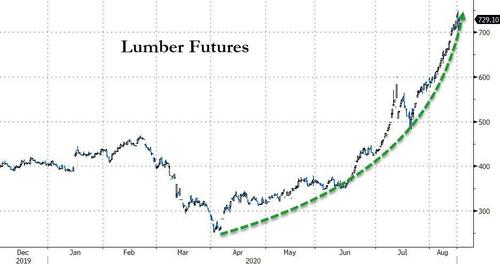 "We had to pay three times the price," exclaims Ron Woods, the owner of Firehouse Builders, a general contracting company that specializes in building fences, decks and other smaller projects.
In fact, the surge in prices sent Lumber to its most expensive...ever!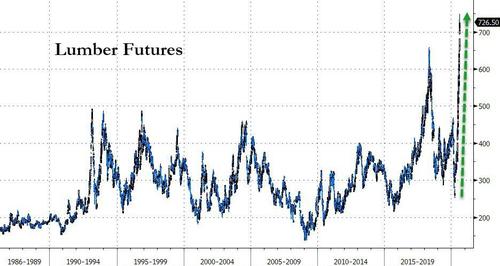 A building boom? This is "great news" some might say as it indicates 'demand' is high and the economy is "getting back to normal," right?
Wrong!
As Woods explains, "the explanation they had for us was that COVID-19 shut down the plants that treat the wood, and that finally caught up."
So, it's the supply stupid! And looking at the US construction spending data confirms it is anything but 'demand':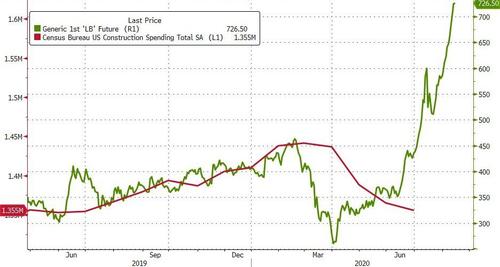 "The supply chain was screwed up," said Wilson, the owner of Wilson Construction in Galveston.

"Dimension sizes were in limited supplies; even something as simple as a two-by-four-by-twelve Southern yellow pine treated was in extremely short supply."
In fact, as Galvnews.com reports, the price changes are affecting all sorts of basic building materials, said Al Fichera, the owner of Fichera Builders in Galveston. In the past two weeks, sheets of plywood have gone from $15 a sheet to $34 a sheet, he said.
It's normal for the price of building supplies to fluctuate, he said, but that kind of spike is unusual.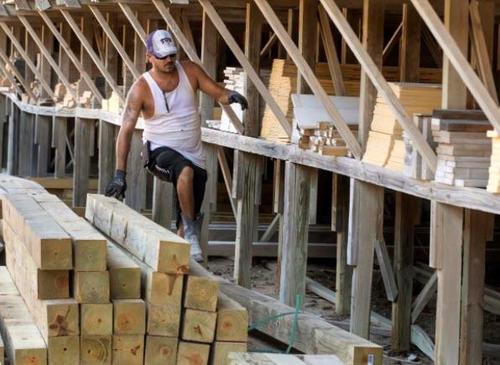 The situation now is that builders have to search wide and act fast to obtain the material they need.
"The prices have gone up and there's nothing even on the shelf," said Fichera.

"If you order it, it may be weeks out."
Ultimately, the added costs that come from buying supplies will be passed on to homebuyers, said Bill Schick, who sells lumber for Raleigh, North Carolina-based Building Materials and Construction Solutions.
"The price increase gets passed on to the end consumer," Schick said.

"Future homeowners and people remodeling will end up paying the brunt of the price increase."
And this cost will likely rise further as building permits are beginning to re-accelerate.