---
Gross Domestic Income GDI Suggests US Is In Recession Right Now
Authored by Mike Shedlock via MishTalk.com,
Gross Domestic Income (GDI) and Gross Domestic Product (GDP) are two measures of the same thing. But they radically differ in outlook...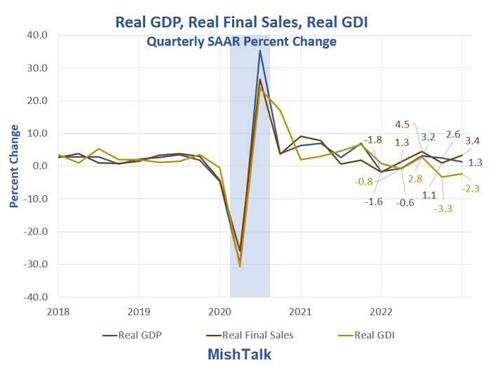 GDP and GDI data from the BEA, chart by Mish
Yesterday the BEA released the second estimated of first-quarter 2023 GDP. The GDP rose from +1.1 percent to +1.3 percent. And personal consumption expenditures (PCE) rose from +3.7 percent to +3.8 percent.
The BEA does not release GDI in the advance estimate, but does in the second estimate. 
GDI was -2.3 percent in the first quarter of 2023, and -3.3 percent in the fourth quarter of 2022.
That's recession territory, but GDP isn't.
GDP and GDI Details
Real gross domestic product (GDP) increased at an annual rate of 1.3 percent in the first quarter of 2023 according to the "second" estimate released by the BEA. In the fourth quarter, real GDP increased 2.6 percent.

The updated estimates primarily reflected an upward revision to private inventory investment.

The increase in real GDP reflected increases in consumer spending, exports, federal government spending, state and local government spending, and nonresidential fixed investment that were partly offset by decreases in private inventory investment and residential fixed investment. Imports, which are a subtraction in the calculation of GDP, increased.

Real gross domestic income (GDI) decreased 2.3 percent in the first quarter, compared with a decrease of 3.3 percent (revised) in the fourth quarter. 
Corporate Profits
Profits from current production (corporate profits with inventory valuation and capital consumption adjustments) decreased $151.1 billion in the first quarter.

Profits decreased of $60.5 billion in the fourth quarter.

Profits of domestic financial corporations decreased $25.4 billion in the first quarter, compared with a decrease of $59.0 billion in the fourth quarter. 

Profits of domestic nonfinancial corporations decreased $109.3 billion, compared with a decrease of $22.9 billion. 

Rest-of-the-world profits (net) decreased $16.4 billion, in contrast to an increase of $21.4 billion.
Average of GDP and GDI Also Signals Recession
The average of real GDP and real GDI, a supplemental measure of U.S. economic activity that equally weights GDP and GDI, decreased 0.5 percent in the first quarter, compared with a decrease of 0.4 percent (revised) in the fourth quarter.
The BEA discusses the average of GDP and GDI because that is what the National Bureau of Economic Research (NBER) uses as an input to determine recessions.
Even if one averages the numbers, a recession is possible if not likely.
But the NBER is so delayed on its determination.
By the time the NBER releases a recession announcement, it will be clear which one of these sets of numbers is wrong.
[ZH: Mish is not alone in pointing this huge discrepancy out as former Chair of the Council of Economic Advisors Jason Furman recently explained in a brieft Twitter thread]
New data out indicates that the economy contracted at a -0.5% annual rate in Q1, the fourth quarter of the last five with negative growth.

This is based on average of GDP (+1.3% in Q1) and GDI (-2.3%) which is generally more reliable than either one individually.

— Jason Furman (@jasonfurman) May 25, 2023
He continued:
Can't know where the negative growth comes from because the expenditure numbers (consumption, investment, etc.) sum to the 1.3% growth. So if that's wrong then one of the components is wrong.

Is why I wish the BEA was more Bayesian in formulating a single number w/ best info.

Reported consumption growth was very strong at 3.8%. Non-residential fixed investment up 1.4%. Inventories subtracted 2.1pp from the growth rate (as measured on the product side), a factor that is likely to be temporary.

On the income side, corporate profits fell for the third straight quarter and are down 2.8% over the last year.

BUT, this reflects a huge loss for the Fed. Taking that out profits down a little in Q1 and up 7.0% in the last quarter.

I have to say, I find all of this a little confusing and want to think more about it and read what others have to say. The numbers are telling wildly varying stories about the truth in the economy. And then that truth itself has some strange aspects to it (like the Fed losses).

If I truly believed the average of GDP + GDI (and I mostly do believe it) then one could reasonably describe the economy as having been in recession for some time, but a very very strange recession with strong employment gains and low unemployment--so a productivity decline.
Revisions
A recent GDP revision was in the direction of GDI. 
Given that heading into recessions, most revisions tend to be negative, and positive out of recessions, there is no strong reason to pooh-pooh GDI. 
Real Disposable Income is Flat, But Real Spending Jumps 0.5 Percent
Earlier today I noted Real Disposable Income is Flat, But Real Spending Jumps 0.5 Percent
Also note Trade Deficit in Goods Jumps 17 Percent as Imports Surge and Exports Plunge
The latter report sent the GDPNow forecast down from 2.9 percent to 1.9 percent for the second quarter of 2023.
*  *  *
Loading...