---
Here Is What Warren Buffett Bought And Sold In Q2
Today marks 45 days after the end of the first quarter, also known as the day when Q1 13-F season begins (and ends) and while we will have a comprehensive summary of what hedge funds did in the first quarter (which, again, ended 45 days ago and in a world where the average holding period is a few minutes, is largely meaningless by now) we start our reporting with the grand daddy of all modern day taxpayer-backed hedge funds, Warren Buffett's Berkshire Hathaway.
Which actually was not that much: the reported value of Berkshire's long-only equity portfolio rose by just 7% to $348BN as of June 30 from $325BN in Q1 (which in turn was an 8.7% increase from $299BN in Q4) to $325BN, largely thanks to stock price appreciation because as previously noted, in Q2 Buffett "harvested" (read sold) his positions for the third quarter running, dumping a net $8.0BN (down from $10.4BN in the previous quarter, and from the $15BN net he sold in Q4, both of which are a small fraction of his portfolio of ~$350BN).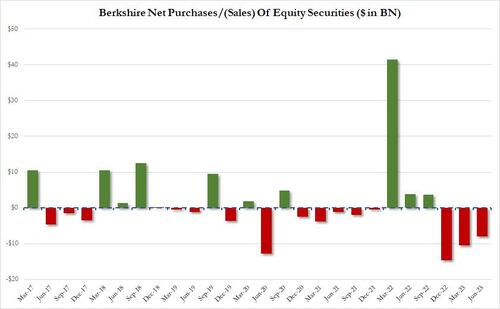 With that in mind, here are the most notable changes in Q2:
Three new buys, all homebuilders:
DR Horton: bought 5.97 million shares valued at $726.5 million
NVR: bought 70.6 million shares valued at $70.6 million
Lennar Group: bought 152,572 shares valued at just $17.2 million, in what may have been a fat finger purchase as it is completely meaningless for a firm the size of Berkshire
As Bloomberg notes, the largest US homebuilders have been outperforming smaller rivals despite soaring mortgage rates, with stocks rallying and the companies welcoming an onrush of buyers frustrated by a severe shortage of existing-home listings. Lennar, D.R. Horton and NVR are all up more than 30% this year.
Four exits:
McKesson Corp: 2.3 million shares, valued at $815 milion as of June 30, 2023
Marsh & McLennan: 404,911 shares valued at $67 million
Vitesse Energy: the unwind of last quarter's "fat finger" purchase which was just 51,026 shares valued at $1 million.
Added holdings in just two positions:
Occidental Petroleum: bought 12.4 million shares, bringing the new total to 224.1 million shares, valued at $13.2 billion
Capital One: added 2.549 million shares to prior stake of 9.9 million, bringing the total to 12.471 million, valued at $1.364 billion.
Trimmed holdings in five positions, including:
Chevron: reduced by 9.3 million shares to 123.1 million shares valued at $19.4 billion
Activision Blizzard: reduced stake by another 34.8 million shares, following the sale of 3.3 million shares in Q1, bringing the latest total to just 14.7 million shares valued at $1.3 billion and largely missing out on the July surge in the stock when the MSFT deal was tentatively approved
General Motors: continued the stake reduction with another 18 million shares following the sale of 10 million shares in Q1, bringing the new total to 22  million shares valued at $848 million.
Celanese: another quarter of selling here, which reduced the position by 3.460 million shares to 5.4 million shares, from 8.8 million shares, and valued at $620.5 million
Globe Life: reduced by 3.8 million shares to 2.5 million shares valued at $276 million
Recent disclosures from Berkshire related to its stock portfolio revealed a departure from the company's long-held strategy of buying shares and holding them for the long term. The conglomerate revealed a stake in Taiwan Semiconductor Manufacturing Co. last year, only to largely rotate out of that position in subsequent months. Buffett said the decision to cut the stake in TSMC was his, citing geopolitical tensions as the motivation behind the move even as he continued to praise the chipmaker.
"I feel better about the capital that we've got deployed in Japan than in Taiwan," Buffett said earlier this year. "I wish it weren't so, but I think that's the reality, and I re-evaluated that in the light of certain things that were going on."
Of course, by now readers know but we will remind them anyway, the holdings reported here exclude derivatives and total values may include debt securities. The equities listed may not reflect current holdings. New holdings and exits may be caused by updated disclosure requirements rather than investment changes.
Full details of all Berkshire Q2 moves can be found in the table below.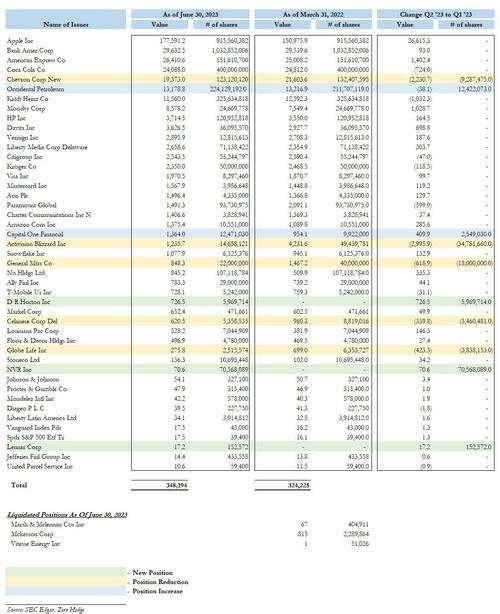 Loading...