---
Huawei Ends Production Of Kirin Smartphone Microchips As US Sanctions Capsize Supply Chain
Back in May, we reported how TSMC, one of the biggest contract chipmakers in Asia, and a critical component of China's high-tech supply chain, would be forced to cut off supplies of US-designed microchips used in Huawei smartphones. That, in turn, would create serious problems for the company as it seeks to supplant Samsung as the world's largest seller of smartphones.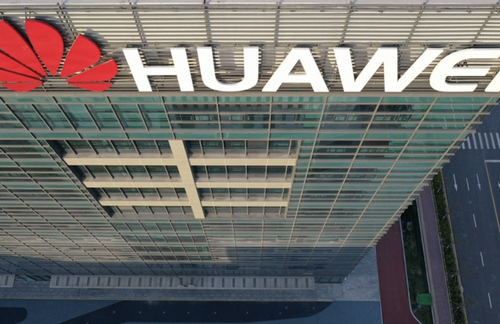 More than three months later, the situation hasn't changed much: The full force of the newest restrictions out of the US are starting to bite, and on Friday, Yu Chengdong, CEO of Huawei's consumer business, confirmed to an industry conference that Huawei's new high-end Mate40 handsets, set to debut this fall, will be the last smartphones featuring the company's most advanced processor (Huawei has had plenty of time to stockpile components). 
But starting on Septl 15, the Kirin processors used in these handsets will no longer be produced.
"From Sept. 15 onward, our flagship Kirin processors cannot be produced. Our AI-powered chips also cannot be processed. This is a huge loss for us. Huawei began exploring the chip sector over 10 years ago, starting from hugely lagging behind, to slightly lagging behind, to catching up, and then to a leader. We invested massive resources for R&D, and went through a difficult process."
Before Washington added Huawei and a bunch of its subsidiaries to an American blacklist,
a subsidiary of Huawei produces its own chips based on designs owned by ARM
He called it a "huge loss" to the company. But it's a problem that Huawei can only face once, as it seeks to mimic Apple by producing more of its own chips.
But since Huawei hasn't developed nearly as much in terms of resources to developing their manufacturing capacity (as opposed to the company's design capacity, which has thrived, bolstered by plenty of stolen IP). And the death of Huawei's Kirin9000 chipsets, manufactured for the company by TSMC, appear to already creating new constraints for Huawei's 2020 and 2021 smartphone shipments.
Here's more on that from Caixin, the Chinese financial news organization:
The Kirin9000 chipsets have been produced by Taiwan Semiconductor Manufacturing Co. (TSMC) with U.S. equipment. In July, the Taiwan contract chipmaker said it stopped taking new orders from Huawei in May.

Yu said Huawei's smartphone shipments this year will be less than last year's 240 million units reflecting the chip shortage caused by the U.S. trade ban. Huawei's global shipments in the second quarter totaled 55.8 million phones, surpassing Samsung for the first time to become the world's largest mobile phone vendor.

However, facing disruptions in its supply chain, Yu said he regretted that Huawei had only invested in developing chips, not in manufacturing them. "After Sept. 15, we will neither be able to produce our flagship chipsets, nor our chips with AI processing capabilities — this is a huge loss to us," he told the event.

He said Huawei is determined to solve the problems by making breakthroughs in technology innovations on operation systems, chips, data and cloud services. He also called on China's chip industry to make advancements on chip manufacturing and new generation semiconductors.

In the first-half of the year, Huawei's consumer business garnered 255.8 billion yuan in sales revenue and sold more than 105 million smartphones.
Since winding up on the Commerce Department's trade 'blacklist', Huawei has invested heavily in R&D. But no matter how fast it innovates, the company still can't escape the reality of a globally diversified supply chain illustrated in the chart below: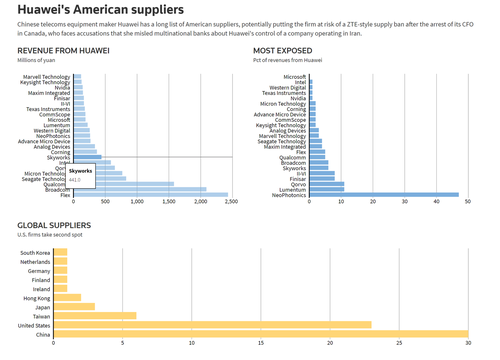 Huawei has still managed to eclipse Samsung in terms of sales, but it is still overwhelmingly dependent on the Chinese market.
In the second quarter, over 70% of its device shipments were in China, where the Covid-19 pandemic and associated lock-downs is thought to have contributed to boosting sales by 8%. Its shipments in markets outside China, however, dropped 27%.

"Strength in China alone will not be enough to sustain Huawei at the top once the global economy starts to recover," said Mo Jia an analyst at Canalys. "Its major channel partners in key regions, such as Europe, are increasingly wary of ranging Huawei devices, taking on fewer models, and bringing in new brands to reduce risk."
To be effectively compete against Samsung, Huawei needs to dominate. And the Trump Administration's sanctions are about to make that much more difficult.