---
Hundreds In Taiwan Change Name To "Salmon" As Restaurant Promotion Spirals Out Of Control
As senior diplomats from Beijing and Washington meet in Alaska, the Taiwanese government is issuing an advisory urging its citizens to stop changing their names to "Salmon" after a sushi chain's promotion reaffirmed just how far people will go for free stuff.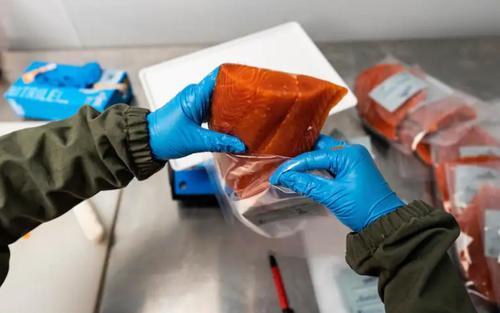 It all started when Japanese sushi chain Sushiro launched a promotion offering a free meal to customers with names that included the traditional Chinese character for salmon "guiyu". Customers with names that sounded similar to the word could also enjoy a meal for half price.
The offer sparked what the local media characterized as "salmon madness", per WaPo.
Dory Wang, a Sushiro marketing manager, said about 200 customers with the name "Salmon" on their identity card had visited one of the chain's restaurants on Wednesday, adding that the response of seafood-loving Taiwanese had exceeded expectations. "We appreciated those who are willing to change their names for our sushi," Wang said.

"Five people requested a name change today and another six yesterday," said Ou Minxin, an official at a local household registration office in Kaohsiung, Taiwan's second-largest city. "We have seen changed names such as 'Hotness Salmon,' 'Dip Wasabi and Eat Salmon,' and 'Can't Help but Want to Eat Free Salmon.'" Ou said most of them changed their names back after having a meal. "It has indeed added to our workload, but it is quite interesting," he said.
One resident decided to add 36 characters to his name, including seafood-themed emojis for "crab" and "lobster."
However, for the young people who changed their name for the promotion with the expectation of changing it back, the government has issued a reminder that Taiwanese citizens are only allowed to change their names three times during their lifetimes.
But there's a catch - and some diners may have bitten off more than they can chew.

Taiwan's Ministry of the Interior posted a reminder on Facebook that a person can only change their name three times in a lifetime, explaining that two of those will be wasted if a person changed their name to "Salmon" and back.
But some young people insist they have no regrets, and say they are planning to keep their "salmon" names as a sign of their adventurousness and creativity. One 19-year-old student said he changed his given name to "Salmon" and invited users to join him for a meal, with eight slots on offer. He said the name represents his courage to do "whatever he wants," and hasn't decided whether to change his name back yet.