---
Japan Unexpectedly Reports Terrible GDP As It Slides Into Recession
One look at the latest GDP print out of Japan, and one would think the country's economy was already being ravaged by the coronavirus: at -1.6% Q/Q and a whopping -6.3% annualized - nearly double the 3.8% estimated drop - this was the second worst GDP print since the financial crisis and the second-worst quarter of the Shinzo Abe era, surpassing even the drop in the aftermath of the Fukushima disaster.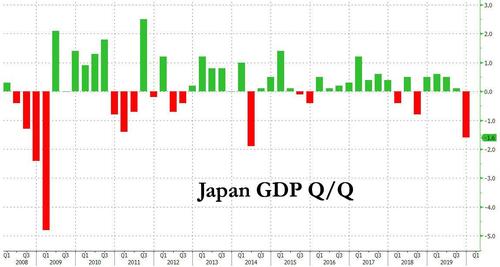 Of course, the latest plunge in Japan's GDP has nothing to do with the coronavirus as it took place in Q4, and the drop was largely a byproduct of the sale tax hike, which led to a similar collapse in Q2 2014 GDP, following the first such tax hike.
One look at the GDP components confirms that the plunge was largely the result of collapsing consumption, with Houshehold Consumption plunging at an 11.5% annualized pace, the second biggest drop that Private Demand plummeted at an -11.1% annualized basis...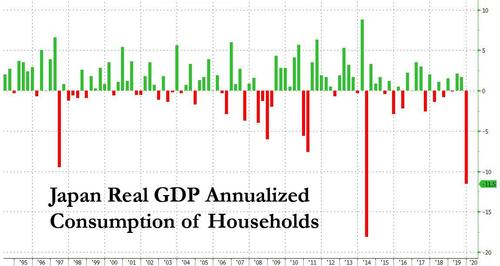 ... the second worst on record, and also just behind the -18.1% drop recorded after the first sales tax hike in 2014.
It wasn't just households who retrenched, however, and as the following breakdown from Japan's cabinet office reveals, in Q4, Japan's capex fell fore the first time in 3 quarters, dragged down by construction and production machinery. Finally, the economic misery was complete as a result of a second consecutive drop in exports led by cars, as the global automotive sector remains mired in the deepest recession since the financial crisis.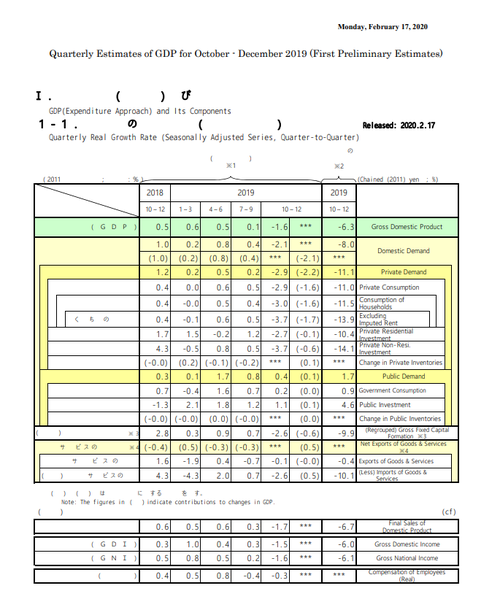 And since Q1 GDP will likely be even worse due to the paralysis in Chinese supply chains which have knocked out a good part of Japanese domestic manufacturing indefinitely, today's bleak GDP report means that a Japanese recession - definied as two quarters of negative GDP - is now just a matter of time.
The unexpected plunge in Japan's GDP triggered a kneejerk reaction of selling on the Topix, which slid more than 1% in early trading, though bond yields and the yen showed little reaction to the worst nominal GDP performance since Prime Minister Shinzo Abe took office (U.S. futures were of course higher, because the closer the world gets to depression, the more likely central bankers are to start buying, well, everything).