---
New York Launches Plan To Rezone Midtown Offices To Houses
As Manhattan prepares to roll out the tented Depression-era shantytowns known as Hoovervilles Bidenvilles smack in the middle of New York's Central Park which will house some of the "Sanctuary city's" brand new 95,000 migrants, the city is taking action on its two other blights: empty offices and soaring rents.
As Bloomberg reports, New York City is rolling out a plan to convert vacant offices into as many as 20,000 new housing units by creating a multi-agency group to help developers cut through red tape and rezoning a section of Manhattan known as Midtown South.
The moves come after Mayor Eric Adams and Governor Kathy Hochul's quest for a comprehensive program to address the state's housing shortage was rebuffed by fellow Democratic lawmakers in Albany earlier this year. Much of Adams's plan will still need state approval.
"We could not just sit back and just lick our wounds," Adams said at a news briefing on Thursday. "We will roll out what we can do here in the city."
New York, Boston, San Francisco and virtually all major democratic US cities are struggling with the dual challenges of what to do with office buildings emptied by the shift to remote work (as well as Texas and Florida) and an affordable housing crisis that has sent rents up to record highs.
Since conversions of offices to housing is complicated and expensive, city officials are looking at tax breaks, speeding up approvals and other incentives to facilitate the process.
Under New York City's plan, parts of which were announced previously, the city would make office buildings built before 1990 eligible for conversion to housing, an update from the existing cutoffs of 1961 and 1977, depending on the area. The proposal would cover an additional 136 million square feet, roughly the same amount of office space as in the entire city of Philadelphia, officials said.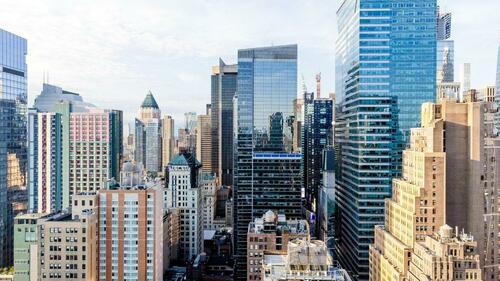 The plan would also allow office-to-housing conversion in any area of the city where residential construction is allowed.
"We could definitely use more housing in the city," Bess Freedman, chief executive officer of real estate brokerage Brown Harris Stevens, said Thursday on Bloomberg Television. "It would be a great thing to do."
Maybe; on the other hand, traditionally the relentless demand for Manhattan real estate has been largely a function of the immediate proximity to offices. How shifting that balance dramatically from offices to housing will impact local markets is anyone's guess. Furthermore, New York's admission that it has given up hope on returning to historical work levels will hardly inspire new cohorts of renters to move to the city, and it's unclear what it will do to existing residents and their rents.
The plan for Midtown South, an area below Times Square, envisions a live-work mixed-use neighborhood between 23rd Street and 40th Street, bounded by Fifth Avenue and Eighth Avenue. Residential building, including affordable housing, would be allowed in four areas that were zoned for manufacturing 50 years ago.
City officials conceded that state approval will still be necessary to create a substantial amount of new homes through office-to-residential conversions. Adams called on the state to create a tax incentive for office conversions. The legislature let a tax incentive for constructing affordable housing, known as 421-a, expire last year and have not replaced it.
"We will do everything we can to get Albany to continue to move forward," Adams said. "But at the same time we are going to continue to do our job."
Loading...