---
Newsom Says California Went From Surplus To 'Tens Of Billions In Deficit' In Weeks, Won't Get By Without Federal Help
California Governor Gavin Newsom (D) says the nation's most populous state has flipped from 'tens of billions in surplus' to deficits over the course of weeks.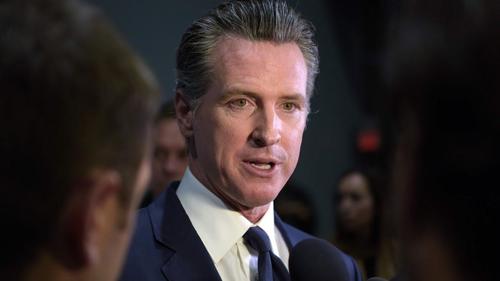 "Last year I did a May revise with a $21.4 billion budget surplus," Newsom said on Friday during his daily coronavirus briefing, according to Bloomberg. "This year I will be doing a May revise looking at tens of billions of dollars in deficit. We just went tens of billions in surplus in just weeks to deficits."
Newsom, a first-term Democrat, is scheduled to revise his budget proposal by May 14 with the latest estimates on revenue and spending. In January, he proposed a $153 billion general-fund budget that increased spending by about 2% from the current year that ends June 30 and socked away about $5 billion more into rainy day funds. -Bloomberg
With 30 million unemployment claims filed since the coronavirus pandemic resulted in the shutdown of broad swaths of the economy, states are reporting that they'll need at least $1 trillion in aid from the federal government - which has already doled out over $2.2 trillion in relief for business loans, stimulus checks, expanded unemployment benefits and small business assistance.
And with a lack of tax revenue, states with bloated budgets and massive entitlement programs are facing significant pain in the months ahead.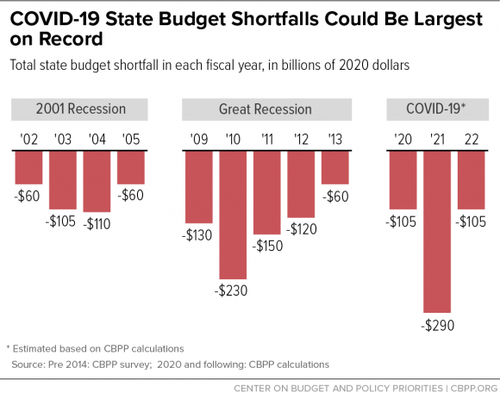 "I'm doing everything I can to work with cities and counties, but we are not going to be in a position, even as the nation's fifth-largest economy, to provide for the needs of all the cities and the counties without federal support," said Newsom.
Meanwhile, in a Thursday memo, Newsom's finance director ordered departments to significantly slash spending immediately using strict measures, including bans on new goods and service contracts.