---
November Payrolls Huge Miss: Just 210K Jobs Added, But Unemployment Rate Tumbles
With the median Wall Street economist expectation of a 550K print, just slightly above last month;s 531K, and whisper numbers of 564K, any number that came at or above (and wasn't a huge miss) would be seen by the market as validating the Fed's accelerated taper which could be announced as soon as Dec 15. Alas it was not meant to be, because moments ago the BLS reported that in November, the US added just a tiny 210K jobs (down a stunning 336K from October's upward revised 546K), and the smallest monthly increase since December!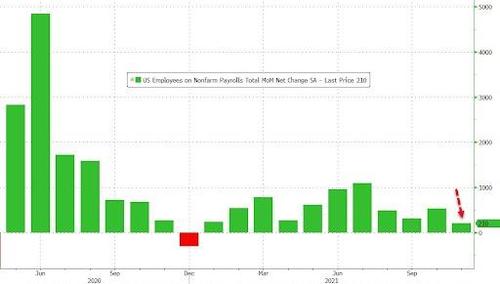 Needless to say, this was a huge miss to consensus expectations of 550K, and coming in at less than half the expected number the actual print was a whopping 5 sigma miss!

With the November gains, total payrolls remain some 3.9 million, or 2.6 percent, from its pre-pandemic level in February 2020.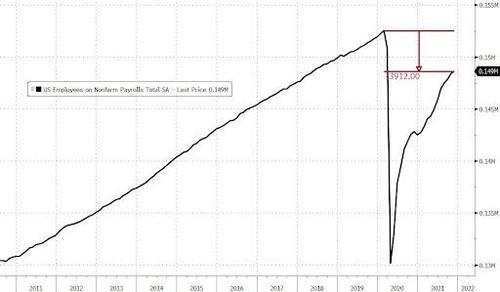 Still, as CNBC's Steve Liesman notes, this number does seem suspect and the reason is because as Goldman noted overnight, the BLS has revised up each of the prior six payrolls reports (including +235k with last month's release). It is thus probable that this month will also be revised higher, especially since the BLS revealed that the change in total nonfarm payroll employment for September was revised up by 67,000, from +312,000 to +379,000, and the change for October was revised up by 15,000, from +531,000 to +546,000. With these  revisions, employment in September and October combined is 82,000 higher than previously reported. So yes, the upward revisions continue.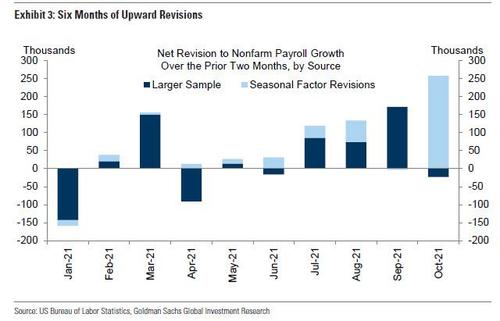 Adding to the confusion is that the Household Survey found employment rose by a whopping 1.136 million, up from just 359K last month, a substantial divergence from the more closely watched Establishment survey.
Some more details from the BLS:
Workers unable to work due to bad weather came in at 37,000. The historical average for November is 74,000.
Another 163,000 workers who usually work full-time could only work part-time due to the weather last month.
The number of persons employed part time for economic reasons, at 4.3 million, changed little in November. These individuals, who would have preferred full-time employment, were working part time because their hours had been reduced or they were unable to find full-time jobs. This figure was about the same as in February 2020.
The number of persons not in the labor force who currently want a job was 5.9 million in November, little changed over the month but up by 849,000 since February 2020. These individuals were not counted as unemployed because they were not actively looking for work during the 4 weeks preceding the survey or were unavailable to take a job. Among those not in the labor force who wanted a job, the number of persons marginally attached to the labor force was little changed at 1.6 million in November. These individuals wanted and were available for work and had looked for a job sometime in the prior 12 months but had not looked for work in the 4 weeks preceding the survey
Perhaps the bigger story was the plunge in the unemployment rate, which tumbled from 4.6% to 4.2%, beating estimates of 4.5%, and coming below the bottom of the range of 4.3%-4.6%.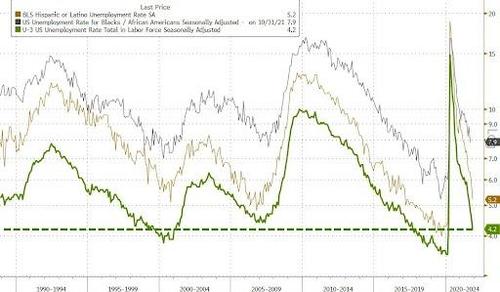 The chart above shows that the black unemployment rate dropped by 1% to 6.7%. It still has a ways to go before hitting it record lows... hit under Trump.
Additionally, as Bloomberg notes, the key metric in the household survey aside from the headline unemployment rate -- the prime working-age (25-54) employment-to-population ratio -- jumped by half a percentage point last month, marking the strongest advance since July. At 78.8%, there's still ground to cover to return to the pre-pandemic level of 80.5%, but if we keep going at this rate, we'll be there sometime next year.
The underemployment rate for young adults aged 16 to 24 in Nov. was 13.5%, with the total unemployed aged 16-24 at 1,584,000, the marginally attached workers aged 16-24 at 390,000 and those employed part-time for economic reasons aged 16-24 at 860,000. The youth civilian labor force (aged 16-24) was at 20,533,000.
As DeBusschere of 22V Research said, "WOW...OK. This number was all over the place. Significant miss on the headline number. But that's not the story. The u-rate declined significantly with a slight increase in participation. That is because the household employment number was +1.1 million, which is a huge number. Now, household is a volatile number, but it's hard not to assume this will ultimately be viewed as a somewhat positive report for the labor market -- unless we are totally missing something on the household reading. So we would fade the move lower in short rates."
Helping the plunge in the Unemployment rate is that the number of people Unemployed dropped from 7.419MM to 6.877MM. And with the labor force rising from 161.458MM to 162.052MM, the labor force participation rate jumped to 61.8% from 61.6% previously, the highest. print since the onset of Covid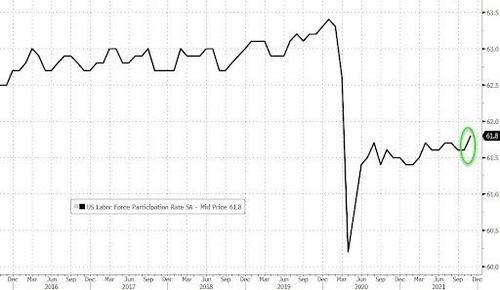 There was some more disappointment on the wage front, with average hourly earnings at 4.8%, missing expectations of 5.0% Y/Y, and flat from a downward revised 4.8% in October. On a M/M basis earnings rose 0.3%, also missing expectations of a 0.4% increase.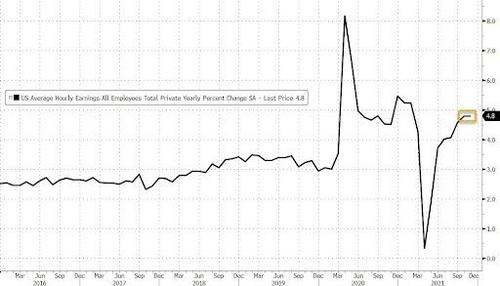 Average hourly earnings for all employees on private nonfarm payrolls increased by 8 cents to $31.03. Over the past 12 months, average hourly earnings have increased by 4.8 percent. In November, average hourly earnings of private-sector production and nonsupervisory employees rose by 12 cents to $26.40.
The average workweek for all employees on private nonfarm payrolls increased by 0.1 hour to 34.8 hours in November. In manufacturing, the average workweek edged up by 0.1 hour to 40.4 hours, and overtime was unchanged at 3.2 hours. The average workweek for production and nonsupervisory employees on private nonfarm payrolls was unchanged at 34.1 hours.
* * *
Looking at the components of the report, in November, notable job gains occurred in professional and business services, transportation and warehousing, construction, and manufacturing. Of note, it was another bad month for hiring in leisure and hospitality: "employment in leisure and hospitality changed little in November (+23,000), following large gains earlier in the year. Leisure and hospitality has added 2.4 million jobs thus far in 2021, but employment in the industry is down by 1.3 million, or 7.9 percent, since February 2020." Tetail trade also had a poor month. Here are the details:
Professional and business services added 90,000 jobs in November. Job gains continued in administrative and waste services (+42,000), although employment in its temporary help services component changed little (+6,000). Job growth also continued in management and technical consulting services (+12,000) and in computer system design and related services (+10,000).
Employment in transportation and warehousing increased by 50,000 in November and is 210,000 above its February 2020 level. In November, job gains occurred in couriers and messengers (+27,000) and in warehousing and storage (+9,000).
Construction employment rose by 31,000 in November, following gains of a similar magnitude in the prior 2 months. In November, employment continued to trend up in specialty trade contractors (+13,000), construction of buildings (+10,000), and heavy and civil engineering construction (+8,000).
Manufacturing added 31,000 jobs in November. Job gains occurred in miscellaneous durable goods manufacturing (+10,000) and fabricated metal products (+8,000), while motor vehicles and parts lost jobs (-10,000). Employment in machinery declined by 6,000, largely reflecting a strike.
Employment in financial activities continued to trend up in November (+13,000) and is 30,000 above its February 2020 level. Job growth occurred in securities, commodity contracts, and investments in November (+9,000).
Employment in retail trade declined by 20,000 in November, with job losses in general merchandise stores (-20,000); clothing and clothing accessories stores (-18,000); and sporting goods, hobby, book, and music stores (-9,000). These losses were partially offset by job gains in food and beverage stores (+9,000) and in building material and garden supply stores (+7,000).
Employment in leisure and hospitality changed little in November (+23,000), following  large gains earlier in the year. Leisure and hospitality has added 2.4 million jobs thus far in 2021, but employment in the industry is down by 1.3 million, or 7.9 percent, since February 2020.
Health care employment was about unchanged in November (+2,000). Within the industry, employment in ambulatory health care services continued to trend up (+17,000), while nursing and residential care facilities lost 11,000 jobs.
Commenting on the report, Bloomberg's Chris Antsey notes that this his is "a bad-news report from the perspective of the Fed and the Biden administration. It suggests that the job market is tight, even though we're making less-good progress in returning payrolls to their pre-pandemic level. It strengthens the argument of those saying that Covid-19 has imposed structural changes to the job market, and that pre-pandemic levels of employment aren't the right metric to use when thinking about full employment."
Others were more cheerful: "While the headline number disappointed relative to expectations, the big household survey figure, the rise in the workweek, the increase in the participation rate and employment to population ratio, along with the near 5% average weekly earnings print, all point to a Fed that will quicken the pace of taper as many have said, and we'll see how that goes before debating rate hikes," said Peter Boockvar, chief investment officer at Bleakley Advisory Group.
In his reaction to the market's kneejerk response which saw futures jump and yields initially dip then spike, BMO's Ian Lyngen writes that "treasuries were modestly bid immediately ahead of the payrolls report with 10-year yields as low as 1.418%. Since the release, we've seen the market rally a bit further, but is largely range-bond at the moment. The slight steepening impulse is a fade into the weekend; even if there is a policy angle underlying the sentiment."
Chris Zaccarelli at Advisor Alliance said that "we expect this report is a positive for equities and more negative for the bond market, although the knee-jerk reaction in markets has not shown this. Lower interest rates are not what we would expect given the Fed is likely to taper and raise rates more quickly. Clearly there is a lot of skepticism in the bond market over the strength of this economy."
Others were more sarcastic: "One of the weirdest reports I have ever seen," said Danny Dayan, chief investment officer at Dwd Partners. "The yield curve should be steepening on this in a big way, but rates market participants may be too wary to try that again."
Indeed, as Bloomberg analyst Katia Dimitrieva notes, ;ots of data in this report point to the structural shifts in the workforce and a clear gulf between workers and employers:
Number of people not in the labor force but who want a job remains about 850,000 higher than pre-pandemic
Long-term unemployed (jobless for 27+ weeks) is 1.1 million higher than pre-pandemic and barely budged in November
Number of people working part-time but wanting full-time remains 4.3 million
Yet as some noted, today's data may be completely meaningless and comparable to the Feb 2020 report when the world was going into lockdown, but employment data didn't show it yet. With Omicron having arrived, and it's just a matter of time before it imposes a new round of lockdowns, today's data sadly tells us nothing about how bad the US economy is about to be hit in order to make it easy for Biden to rush out a new round of trillions in stimmies.