---
Optimistic Fed Signals "Strengthening" Economy, Shrugs Off Inflation As "Transitory"
Inflation... or not?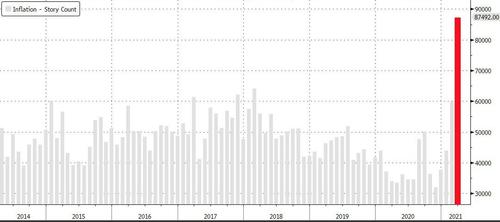 Source: Bloomberg
Since the last FOMC meeting, on March 17th, 10Y TSY yields are unchanged... while commodity prices have exploded higher...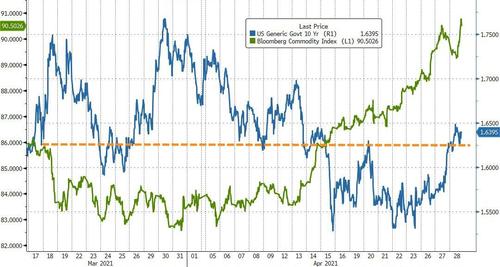 Source: Bloomberg
And to add to the confusion, real yields have tumbled...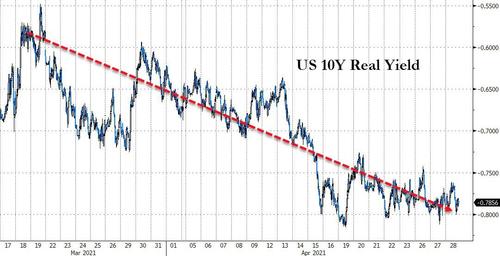 Source: Bloomberg
In that same period, the dollar has dropped 1% as bonds, bullion, and big-caps have all risen around 2%...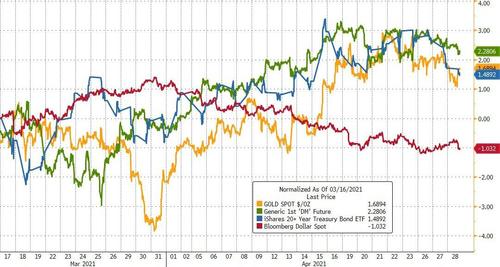 Source: Bloomberg
And then there's crypto... which has seen prices explode since the last FOMC meeting...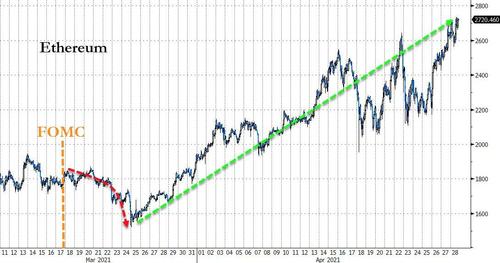 Source: Bloomberg
Expectations for the first Fed rate-hike are unchanged since the last FOMC meeting...(and remain well ahead of The Fed's forecast)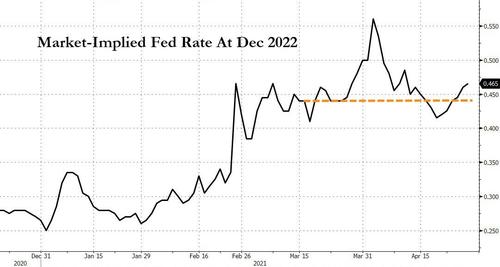 Source: Bloomberg
So, will Jay Powell and his pals recognize the solid vaccine trajectory, the removal of mask mandates, the surge in 'soft' survey data and improvements in spending and labor markets?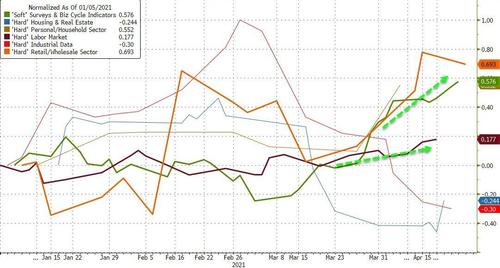 Source: Bloomberg
Or will he mention that US stock valuations have never, ever been more expensive...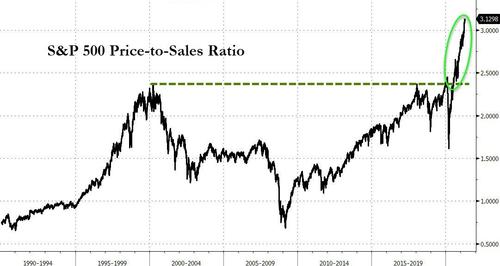 Source: Bloomberg
We doubt it - today is expected to be yet another snoozefest - perhaps the last snoozefest FOMC meeting before things start to hot-up:
June – tapering discussions begin to intensify as incoming data remains strong

June/July FOMC minutes, speeches and Jackson Hole – additional comments that participants are beginning to see signs of "substantial further progress"

September – adjustment to the post-meeting statement to acknowledge that "substantial further progress" is likely to be made "in coming months"

December – official announcement that tapering will start in January 2022

January – tapering starts, with a $20bn ($10bn) reduction in the pace of Treasury (MBS) purchases every six months. Tapering finishes by Q3 2023, the same quarter we expect liftoff
So what did The Fed do/say?
As expected The Fed kept rates and their bond-buying program unchanged.
They reflected some optimism, noting that economic activity and employment have strengthened.
Amid progress on vaccinations and strong policy support, indicators of economic activity and employment have strengthened.

The sectors most adversely affected by the pandemic remain weak but have shown improvement.
But couldn't help but offer some downbeat balance
The ongoing public health crisis continues to weigh on the economy, and risks to the economic outlook remain.
And most importantly, The Fed noted "inflation has risen, largely reflecting transitory factors "
* * *
If that is not enough, here is a snap analysis courtesy of Newsquawk which notes that there were no notable changes with the Fed slightly tweaking the statement (redline at the bottom of this post) to reflect better incoming data; softens view on risks to the outlook
The Fed made small changes to its policy statement, tweaking some of the language about activity and inflation to reflect the better tone of incoming activity data, as well as inflation picking up. These changes should merely be seen as a mark-to-market, rather than any upgrade of its outlook. The Committee now characterises economic activity as having "strengthened" (previously it noted that it had "turned up recently"); inflation meanwhile, is judged to have "risen, largely reflecting transitory factors" (previously it said inflation was continuing to run below the 2% target). In terms of the risks to the outlook, the Fed still sees "risks to the economic outlook" (previously it saw "considerable risks" to the outlook). There is no new signal on scaling back asset purchases. The FFR target range and IOER rates were both maintained, as was the current pace of asset purchases.
*  *  *
So given that relative nothing-burger statement, here are some topics to listen for during the press conference (via Bloomberg):
How does the Fed view the disconnect between the market, which is showing rate hikes expected to come as early as 2022, and the Fed's own forecasts, which suggest a move isn't likely before 2024?
What kind of downside risks to the U.S. economy does the Fed see from the resurgence of the coronavirus around the world, especially in places like India and Brazil?
How much improvement does the Fed want to see in labor-market indicators for historically disadvantaged groups, like the Black unemployment rate, before it begins raising rates?
What does the Fed mean by "transitory" -- how long would inflation have to run above its 2% target before it reconsiders that assessment?
... and via Newsquawk
In his press conference, it is likely that Fed Chair Powell will maintain the 'status quo', keeping his optimism grounded given large slack that remains vs pre-pandemic, and we do not expect any explicit taper signal from him. That said, there are a few phrases we will be on the lookout for:
"SOME TIME": The Fed Chair has said that it is likely to take "some time" for "substantial further progress" to be achieved; his opening remarks will be scrutinised to see how these phrases evolve, which may offer insight into when the Committee will seriously debate tapering monthly asset purchases.
"ON TRACK": Powell has previously said that when the Fed sees the economy "on track" to achieve this "substantial further progress", it would communicate that observation, which would presumably result in firmer guidance on the timeline and sequencing of scaling back its purchase rate.
"SUBSTANTIAL PROGRESS": Powell is yet to define the exact parameters of what "substantial progress" implies; analysts expect this will become more defined when the Fed wants to begin sending a taper signal.
Full Redline below...