---
"You're Too Low" - Audio Offers Glimpse Into Final Moments Before Deadly Crash That Killed Kobe
As the whole world (minus a few embittered journalists and feminists who couldn't resist trashing Bryant's legacy in the hours after his death) mourns the death of NBA legend Kobe Bryant and his 13-year-old daughter Gianna, more information about the circumstances of the crash has begun to leak out via the press.
And in one of the most disturbing reports, Sky News has managed to obtain the audio recording between pilot and air-traffic controllers. It appears the helicopter was held up to allow for other aircraft to pass, and it circled for about 15 minutes until it got clearance from air traffic controllers to continue.
The controllers mention poor visibility around the Burbank and Van Nuys areas, but the pilot talks to controllers normally before communication suddenly goes dead near the crash site at Calabasas.
The conversation between the pilot and the control tower begins about 50 seconds into this video:
Below is a map of the chopper's flight path.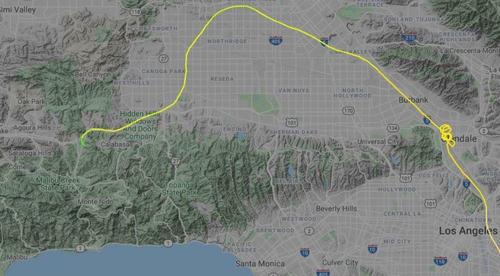 The chopper apparently crashed into a hillside, setting the surrounding brush on fire. The chopper was traveling at about 176 miles per hour when it hit the hillside at about 9:45 am PT on Sunday.
Another video that was shared by the New York Post and other media outlets shows the aftermath of the crash, as the smouldering wreckage can be seen stranded on a remote, sloping hill.
In another video that has been shared widely on social media, a witness to the deadly crash calmly explains what he saw. "As a sound engineer, you could tell that it was low," he said.
The man said he thought to himself "this is awfully low" considering the hilly terrain. Shortly after, he heard the impact. "However the impact happened, it ended very, very quickly."
According to the Associated Press, investigators suspect that the chopper that was carrying Bryant and eight others likely crashed because of unfavorable weather conditions, including a thick fog that required Bryant to obtain special permission to fly. At the time of the crash, conditions were so poor that the LAPD and county sheriff's office had grounded its helicopters.
The notion that Bryant's Sikorsky S-76 just happened to experience twin engine failure just doesn't seem plausible, according to aviation experts quoted by the AP.
Sadly, Dr Jonathan Lucas, LA County medical examiner, said the terrain complicated any rescue efforts and would make it incredibly difficult to recover all of the victims' remains.
The nine victims in the crash were identified in media reports early Monday. They included a basketball coach known as the 'Mother of Defense'. A mother and daughter who were friends with the Bryants through the sports team and a pilot with more than 20 years of experience flying aircraft in the area.