With Donald Trump tweeted shortly before today's GDP print that it is "The Greatest Economy in American History!"...
The Greatest Economy in American History!

— Donald J. Trump (@realDonaldTrump) October 30, 2019
... speculation immediately emerged that the president was hinting at a stronger than expected GDP print. And sure enough, that's precisely what happened when moments ago the BEA reported that in Q3, the US economy grew at a 1.9% annualized rate, well above the 1.6% expected, but still below the already weak Q2 print of 2.0%, and matching the second-weakest reading of the Trump administration.
The third-quarter increase in real GDP reflected increases in consumer spending, government spending, housing investment, and exports, while business investment and inventory investment decreased. Imports increased even though net trade subtracted from GDP for the second consecutive quarter.
The increase in consumer spending reflected increases in both goods (notably recreational goods and vehicles as well as food and beverages) and in services (led by health care and housing and utilities). Overall, personal consumption rose 2.9% in Q3, once again solidly beating expectations of a 2.6% print, after rising 4.6% prior quarter.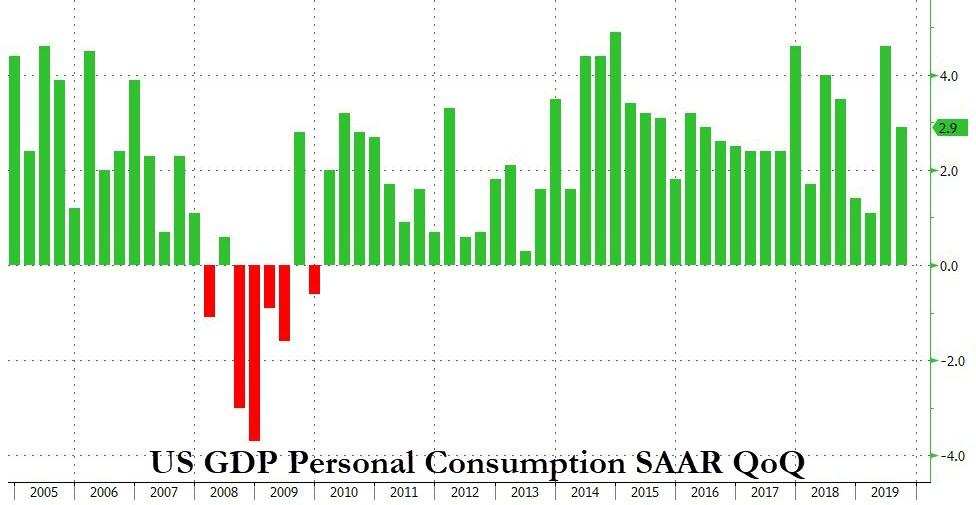 A curious observation: Personal consumption (which came at 1.93%) was 100% of Q3 GDP growth (also 1.93%). All other GDP components net to 0%.  Final sales to private domestic purchasers q/q rose 2.0% in 3Q after rising 3.3% prior quarter. Nonresidential fixed investment, or spending on equipment, structures and intellectual property fell 3% in 3Q after falling 1% prior quarter. Elsewhere, the increase in government spending reflected increases in both federal and state and local government spending. 
Some other details:
Q3 Personal Consumption accounted for 1.93% of the bottom line GDP, which incidentally was also 1.93%.
Fixed investment detracted -0.22% from the GDP print, the second consecutive quarter of declines
Private inventories also subtracted from GDP, reducing it by -0.05%, also the 2nd consecutive quarter of declines
Net trade (exports less imports) subtracted another -0.08% from the GDP print
Offsetting all non-consumption components was government spending, which increased by 0.35% in Q3
And visually: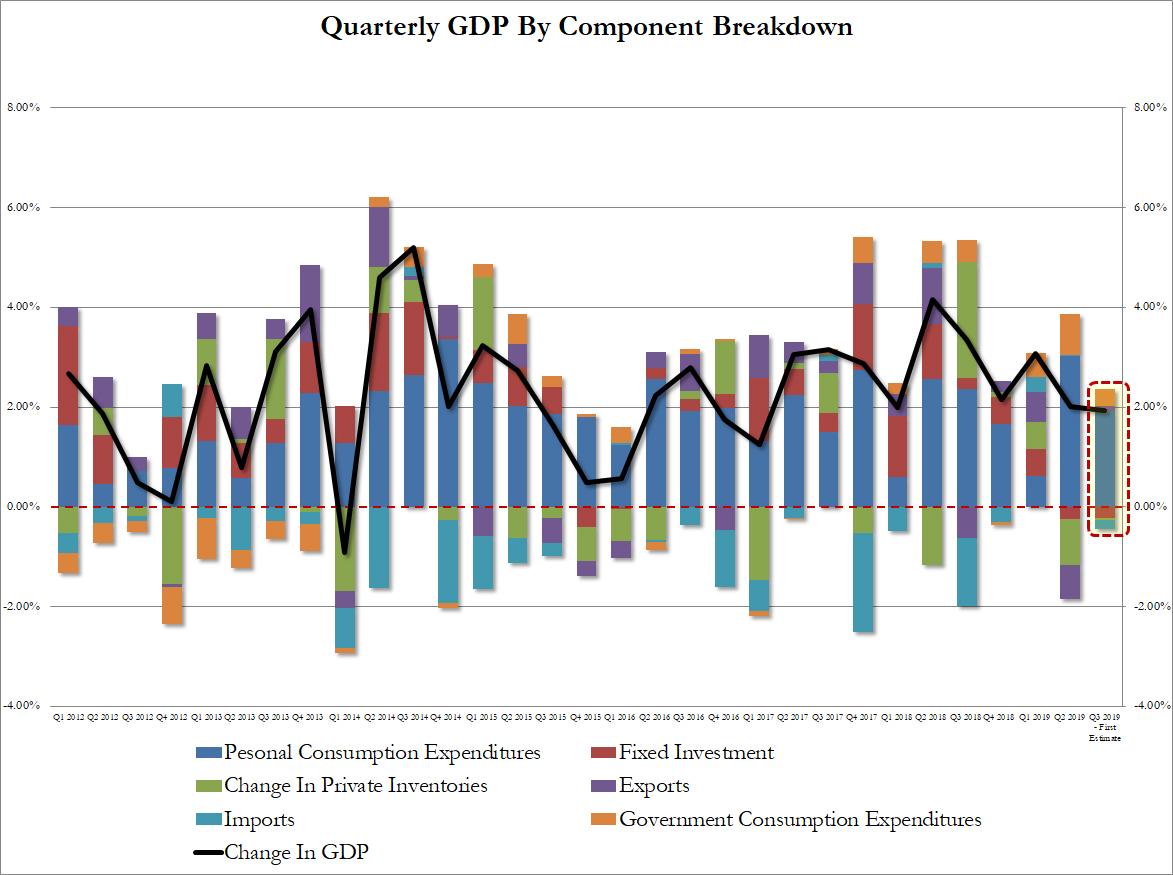 Separately, the BEA also reported that the GDP price index rose 1.7% in 3Q after rising 2.4% prior quarter, missing expectations of 1.9%, and suggesting that the Fed will likely proceed with another rate cut as its preferred inflation metric continues to shrink. At the same time, core PCE q/q rose 2.2% in 3Q - in line with expectations - after rising 1.9% in the prior quarter.
Overall, this was another goldilocks report, which while hardly confirming the "greatest economy in American history", gave the Fed green light to proceed with more rate cuts today at 2pm.