---
Rebound In US Factory Orders Disappoints In May
Having collapsed in March and April, US factory orders were expected to surge higher in May as reopenings began. From a 13.0% plunge in April, May's orders were expected to rebound 8.6% MoM but disappointed, printing +8.0% MoM.
This is still the biggest MoM rise since Aug 2014 but YoY, US factory orders remain down 15.8%
Source: Bloomberg
Having fallen to its lowest level since 2005, total factory orders rebounded only modestly...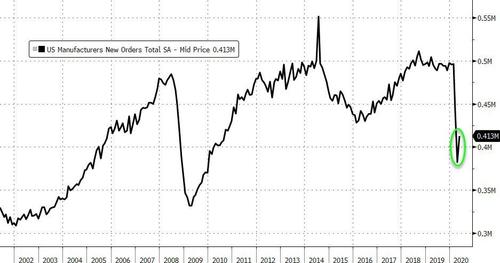 Source: Bloomberg
Ex-Transports, factory orders disappointed even more, rising just 2.6% MoM (against expectations of a 6.5% rise).
Additionally, final data for durable goods were also revised lower from the preliminary data.
This is not the 'v' you're looking for.