---
Rigged? China PMI Shows Services Industry Accelerated As Coronavirus Put Tens Of Millions Under Quarantine
Over most of January, the situation in China has gone from bad to worse to worst-nightmare with factories and stores shuttered for weeks, citizens in every province under martial-law lockdowns, and coronovirus cases (and deaths) soaring at faster-than-prior-pandemic rates.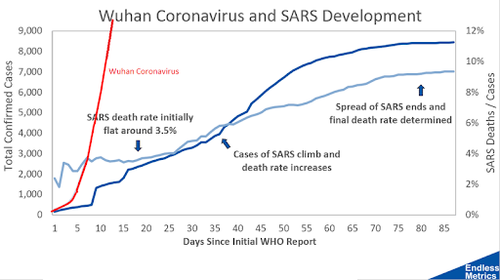 So it should be no surprise then that China's Service Economy expanded at an accelerating rate in January according to the latest government-provided PMI data.
Yes, you heard that right, against expectations of a slowdown (as would be expected with most of the nation hunkering down in terror), the National Bureau of Statistics reports that the non-manufacturing gauge improved to 54.1, compared with 53.5 the previous month (and better than the 53.0 expected).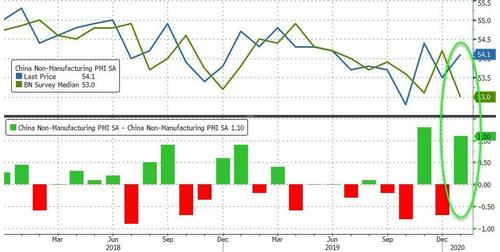 Reportedly, due to the Lunar New Year holiday, the surveys were conducted between Jan. 15 and Jan. 20, rather than between the 20th and 25th of each month as normal.
And you know how badly manipulated this survey is when the China's National Bureau of Statistics issues an additional statement admitting that "the impact of coronavirus is not fully reflected in January's PMI survey," suggesting that "future trends need to be observed."
However, if that is the case then what is more problematic is the fact the first official indicator of the Chinese manufacturing economy in 2020 signaled the nation's factories were struggling even before the country shut down for the Lunar New Year and the coronavirus outbreak worsened.
We suspect, judging by the record collapse in (Dr.) Copper, that the manipulated-ly perfect 50.0 - neither expanding or contracting - will need to be adjusted for some sense of reality soon...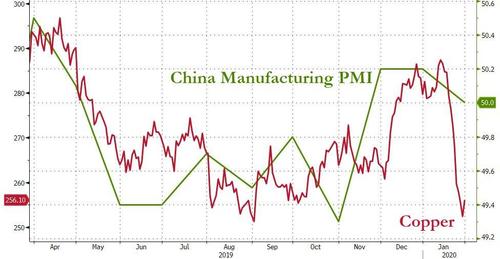 However, while the overall manufacturing survey dipped, the Steel industry PMI index surged to 47.1 from 43.1 in December.
So to sum up - China's worst ever epidemic, killing hundreds and putting 10s of thousands in hospital, shutting down factories, stores, and all transportation across the entire nation at one of its busiest most consumption-heavy times of year prompted a tiny drop in Manufacturing, a rise in the Services industry, and a surge in the Steel Industry!!!!
As a reminder, Nomura economists led by Lu Ting wrote in a recent report to clients that:
...the economic hit to China could exceed that seen during the SARS outbreak of 2003.

Gross domestic product growth could "materially drop" this quarter from the 6% pace at the end of 2019, maybe even more than the 2 percentage point deceleration seen in the second quarter of 2003.
Just don't tell the survey respondents!!
For some clarity on what is really going on - economically - here is none other than Michael Pettis, a professor of finance at Peking University's Guanghua School of Management, where he specializes in Chinese financial markets, unleashing some truth in a 9 tweet thread:
There's a lot of fear everywhere, and Beijing streets and shops are almost empty. People still buy things online – for example my students and musician friends are overdosing on games and streaming, and...

...one well-known musician told me last night that he did an online DJ set that attracted tens of thousands – but they buy very little that requires being near other people. What is worse, because factories will be closed, a lot of small business owners and workers, especially...

..at the bottom, will have sharply reduced income for the year, which of course means less consumption. It is hard to imagine that all of this won't have a significant impact on consumption growth in the first and perhaps second quarters (depending on when it starts to...

...subside). Some consumption might just be postponed, but some of it will be permanently lost, including much of what should have been spent during this very important holiday season (for example, this is the main time to release blockbuster movies, but all the theaters are...

...closed). Also if workers are unable to earn wages for a few weeks longer than expected, that's also permanently lost consumption. The more interesting question to me is whether all this will have much impact ultimately on the 2020 growth target of "around 6%", which will...

...be formally announced in early March. I suspect it won't, at most driving it closer to 5.6% than 6.0%. If that's the case, the economic impact of the coronavirus will be to increase debt even more than expected, as Beijing accelerates later in the year to make up for the...

...decline in the first and second quarters. It had already decided in Q4 2019 to push forward any and every infrastructure project it could think of, but now it will simply have to find more projects. The point is that while the coronavirus will certainly have an adverse...

...impact on "real" economic growth, it will probably have very little impact on aggregate economic activity for the year, which is just one more reason to reject an input measure as measuring anything useful. The main place to see evidence of the coronavirus impact is in the...

...lower consumption share of GDP and the higher credit growth. Finally there are also likely to be interesting political implications, but obviously that's not easy to write about.