---
"A Sense Of Euphoria": China's Auto Sales Have Officially Completed Their V-Shaped Recovery
Less than a year after the Wuhan Coronavirus outbreak began in China, eventually causing a global economic disaster, China is happy to report its automotive sales are back to normal.
How normal? Journalist Yang Jin recently wrote for Automotive News that when you step into a Chinese car dealership, "you can't help feeling a sense of euphoria". 
The article pointed out that at dealerships on Wuzhong Road in southwest Shanghai, employees were wearing masks and there were no customers back in February. Now, salesmen could be seen smoking and laughing outside on break, without masks.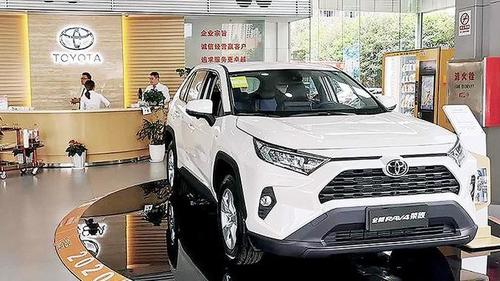 Salespeople at a local Toyota dealer were seen "chatting merrily". Their dealership has "run out of inventory". 
Zhang Feng, a sales consultant, said: "A customer has to wait for three months after placing an order for large crossovers like the RAV4, and about one month for other Toyota models." 
New vehicle sales were up 17% to 2.6 million in September as a result of massive government intervention and spending on infrastructure projects. Sales of commercial vehicles and buses were up 40% as a result. Light vehicle sales were up 8% for September, approaching 2.1 million.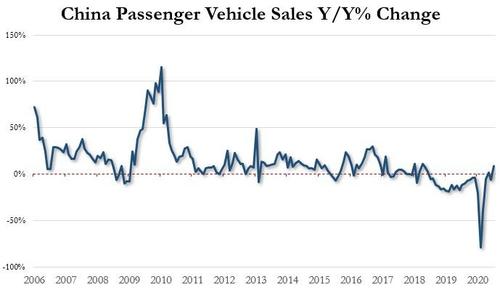 Toyota was the best performing brand during the month, with sales up 47%. GM also continued to recover, up 12% in the third quarter after plunging 43% in Q1 as a result of the pandemic and ensuing shutdowns. 
We noted back in early September that if China is truly the leading indicator globally, a V-shaped recovery could be in store for the rest of the world in coming months. China's vehicle sales rose to 2.18 million units in August, according to preliminary data released by the China Association of Automobile Manufacturers and Bloomberg.
This marked a 11.3% year over year gain and follows a 16.4% rise for auto sales in July. Still, passenger vehicles were down 9.7% for the year to 14.5 million units.
Sales of heavy duty cars were also up 75% year over year in August to 128,000 units. This put 2020's sales at 1.1 million units at the beginning of September, which was - unbelievably - higher than the same period for any year in the past.