---
Services Sector Survey Stupidity: ISM Soars Most Since COVID Rebound, PMI Signals Recession
After a mixed picture on the Manufacturing side of the US economy (though both ISM and PMI were in contraction), the Services sector was even more mixed:
S&P Global's US Services PMI rose from 44.7 to 46.8 in January (contraction for 7th straight month)
ISM Services soared from 49.2 (contraction) to 55.2 (50.5 exp) - the biggest surge since June 2020 and biggest beat since June 2020
Source: Bloomberg
After the biggest miss since 2008 in December, January's ISM Services beat by the most since June 2020...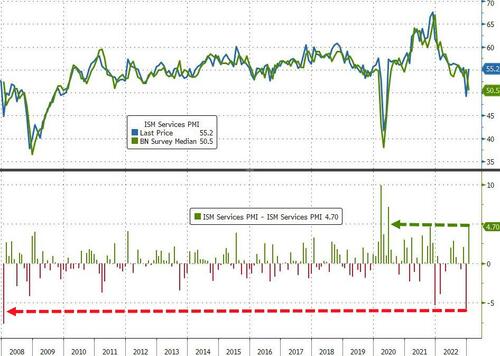 The ISM Services print is the only one not in contraction...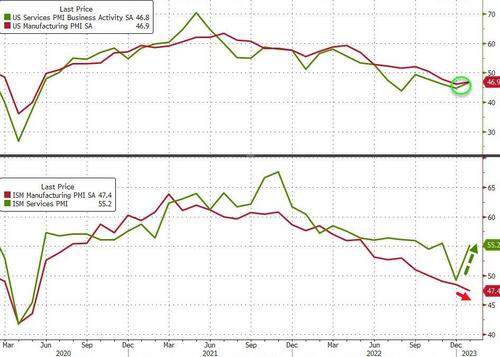 Under the hood of the ISM Services data, jobs, new export orders, and overall orders all jumped while prices slipped lower...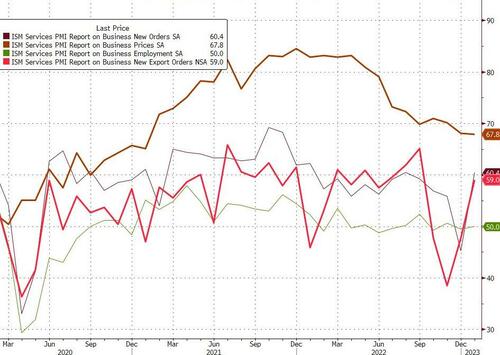 Chris Williamson, Chief Business Economist at S&P Global Market Intelligence, said:
"Business activity in the vast US services economy contracted in January as companies reported a further deterioration in new business inflows. Hiring has almost ground to halt as firms reassess their payroll needs in the light of the weaker demand environment.

"The downturn is being led by a slump in financial services activity, linked in turn to higher borrowing costs, with consumer-facing service providers also reporting especially tough business conditions amid the ongoing squeeze in spending due to the rising cost of living.

"The January survey meanwhile brought mixed messages on inflation. While costs were boosted in part by rising wage pressures, reflecting the tight labor market, tough competition once again limited scope to pass on these higher costs to customers in the form of higher prices."
But Williamson notes, he S&P Global US Composite PMI Output Index posted 46.8 in January, up from 45.0 in December, but being below 50 means it remains in contraction with total new orders falling modestly as weak domestic and foreign client demand hampered
new business.
"Combined with the fall in manufacturing output recorded during the month, the service sector's downturn at the start of the year adds to the risk that the US economy could contract in the first quarter.
Is that the picture that the market is clinging to when it prices in rate-cuts this year? And if that's true, why did the BLS just report a massive surge in jobs?
Loading...