---
"There's No Pollution" - NASA Satellite Images Expose China's "Production Has Resumed" False Narrative
We first pointed out the reality of China's 'official' return to production as a false narrative two weeks ago.
The key takeaways were:
The start of the new year normally sees higher pollution across China due to higher coal/fuel consumption for heating and resumption of industrial production after Chinese New Year.

Guangzhou, Shanghai and Chengdu see a clear pattern – air pollution is only 20-50% of the historical average. This could imply that human activities such as traffic and industrial production within/close to those cities are running 50-80% below their potential capacity.
And now, thanks to satellite images published by NASA and the European Space Agency (ESA), we have further confirmation that nothing is back in China.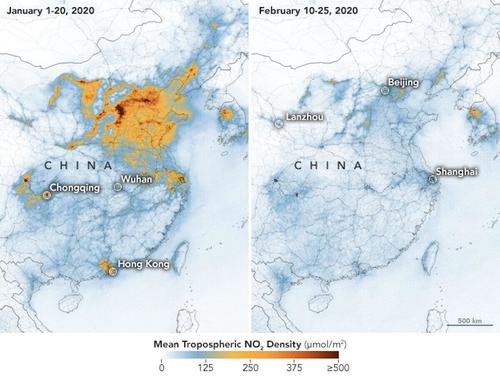 As The Epoch Times' Katabella Roberts writes, the images show a dramatic drop in levels of air pollution over China following the outbreak of the new coronavirus, which forced the shutdown of industry and transport.
Images taken by pollution monitoring satellites compare air quality between Jan. 1 and Jan. 20 with air quality between Feb. 10 and Feb. 25, and show a significant decrease in nitrogen dioxide (NO2), a toxic gas that gets into the air from the burning of fuel from vehicles, power plants and factories.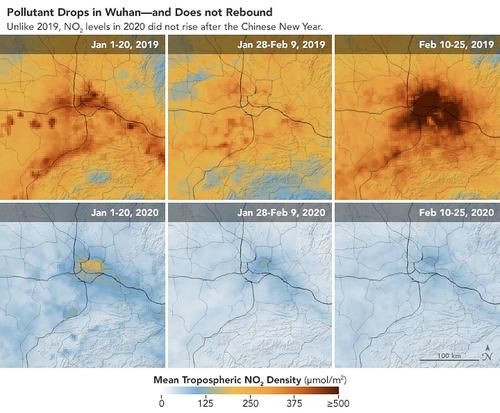 According to NASA scientists, the reduction in NO2 pollution was first apparent near Wuhan, which shut down transportation going into and out of the city, as well as local businesses by Jan. 23, in order to reduce the spread of the disease.
NASA said there is evidence that the change in air pollution is "at least partly related to the economic slowdown following the outbreak of coronavirus."
"This is the first time I have seen such a dramatic drop-off over such a wide area for a specific event," research scientist Dr. Fei Liu said.
However, scientists also noticed the reduction in the toxic gas also spread across the rest of China and coincided with the Lunar New Year celebrations in January, which they said usually sees businesses and factories close from the last week of the month to celebrate the festival.
"This year, the reduction rate is more significant than in past years and it has lasted longer," Liu said.

"I am not surprised because many cities nationwide have taken measures to minimize spread of the virus."
Additionally, researchers have not seen a rebound in NO2 after the holiday and noted that in 2020, the reduction rate is "more significant than in past years and it has lasted longer."
Of course, we only need to look at the collapse in the PMIs to know nothing is back... yet. And hope for any v-shaped recovery should be rapidly discounted as not coming anytime soon.
On the bright side, Greta must be cheering the deadly Covid-19's spread across the world.