---
Thousands Of SoCal Hotel Workers Go On Strike
Thousands of hotel industry workers in Southern California went on strike over the Fourth of July weekend in hopes of gaining a new contract with higher wages and benefits, according to the employees' union.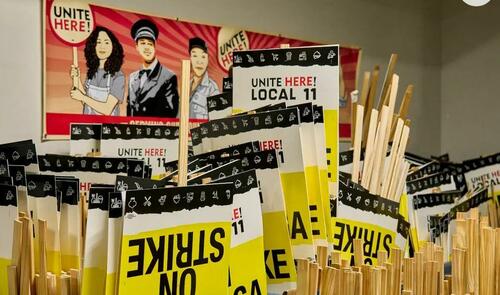 Cooks, dishwashers, servers, room attendants, bellmen and other non-managerial hotel staff from UNITE HIRE Local 11, which represents over 32,000 hospitality workers in California and Arizona, were seen picketing outside major hotels in Los Angeles and Orange counties the morning of July 1, according to the union's Twitter account.
Last month, 96% of union members voted in favor of authorizing the strike after negotiations - which began on April 20, stalled out, according to CNBC.
Hotel worker strike: Ritz-Carlton, JW Marriott LA Live, Beverly Hilton, Fairmont Miramar, Anaheim Hilton, and Four Seasons Regent Beverly Wilshire, and Sheraton Universal City workers need a $5 increase to afford SoCal cost of living. @UNITEHERE11 pic.twitter.com/dUqz6P0oLP

— Heather Parker Penzkofer (@hparker) July 2, 2023
The union says that around 15,000 workers at 65 hotels represented by Local 11 in LA and Orange counties saw their current contract expire midnight on June 30.
Affected hotels include Hyatt properties, Hilton Hotels & Resorts and Marriott International. One day before the strike, the union struck a deal with the Westin Bonaventure in Downtown Los Angeles.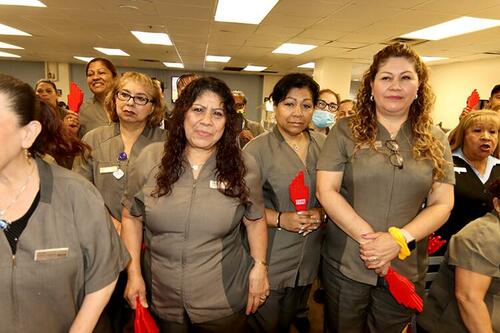 Hilton Hotels & Resorts, Marriott International, and luxury hotels like the Westin Bonaventure in Downtown Los Angeles and the Beverly Wilshire in Beverly Hills.
The primary reason for the strike is the cost of living, as raging inflation means that workers - who often live far from their places of employment - can no longer afford to make ends meet. They are demanding an immediate $5 per hour boost in wages and a $3 boost annually for the next three years.
The union points out that while hotels themselves were bailed out during the pandemic, the industry has exceeded pre-pandemic levels of profit, while wages have not kept up with the pace of inflation.
The City of Los Angeles Tourism and Convention Board said that tourism is back to 91 percent of 2019's pre-pandemic levels, while visitors spent $21 billion locally in 2022.

Labor representatives said that housekeepers were making between $20 to $25 an hour, and they estimated that $39.31 an hour was needed to afford rent a two-bedroom apartment in greater Los Angeles.

UNITE HERE Local 11 says 53 percent of the workers it is representing have moved or are planning to move outside of Los Angeles. -Epoch Times
"Workers have been pent up and frustrated and angry about what's happened during the pandemic combined with the inability to pay their rent and stay in Los Angeles," said Kurt Peterson, co-president of UNITE HERE Local 11, in a statement.
"So people feel liberated, it's Fourth of July, freedom is reigning in Los Angeles and hotel workers are leading that fight."
Loading...