---
US Consumer Prices Rise For Seventh Straight Month, Shelter Inflation At Decade Lows
Today's inflation print is key. After significant signs of cost pressures (PMIs all signaling record or near record rising prices) and commodity prices breaking out from multi-year downtrends, analysts did expect a bump in CPI but nothing overly concerning.
As Marija Veitmane, senior multi-asset strategist at State Street Global Markets, warned, "The market is very relaxed about it and should we get high inflation that would be a big pressure. The 10-year is probably the key variable to watch. If you have a very strong positive surprise then you will probably start thinking about the Fed being a bit more aggressive in their intervention and pushing yields lower."
The final print actually matched expectations, rising 0.4% MoM (vs +0.2% MoM in November) pushingthe YoY print for the headline CPI up to +1.4%. This is the seventh straight rise in consumer prices..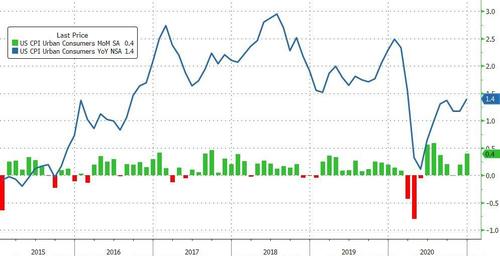 Source: Bloomberg
Under the hood, energy prices are soaring as used car costs are sliding...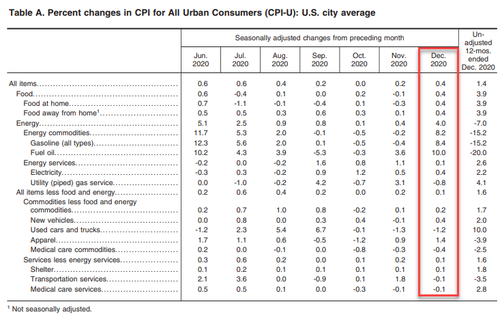 Food inflation is notable...
The food at home index increased 3.9 percent over the past 12 months. All six major grocery store food group indexes increased over the period. The largest increase was the meats, poultry, fish, and eggs index which rose 4.6 percent as the beef index increased 5.3 percent. The smallest increases were for the cereals and bakery products and the fruits and vegetables indexes, which both increased 3.2 percent over the last 12 months. The index for food away from home rose 3.9 percent over the last year. The index for limited service meals rose 6.0 percent and the index for full service meals rose 3.0 percent over the span. 
Energy inflation is mixed...
Despite the monthly increase, the energy index fell 7.0 percent over the past 12 months. Energy commodity indexes fell sharply over the period, with the fuel oil index declining 20.0 percent and the gasoline index decreasing 15.2 percent. Energy service indexes rose over the last 12 months, with the index for natural gas increasing 4.1 percent and the index for electricity rising 2.2 percent.
The index for used cars and trucks declined for the third consecutive month, falling 1.2 percent in December.
Goods inflation is accelerating as the rise in services costs are slowing rapidly...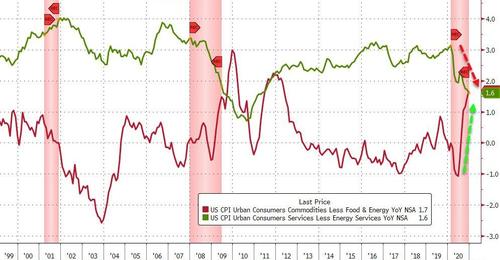 Source: Bloomberg
A silver lining, of sorts, is that shelter/rent inflation is slowing dramatically...as home prices soar?
Shelter Inflation 1.84% Y/Y, lowest since Nov 2011

Rent inflation 2.28% Y/Y, lowest since Oct 2011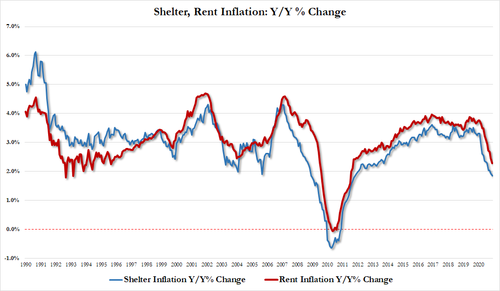 The debacle of 'owner-equivalent rent' strikes again: According to BLS housing inflation is at 10 year low even as home prices surge 8%, a 7 year high.