---
US Core Durable Goods Order Growth Weakest In 2 Years, Aircraft Orders Surge
Following November's unexpected collapse, analysts expected a big rebound in US durable goods orders in preliminary December data (despite Manufacturing survey data dismally deep in contraction). They were right but the scale of the rebound was almost unprecedented as Durable Goods New Orders roared 5.6% MoM (more than double the +2.5% expected)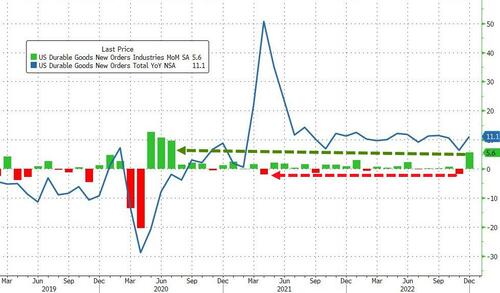 Source: Bloomberg
That is the biggest jump since July 2020.
The big driver of the headline surge was a massive surge in non-defense aircraft orders (the biggest monthly jump since Boeing's rip in Oct 2014)...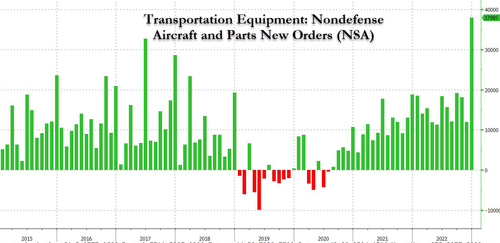 Source: Bloomberg
December's durable-goods orders was boosted by aircraft after Boeing received 250 orders - up from 21 in November and 122 in October - according to data compiled by Bloomberg Intelligence. That was the largest monthly gross order since December 2017.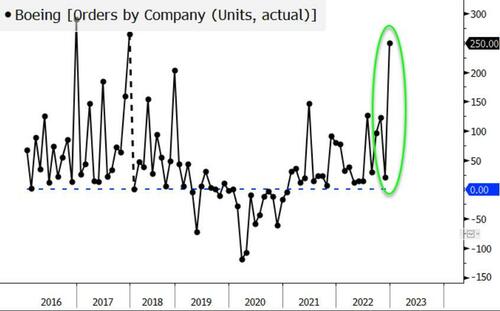 Source: Bloomberg
Dow that look sustainable?
Which explains why the Durable Goods Orders Ex-Transports was so weak (down 0.1% MoM) and non-defense, ex-air orders tumbled 0.2% MoM...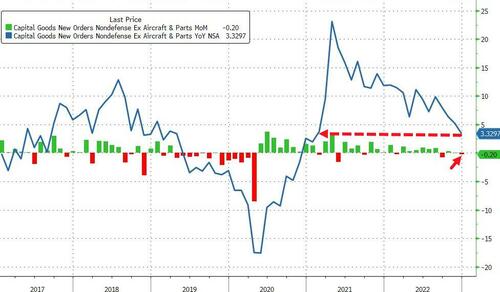 Source: Bloomberg
Which left the YoY rise in Core Durable Goods Orders up only 3.33% (well below inflation) - the weakest since Jan 2021.
A mixed picture for hawks and doves, and remember, December's ISM manufacturing survey showed factories facing weak demand. Most respondents in the survey were pessimistic, reporting that their companies and suppliers are uncertain about the course of the economy and are lowering forecasts for 2023.
Loading...