---
US Leading Economic Indicators Tumble For 14th Straight Month, Signals "Weaker Activity Ahead"
The Conference Board's Leading Economic Indicators (LEI) continued its decline in May, dropping 0.7% MoM (slightly better than the 0.8% decline expected).
The biggest positive contributor to the leading index was building permits at 0.15

The biggest negative contributor was average consumer expectations at -0.29
This is the 14th straight monthly decline in the LEI (and 15th month of 17) -  the longest streak of declines since 'Lehman' (22 straight months of declines from June 2007 to April 2008)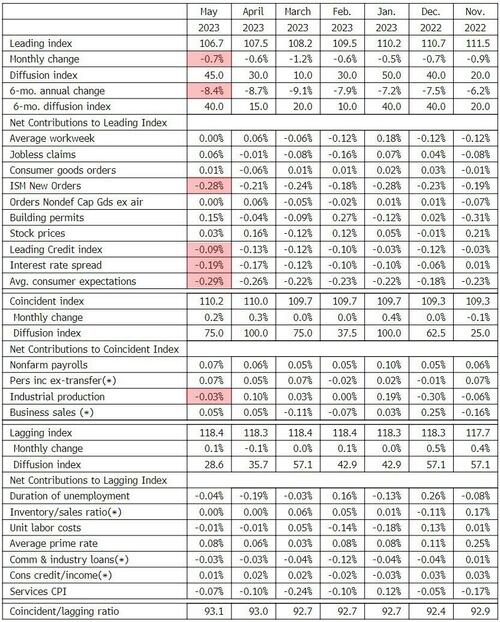 "The US LEI continued to fall in May as a result of deterioration in the gauges of consumer expectations for business conditions, ISM® New Orders Index, a negative yield spread, and worsening credit conditions," said Justyna Zabinska-La Monica, Senior Manager, Business Cycle Indicators, at The Conference Board.
"The US Leading Index has declined in each of the last fourteen months and continues to point to weaker economic activity ahead.

Rising interest rates paired with persistent inflation will continue to further dampen economic activity. While we revised our Q2 GDP forecast from negative to slight growth, we project that the US economy will contract over the Q3 2023 to Q1 2024 period.

The recession likely will be due to continued tightness in monetary policy and lower government spending."
Despite 'soft landing' hype, the LEI is showing no signs at all of 'recovering', hitting its lowest since Dec 2017 (outside of COVID)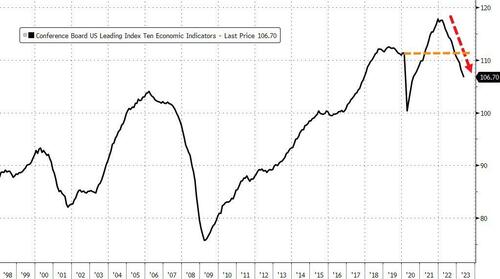 And on a year-over-year basis, the LEI is down 7.9% - close to its biggest YoY drop since 2008 (Lehman) outside of the COVID lockdown-enforced collapse...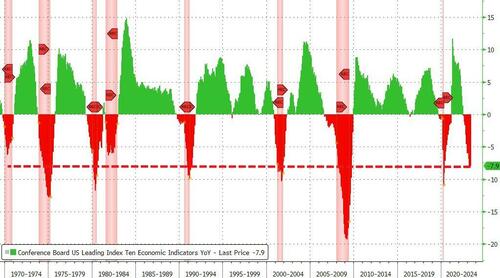 Not a good sign for Real GDP...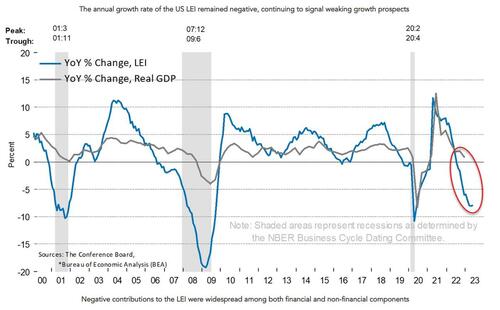 The trajectory of the US LEI continues to signal a recession over the next 12 months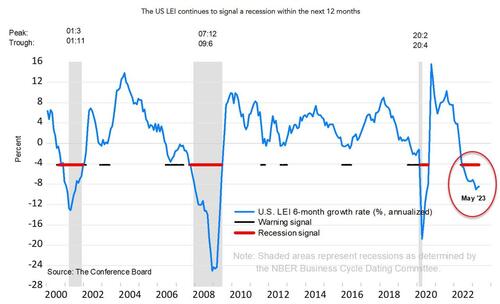 Is this the cleanest view of The Fed's tightening impact on the US economy?
Loading...