---
US Manufacturing Production Rebounds In June By Most In 75 Years
Following May's impressive MoM rebound from the March/April collapse, analysts expected June to see more follow-through for US industrial production as the economy re-opened.
Industrial Production rose 5.4% MoM (smashing the 4.3% MoM expectation). This is the biggest monthly gain since Dec 1959... but YoY is still down 10.8% YoY...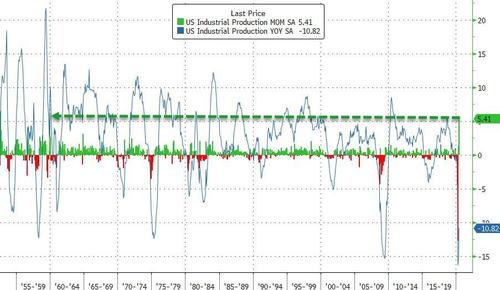 Source: Bloomberg
Manufacturing output increased 7.2 percent in June, but it was still 11.1 percent below its pre-pandemic February level; factory output fell 47.0 percent at an annual rate in the second quarter. The index for durable manufacturing rose 11.6 percent in June. Despite substantial gains in the past two months, the output of motor vehicles and parts remained nearly 25 percent below its February level. The index for nondurables rose 3.4 percent, with sizable gains for apparel and leather and for plastics and rubber products. The output of other manufacturing (publishing and logging) increased 2.2 percent.
This was the biggest monthly rise for manufacturing since 1946...
Source: Bloomberg
However, putting that "rebound" in context changes things a little...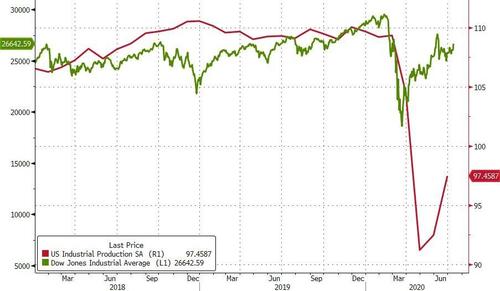 Source: Bloomberg