---
US Manufacturing Surveys Signal "Renewed Deterioration Of Business Conditions" In May, Orders/Prices Plunge
With overall macro data serially surprising to the downside in May, it is no surprise that expectations were for sub-50 (contractionary) prints for ISM & PMI Manufacturiung surveys this morning.
Manufacturing PMI slipped from its flash 48.5 level to 48.4 final in May, down from 50.2 in April (the 6th month below 50 of the last 7)

ISM Manufacturing also disappointed, falling from 47.1 to 46.9 (below 47.0 exp) - the 7th straight month below 50.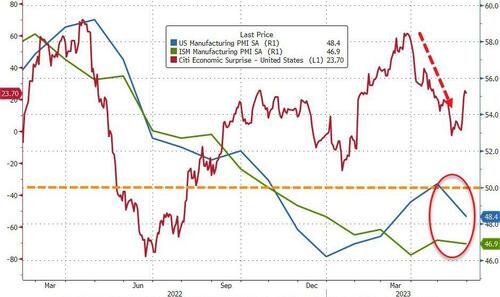 Source: Bloomberg
The good news - prices paid plunged back into contraction.
The bad news - new orders plunged to their biggest contraction since COVID lockdowns...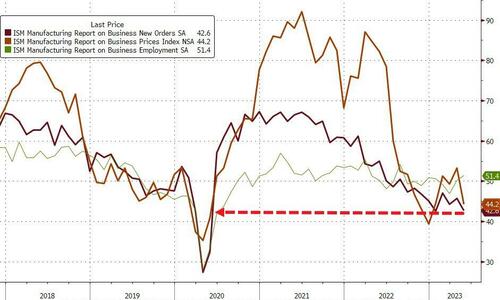 Source: Bloomberg
Chris Williamson, Chief Business Economist at S&P Global Market Intelligence, said:
"May saw a renewed deterioration of business conditions in the US manufacturing economy which will add to concerns about broader economic health and recession risks.

"Although a record improvement in supplier delivery performance helped manufacturers fulfil back orders in May, generating a third successive monthly rise in output, the overall rate of production growth remained disappointingly meagre thanks to a further drop in new order inflows.

"Unless demand picks up, production growth will move into decline seen as it is clearly unsustainable to rely solely on backlogs of orders, which are now being depleted at the fastest rate for three years. Hence companies are cutting back sharply on their input buying and seeking to minimise inventory, tightening their belts for tough times ahead.

"All of this is of course disinflationary, with manufacturers and their supply chains having seen pricing power shift rapidly from the seller to the buyer over the course of the past year, resulting in a dramatic cooling of industrial price pressures.

"We are likely to see further downward pressure on both output and prices for goods in the coming months, thanks to the demand environment which has been hit by higher interest rates, the increased cost of living, economic uncertainty and a post-pandemic shift in spend from goods to services.
Finally, Williamson notes that the one area of resilience is the labour market, "as firms continued to take on more staff to fill long-empty vacancies, though we should bear in mind that employment is typically a lagging indicator. It does nevertheless point to some upward pressure on wages."
Loading...