---
US Services PMI In Contraction For 6th Straight Month In December
Following S&P Global's signal of a second straight month of contraction in US Manufacturing, this morning's final print for December's Services PMI was expected at 44.4 (the same level as the flash print) but in fact improved marginally from the flash print to 44.7 (still back near the August lows)...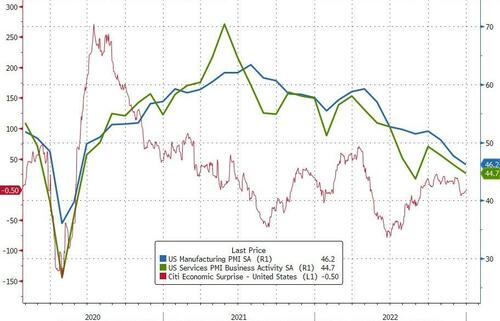 Source: Bloomberg
This is the sixth straight month of contraction for Services PMI.
Combined with the Manufacturing data, that pushes the US Composite Index down to XXXX, the worst of all the major regions...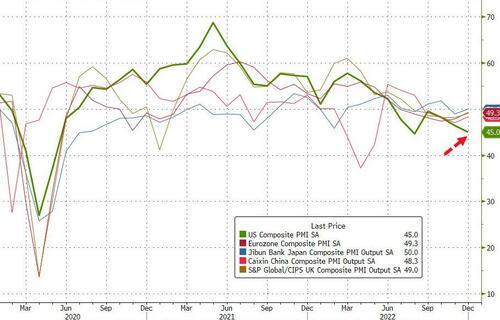 Source: Bloomberg
Based on the Composite PMI, the picture for Q4 economic growth looks dismal...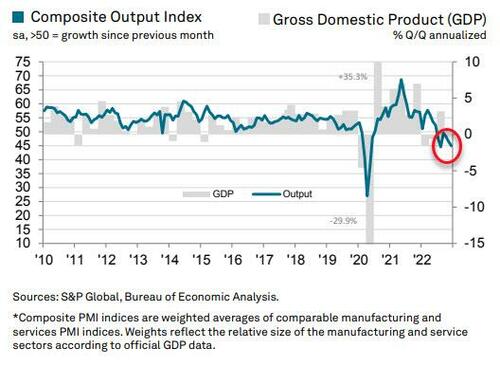 Siân Jones, Senior Economist at S&P Global Market Intelligence, said:
"US private sector firms brought 2022 to a close signalling marked obstacles to overcome with relation to the health of the economy. Contractions in output and new business were broad-based and gathered pace in December as customer unease led to dwindling demand and order postponements.

"Despite weak demand conditions, firms continued to hire staff. Nonetheless, the pace of job creation was only slight as some firms turned their focus to filling temporary worker and long-held skilled jobs vacancies, whilst others reported instances of employees being laid off.

"A notable development through the month was a stark easing in inflationary pressures across the private sector. Muted demand for inputs led to the least marked uptick in costs for over two years, while companies also saw a slower increase in selling prices in a bid to entice customers and boost sales. The pass through of cost savings in the form of customer discounts will likely signal further adjustments to inflation as we enter 2023."
Not exactly what Powell and his pals hoped to hear on employment... but good news on inflation.
Loading...