---
Stocks Tank As Collapse In Imports Triggers Smallest US Trade Deficit In 2 Years
The US Trade Balance stunned onlookers this morning as the goods trade deficit narrowed in November to its smallest in two years after imports collapsed. The $83.3 billion deficit was massively 'better' than the $96.3 billion gap expected...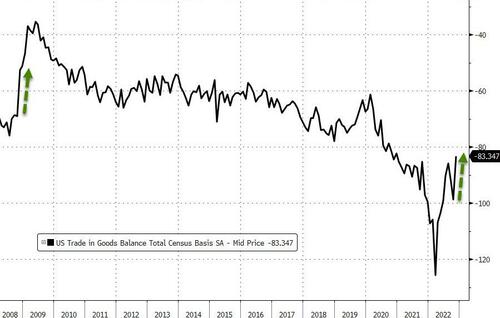 Source: Bloomberg
This is the biggest decrease in the deficit since 2009.
The shrinkage in the deficit was driven a 7.6% plunge in imports $252.2 billion, the lowest in more than a year. The value of exports also dropped, down 3.1% to $168.9 billion.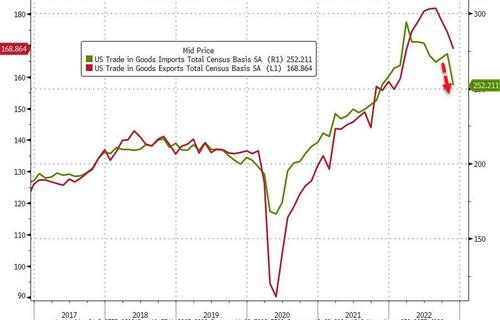 The decline in imports was broad based, led by a 13% drop in the value of consumer goods. Other inbound shipments of autos, food and beverages and industrial supplies also decreased, as did most export categories.
It appears the American consumer has largely been spending on services instead of goods in recent months.
Finally, this is a problem for Powell and the tribe of 'dovish'-hopers as this huge improvement in the deficit will juice Q4 GDP growth and provide more ammo for Powell's "higher for longer" rates narrative.
Which may help explain why stocks are tanking...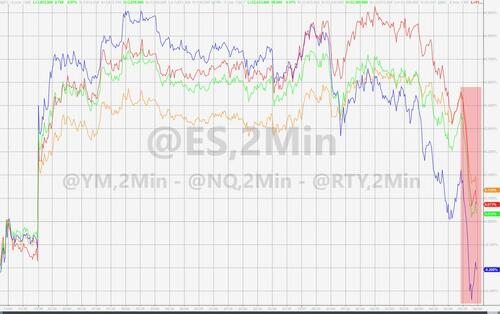 "Good" news is bad news for the Santa Claus rally.
Loading...