---
US Trade Deficit Surges To Record High In 2022 As China Flows Rebound
The US trade deficit for all of 2022 rose 12.2% to $948.1 billion, the widest gap on record, as the US continued to depend heavily on imports from other countries to meet domestic demand.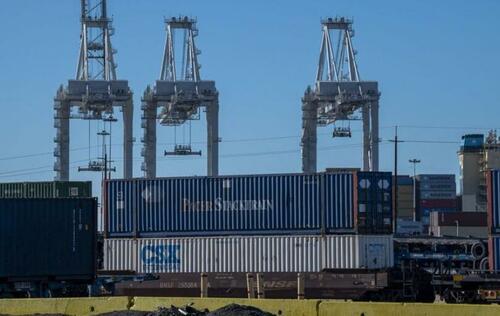 As The Wall Street Journal reports, exports also rose last year as global demand for American-made products picked up (but a soaring USDollar last year drove up the cost of American goods, exaggerating the annual deficit).
Global demand for U.S. exports has eased, Gregory Daco, chief economist, Ernst & Young LLP, said, adding imports are likely to come "under increased pressure in an environment where consumer spending and business investment growth are moderating," he added.
Perhaps most notably, Bloomberg reports that trade in goods between the US and China climbed to a record in 2022, keeping the world's two biggest economies deeply connected despite their governments' efforts to forge separate paths amid a range of geopolitical tensions.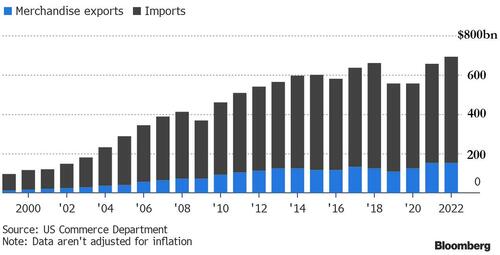 Total merchandise trade between the two countries rose to $690.6 billion last year, exceeding the record set in 2018, Commerce Department data showed Tuesday. we do note that the data are not adjusted for inflation.
The annual goods-trade deficit with China widened 8% to $382.9 billion, the biggest on record after the $419.4 billion shortfall in 2018.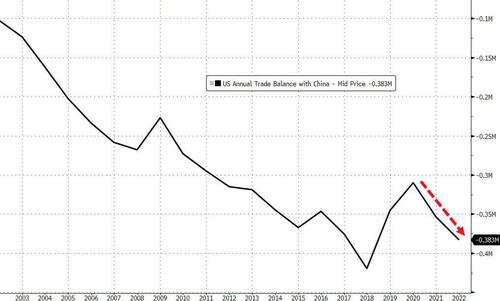 The value of merchandise exports to China climbed to an all-time high of $153.8 billion, while imports increased to $536.8 billion, just under the record set in 2018.
The commercial relationship between the economic rivals showed few signs of unraveling despite the ongoing tensions...
"It shows that consumers have minds of their own," said William Reinsch, who served as a top Commerce official in the Clinton administration and is now a senior adviser at the Center for Strategic and International Studies, a Washington-based think tank.

"At the market level, we're still doing a lot of business, despite the efforts of both governments. The macro relationship hasn't changed that much; we're still trading a lot."
Finally, we note that international commerce weakened across the globe at the end of the year. Trade trends reflect a normalization of commerce as the impact of the pandemic fades, Daco concluded: "Both supply and demand are rebalancing after a massive shock."
Loading...