---
US/China "Phase One" Agreement: Good Luck With The Compliance Review
Submitted by Christophe Barraud
On Tuesday, Bloomberg reported that "Senior U.S. and Chinese officials are planning to assess the nations' trade agreement this month against a backdrop of rising tensions between the countries, according to people briefed on the matter. The discussion on the so-called phase-one deal, led by U.S. Trade Representative Robert Lighthizer and Chinese Vice Premier Liu He, would take place on or around Aug. 15, six months after the agreement took effect, as directed in the text of the accord, the people said."
The meeting should be particularly tricky for the two nations. On the one hand, as I already noted, I'm almost sure that China won't fulfill its 2020 commitments. Even if the coronavirus pandemic can be an excuse to explain a part of the recent weakness, several analysts (including me) have already expected a miss since January. Latest figures, released yesterday, confirmed that China was far from meeting U.S. demands in 1H 2020. Looking at the details, Chinese purchases of U.S. goods improved a bit compared to May. However, using a linear extrapolation, they are still expected to decline in 2020 (compared to 2019), while "Phase One" deal implies a jump of more than 110%!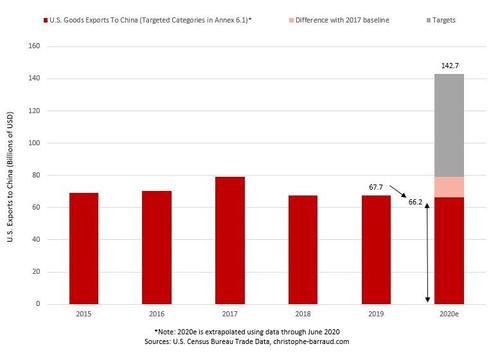 My results look coherent with those published by Chad P. Bown (a senior fellow and trade data expert at the Peterson Institute for International Economics). What is interesting is that he also looked at the other side of the trade namely Chinese data of U.S. imports. Once again, conclusions seem to be the same given that he noted "Through the first six months of 2020, China's purchases of all covered products were thus only at 46 percent (US exports) or 47 percent (Chinese imports) of their year-to-date targets."
Today's US data release:

At the 2020 midpoint, China's purchases of US export products covered by Trump's Phase One deal are at only 46% of their year-to-date targets. https://t.co/L2Be1ozw68

— Chad P. Bown (@ChadBown) August 5, 2020
Among the different sectors, energy is clearly the biggest loser. Yesterday, Reuters reported that "China bought only 5% of the targeted $25.3 billion in energy products from the United States in the first half of 2020… China imports of crude oil, liquefied natural gas (LNG), metallurgical coal and other energy products totalled around $1.29 billion this year through June, according to Reuters calculations based on China customs data.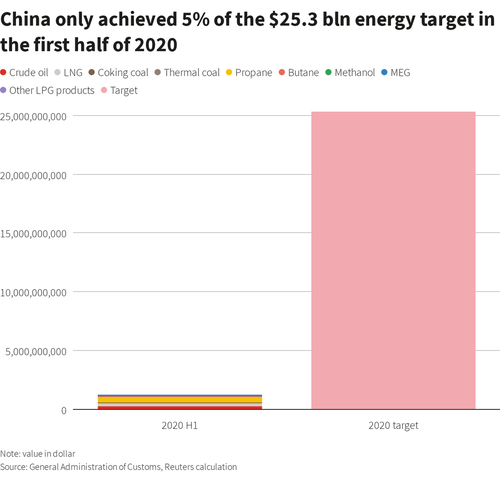 On the other hand, even it looks evident that China won't match U.S. demands, the Trump administration is unlikely to recognize this fiasco three months ahead of the Presidential elections (November 3rd). The Trump administration has already been under pressure in polls due to its management of the coronavirus crisis and it's pretty clear that another defeat on the trade front would be unwelcomed right now. As a result, it won't be surprising to see U.S. officials downwplaying the H1 miss and arguing that coronavirus crisis has been the main escuse. They could also highlight that the recent trend improved (which is totally true) however, reality is that Chinese purchases of U.S. goods remained well below expectations. There could be a serious question of credibility in a context where Biden supporters are likely to oppose this interpretation.
🇺🇸 🇨🇳 U.S., #China Plan to Review Phase-One #Trade Deal Mid-Month - Bloomberghttps://t.co/DlPvra8Ygp

— Christophe Barraud🛢 (@C_Barraud) August 5, 2020