---
Warren Accuses Powell Of Being A "Dangerous Man", Says She Will Oppose Renomination
Update (1120ET): Call him "Jerome Danger"...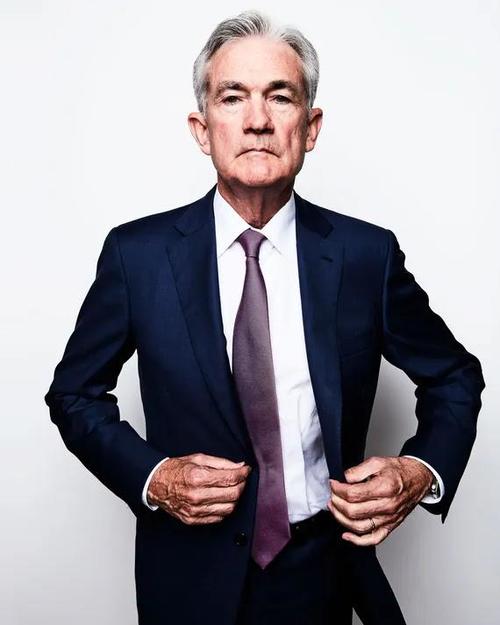 Just when we thought Sen. Warren's testimony was going to be all complicated disagreements about the Dodd-Frank and her long-simmering gripe about changes made to the Volcker Rule, the Senator accused Powell of being "a dangerous man" and said his renomination to lead the Fed was a risk "not worth taking".
"...your record gives me grave concern..." Warren said to Powell. "...over and over you have acted to make our banking system less safe... and that makes you a dangerous man..."
Although it wasn't exactly a surprise, Warren said she would vote against Powell to lead the Fed for a second term.
At one point, earlier in the discussion, Warren referenced the collapse of Archegos, and Powell insisted that the weakening of the Volcker Rule likely didn't have any impact on the Archegos situation. Warren claimed it weakened oversight of family funds.
The big question now is whether Sherrod Brown, the Senate Banking chair, might join Warren in opposing Powell's renomination.
Senator Elizabeth Warren says that Jay Powell is a "dangerous man" to have running the Federal Reserve, that he repeatedly acted to make the banking system LESS safe, and that she will oppose his re-nomination.

This Senate Banking Committee hearing just got REAL...@SenWarren pic.twitter.com/Ic8s4v9aA0

— Eric Martin (@EMPosts) September 28, 2021
Warren has been feuding with Powell all year, accusing him of doing too much to loosen regulation for American banks. Powell also said
Now that she's come out and confirmed her opposition to Powell's second term, it's time to brace for a flood of "Jerome Danger" memes.
* * *
Update (1106ET): The hearing has gotten off to a largely uneventful start, with Sen. Sherrod Brown prodding Powell about the lack of any "black women" serving in a senior role at the Fed (there's a gay woman, a gay black man, men of Asian descent...but no black women.
Brown also said he plans to introduce a bill to ban stock trading by Fed officials which is...hardly a surprise. Brown also insisted it's "too soon" to consider reversing the Fed's easy money policies.
Moving on, Republican Sen. Pat Toomey - the committee's Republican ranking member - waxed poetic about profligate spending by Congress, prompting Yellen to retort that there's nothing more damaging to the dollar and its reputation than failing to raise the debt ceiling. Toomey also discussed the 'FedCoin' - the stablecoin being explored by the Fed - saying he would be a fan of it...but insisted that "we shouldn't design a digital dollar that allows the Fed to spy on Americans' every transaction."
Richard Shelby, another Republican, asked Powell whether the Fed still monitors the Philips' Curve, an economic concept that represents the relationship between employment and inflation. Since the dawn of the post-GFC stimulus, the relationship has largely come unglued, something Powell acknowledged in his response.
After Republican Sen John Kennedy pressed Democrats about raising the debt ceiling, claiming it's their responsibility since they control the executive branch and both chambers of Congress, Dem Sen. Robert Menendez retaliated by accusing Republicans of helping to pile on the debt, then "walking away from it".
Menendez (who infamously skated on corruption charges a couple years back and still somehow remains in office) also seized on the opportunity to slam the Fed over "diversity" as well. In her response, Yellen pointed out that the Fed has been active in hiring "Latinos" and that just in the past three weeks, the agency has extended several offers to "Latino candidates."
Somebody should probably send her a memo about how the proper nomenclature is now "Latinx".
* * *
Once again, Fed Chairman Jerome Powell and Treasury Secretary Janet Yellen will deliver testimony to the Senate Banking Committee Tuesday  (followed one day later by testimony to the House Financial Services Committee) - testimony that's mandated as part of the CARES Act.
In his testimony to be delivered to members of the powerful Senate Committee starting at 1000ET, Powell acknowledged the economy has been strengthening, but also warned about the growing risks of inflation, which may remain higher for longer than anticipated as the delta variant continues to scramble American supply chains.
"As reopening continues, bottlenecks, hiring difficulties and other constraints could again prove to be greater and more enduring than anticipated, posing upside risks to inflation," Powell said in prepared remarks released on Monday evening.

"If sustained higher inflation were to become a serious concern, we would certainly respond and use our tools to ensure that inflation runs at levels that are consistent with our goal."
After Senate Republicans blocked a bill to raise the debt ceiling (as expected), Treasury Secretary Janet Yellen is turning up the pressure by establishing a debt ceiling "drop dead" date of Oct. 18.
In her prepared remarks, Yellen implored lawmakers to raise the federal government's statutory borrowing limit. Not doing so would cause "a catastrophic event for [the] economy."
"We now estimate that Treasury is likely to exhaust its extraordinary measures if Congress has not acted to raise or suspend the debt limit by October 18," Yellen said.

"At that point, we expect Treasury would be left with very limited resources that would be depleted quickly" "It is uncertain whether we could continue to meet all the nation's commitments after that date."
The Treasury bills market reflects the heightened anxiety surrounding Yellen's "D-Day".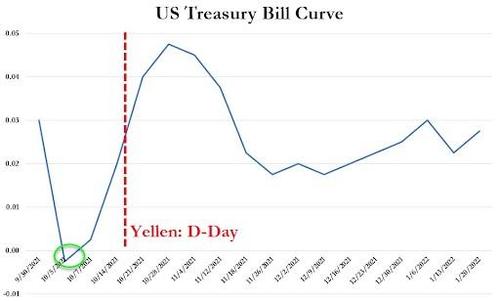 Powell will likely face at least some questions about the dual resignations of two regional Fed bank presidents yesterday.
It's likely Powell will also face some questions about the Fed's plans for tapering its asset purchases (which are currently at $120 billion a month) and raising interest rates in the wake of Wednesday's FOMC meeting.
Here are Yellen's prepared remarks:
And Powell's: