---
Watch Out: Swiss Timepiece Shipments Hit Three Decade Low
Aggregate discretionary spending power among global consumers seems to be waning at the moment, coinciding with a global slowdown that has sent many manufacturing hubs across the world into a recession. Central bankers are concerned that the manufacturing slowdown has already transmitted weakness to consumers.
Diamonds, jewelry, and timepieces have seen lackluster demand in developed and emerging economies in 2019. This could be the result of consumers pulling back on spending as uncertainty builds in the global economy for 2020.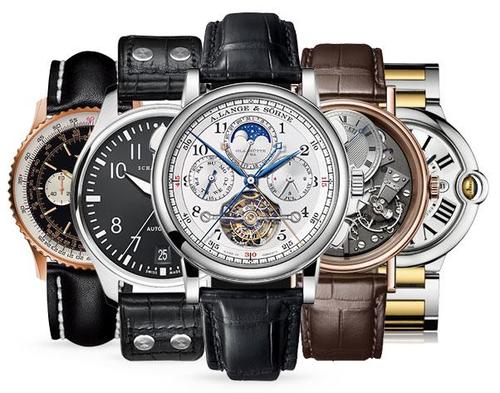 Focusing on Switzerland, the latest Federation of the Swiss Watch Industry report indicates exports have fallen to levels not seen since the mid-1980s as demand for low-end timepieces sinks.
The report notes that 18.9 million watches were exported in the first 11 months of the year were down 13% Y/Y.
Demand for Swiss watches sank to levels not seen since 1984 at 17.8 million units.
Bloomberg notes that smartwatches, such as Apple Watch, Samsung Galaxy Watch, and the Garmin smartwatch, have dented demand for Swiss watches under $200. The slump was also seen on higher-priced Swiss watches.
"There is only one way that the lower-end volumes are going, and that is downwards," said Deborah Aitken, an analyst at Bloomberg Intelligence. "Swatch needs to move up the value chain."
Watchmakers in the country are responding to evolving consumer trends with the focus on higher-end watches above $3,000 and up.
Much of the waning demand is coming from Southeast Asia, Europe, and other emerging market countries. Some of these countries are heavily reliant on China for economic growth and haven't retooled their economies for a decelerating China. Also, socio-economic chaos in Hong Kong dented demand as mainlanders refused to visit the city as violent protests continued into the sixth month.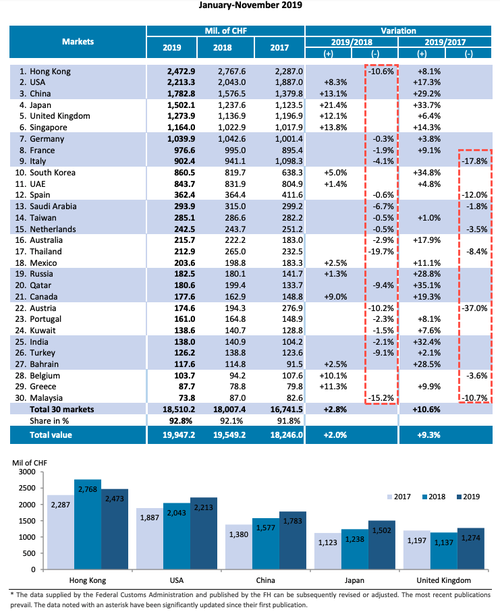 So could weakening consumer spending trends in diamonds, jewelry, and timepieces be an early warning sign that trouble is ahead for the global economy in 2020?