---
White House, Fed Warn Omicron Might Have Serious Impact On January's Jobs Number
Get ready for a sub-zero jobs print...
Brian Deese, a top economic advisor to President Biden and former "global head of sustainability" at BlackRock, became the latest Biden henchman to warn that omicron might have a larger than expected impact on January's jobs numbers when he spoke to the press on Tuesday.
OMICRON EXPECTED TO IMPACT JAN. JOB NUMBERS: DEESE
Of course, Deese isn't the first Biden lacky to start priming the public (and the markets) for another huge payrolls miss.
During yesterday's White House press briefing, Biden Press Secretary Jen Psaki claimed because of the surge in people calling out sick during the first half of January (when the data were being collected), the influence of omicron might have substantially alerted the headline number, potentially even causing it to go negative. The US hasn't had a negative monthly NFP jobs print since December 2020.
"Because omicron was so highly transmissible, nearly 9 million people called out sick in early January when the jobs data was being collected," Psaki told reporters. "The week the survey was taken was at the height of the omicron spike...As a result, the jobs report may show job losses, in large part because workers were out sick from omicron at a point when it was peaking."
Already, a Census Survey shows that an estimated 8.75MM Americans said they were not working in early January, either because they were infected with COVID or taking care of someone else who had contracted the virus. That's roughly 3x the level from the prior month.
And they aren't alone. At least two Fed presidents have warned about Friday's jobs print in recent days. Yesterday, Atlanta Fed President Raphael Bostic warned that January number would be lower than December and November.
*BOSTIC: SEES JAN. PAYROLLS LOWER THAN PRIOR MONTHS ON OMICRON

brace for a subzero print

— zerohedge (@zerohedge) January 31, 2022
But before investors start to worry, Philly Fed President Patrick Harker explained why he is a little less convinced that the Fed will hike rates 50 basis points because of the state of the economy, adding that the central bank needs to wait and see how the economic data looks over the coming weeks.
So, once again, 'bad news is good news' for stocks so please ignore the negative jobs print.
*HARKER: PROBABLY WILL HAVE BAD JOBS REPORT DUE TO OMICRON

Yes, yes, we get it: ignore the negative print

— zerohedge (@zerohedge) February 1, 2022
There's already some signs in the economic data that January's jobs number good reason to expect a low, or even negative, headline jobs number this month. One closely watched leading indicator, the ISM Composite Jobs Index, has fallen to its lowest level in months.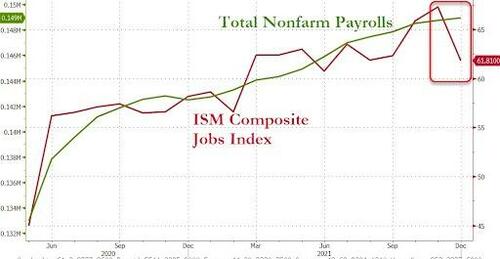 The US economy hasn't shed jobs since December 2020, when some 306,000 jobs disappeared as COVID cases soared while the government scrambled to produce a COVID vaccine. The median forecast among economists surveyed by Bloomberg is 150K, down from 199K as more economists have come around to this dimmer view.

Biden's people are already trying to get ahead of a negative number. But with the president's approval rating already in the gutter thanks to surging prices at the pump (and everywhere else), we look forward to watching him trying to spin this one.