---
Who's Hiring And Who's Firing In April: A Golden Age For Waiters And Card Dealers
It goes without saying: today's massive jobs report miss - the biggest since 1998 and the second biggest in history - was not pretty: with just 266K jobs added, this was a nearly 4-sigma miss to expectations of a 1 million print.

The reality is that the number could have been even worse: had it not been for some 187,000 workers added in food service and drinking places (i.e. waiters and bartenders) as well as 72,700 gambling, amusements and recreation workers (i.e., card dealers), the April print would have been virtually unchanged from last month.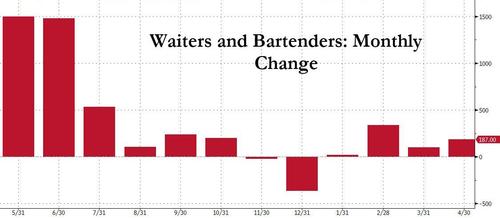 And a remarkable observation: part-time jobs plunged by the most since last March, because why work a dead-end part-time gig when the government will pay you double to do nothing.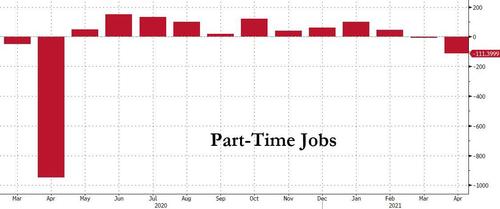 With that in mind, here is a breakdown of the jobs added in April:
Leisure and hospitality jobs increased by 331,000, as pandemic-related restrictions continued to ease in many parts of the country. As noted above, more than half of the increase was in food services and drinking places (+187,000). Job gains also occurred in amusements, gambling, and recreation (+73,000) and in accommodation (+54,000). Incidentally, although leisure and hospitality has added 5.4 million jobs over the year, employment in the industry is down  by 2.8 million, or 16.8 percent, since February 2020.
"Other Services" jobs increased by 44,000 with gains in repair and maintenance (+14,000) and personal and laundry services (+14,000).
Local government education increased by 31,000 in April. Federal government employment increased by 9,000 over the month.
Social assistance employment rose by 23,000, with about half of the increase in child day care services (+12,000).
Financial activities jobs rose by 19,000 over the month, with most of the gain occurring in real estate and rental and leasing (+17,000).
Within professional and business services, employment in temporary help services declined by 111,000 in April and is 296,000 lower than in February 2020. Business support services lost jobs in April (-15,000), while architectural and engineering services and scientific research and development services added jobs (+12,000 and +7,000, respectively).
In Transportation and warehousing, employment in couriers and messengers fell by 77,000 in April but is up by 126,000 since February 2020. Air transportation added 7,000 jobs over the month.
Manufacturing employment edged down in April (-18,000), following gains in the previous 2 months (+54,000 in March and +35,000 in February). In April, job losses in motor vehicles and parts (-27,000) and in wood products (-7,000) more than offset job gains in miscellaneous durable goods manufacturing (+13,000) and chemicals (+4,000).
Retail trade employment changed little in April (-15,000), following a gain in the prior month (+33,000). In April, employment declined in food and beverage stores (-49,000), general merchandise stores (-10,000), and gasoline stations (-9,000). These losses were partially offset by employment increases in sporting goods, hobby, book, and music stores (+20,000); clothing and clothing accessories stores (+10,000); and health and personal care stores (+9,000).
Health care jobs dropped by 4,000 in April as a job gain in ambulatory health care services (+21,000) was largely offset by a job loss in nursing care facilities (-19,000).
Construction employment was unchanged over the month. Employment in the industry is up by 917,000 over the year but is 196,000 below its February 2020 level.
And Visually: