---
California Forced Into Rolling Blackouts As Heatwave Sparks First "Stage 3" Energy Crisis In 20 Years
While the rest of the country was distracted by the stimulus talks and the ongoing coronavirus situation, another deadly wildfire season has begun in California. And with the state's prison population in the grips of an uncontrolled outbreak that has left thousands sickened and under quarantine orders - making them ineligible to fight fires - a dangerous heat wave is gripping the state, accelerating the spread of wildfires that broke out earlier this week, while also creating the state's first "Stage 3" energy crisis in 20 years.
The relentless heat wave is expected to endure until mid-week, and is sending temperatures soaring to 110 degrees Fahrenheit, exacerbating the fire situation and forcing millions of Californians to endure rolling blackouts.
The situation is compounding Californians' problems as a particularly dangerous time as hundreds of COVID patients depend on ventilators to breath. As officials issue warnings about energy use, strain on the grid due to air conditions and fans are threatening to cause a repeat of Friday's rolling blackout over the weekend.
Friday's blackout started at around 1830PT when California's grid operator determined that the state's power reserves had fallen below a critical threshold. The operator then called a "Stage 3 Grid Emergency", which triggered the "load interruption" - aka the blackouts.
According to ABC News, this is the first round of "Stage 3" blackouts facing the state since the 2000-2001 energy crisis that forced the state's largest utility - PG&E - into bankruptcy, and led to the ouster of former Gov Gray Davis. One key difference this time around is that PG&E is already in bankruptcy and pleading guilty to manslaughter.
With the Stage 3 engaged, the state's regulator called on its utilities to cut demand by about 1,000 megawatts, or enough to power about 750,000 homes, by California ISO's estimates. Based on average household size, these affected well over 2 million people based on the average household size.
"We had an energy shortfall," Anne Gonzales, a spokeswoman for grid manager California Independent System Operator, said in a phone interview late Friday.
Meanwhile, wildfires raged across Southern California.
On Friday night and Saturday morning, crews scrambled to protect homes from a huge wildfire dubbed "the Lake Fire", which has sprouted up north of Los Angeles, prompting some limited evacuations. Some homeowners, anxious about losing their entire dwelling to a fire, doused their homes in a product called Phos-Chek, a retardant chemical that makes anything flame-retardant. Though the awkward pink sludge can do a number on a home's paintjob.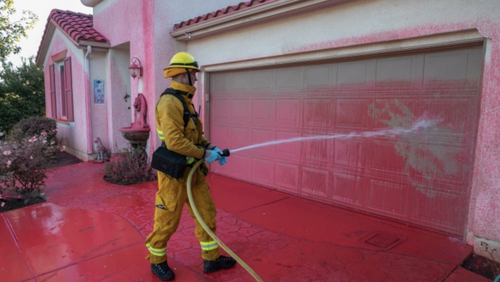 Thousands of homes are still being threatened by the 11,000 acre "Lake Fire".
On Wednesday, the fire exploded in size within hours after it broke out in the dense Angeles National Forest between Santa Clarita and Palmdale.
Towering plumes of smoke could be seen for hundreds of miles around.
As the end of the day on Friday, the fire was threatening more than 5,400 homes and was covering more than 11,600 acres, with containment at just 12% containment.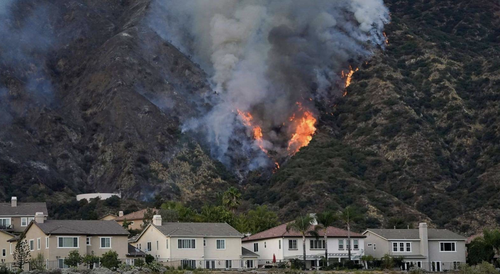 Nearby, the "Ranch Fire", currently burning in Azusa, is 2500 acres and only 3% contained. And with the "near critical" fire conditions set to continue, it's unlikely the state will be able to wrestle the blazes back to 0% containment, especially while also juggling the COVID and energy crises unfurling at the same time.
"This will be a major fire for several days," said Chief Robert Garcia with the U.S. Forest Service.
With COVID-19 raging, and wildfires threatening people's safety, the surge in temperatures is causing a commensurate surge in energy demand, which has suddenly overwhelmed California's famously flimsy energy grid. In a blackout that could directly threaten lives of the most vulnerable, as many as two million Californians were plunged into darkness over the course of four hours late Friday in the first round of rolling blackouts that are dredging up traumatic memories of the blackouts that rocked the state during the Gray Davis era.
As Mike Shellenberger (@ShellenbergerMD) eloquently pointed out:
California - is imposing black-outs for a 2nd time in a year - saw electric prices rise 6x more than rest of US, 2011 - 2019 - is shutting down last nuclear plant which creates cheap, clean, reliable power to 3M people - is the model Democrats want to impose on the rest of US
Heat alerts have been issued across the west, with states from Louisiana to Washington implementing them as of Saturday morning. In the afternoon, high temperatures are expected to break into the triple digits from Texas up through Southern California, with the high temps expected to endure until Wednesday.