---
California's Last Nuclear Power Plant Diablo Faces Closure Against Lawsuit
Authored by Elizabeth Dowell via The Epoch Times (emphasis ours)
An environmental group on Tuesday sued to block Pacific Gas & Electric (PG&E) from seeking to extend the federal operating licenses for California's last active nuclear power plant.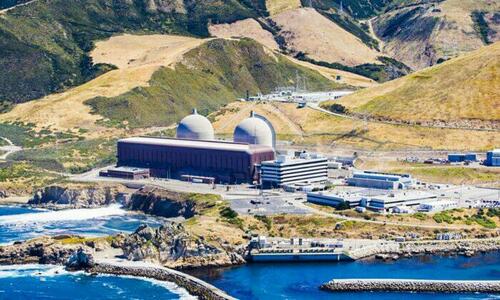 A complaint filed in the San Francisco Superior Court by advocacy group "Friends of the Earth" asks the court to prohibit the utility from sidestepping its 2016 agreement with environmentalists and plant workers to close the twin-domed Diablo Canyon Nuclear Power Plant by 2025.
In a Twitter post, the environmental group said, "We're taking PG&E to court to make sure California's last remaining nuclear plant is retired We won't stop until the aging, destructive Canyon is closed for good!"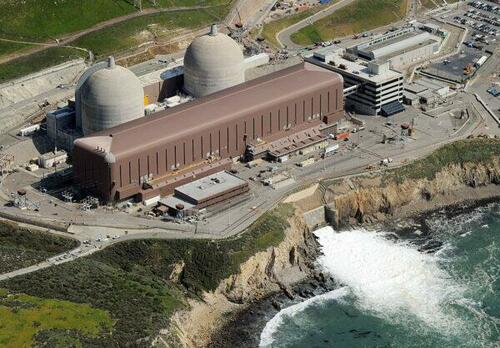 Hallie Templeton, legal director for Friends of the Earth, called out PG&E for allegedly backing out of their agreement.
"Contracts simply don't vanish into thin air," Templeton said in a statement. "Yet ever since California passed legislation supporting Diablo Canyon's extension, PG&E has been acting as if our contract has disappeared. Setting aside the agreement to retire Diablo, there are myriad legal prerequisites for extending operations of a nuclear power plant, including federal decisions that states cannot dictate.
"We hope our litigation can push PG&E to reconsider its potential breach and uphold its obligations, including preparing for the agreed-upon retirement."
The Diablo power plant runs along the Pacific Coast and has been operating since 1985.
California is the birthplace of the modern environmental movement that, for decades, has had a fraught relationship with nuclear power, which doesn't produce carbon pollution like fossil fuels but leaves behind waste that can remain radioactive for centuries, requiring special waste treatment.
Nuclear Reactor Needed to Maintain Reliable Power
The California legislature passed SB846 last year, which was signed by Democratic Gov. Gavin Newson, in an effort to extend the power plant's operations for another five years, according to the bill.
In March, Newson toured the Diablo Canyon Power Plant after it was announced that the plant may continue operating after its expiration date.
"As we experienced during the record heat wave last September, climate change-driven extreme events are causing unprecedented stress on our power grid—the Diablo Canyon Power Plant is important to support energy reliability as we accelerate progress towards achieving our clean energy and climate goals. I look forward to our continued work with the Biden-Harris Administration and the Legislature to build a reliable and resilient clean electric system," Newson said in a statement.
The California Energy Commission ruled earlier this year that continuing Diablo's operations past 2025 is needed to maintain reliable electricity supply throughout the state.
Siva Gunda, the Energy Commission's vice chair, said that Diablo is an important part of California's energy options.
"As California confronts a rapidly changing climate, extraordinary heat events and record energy demand are becoming increasingly ordinary. The state needs to keep all options on the table to protect public health and safety," Gunda said in a statement to LA Times. "This includes maintaining Diablo Canyon's operations."
In 2016, then Gov. Jerry Brown agreed to a proposal that would shut Diablo down by its original deadline, along with California utility regulators and state Legislatures, according to the document. This could pose a potential issue during the current lawsuit against PG&E.
According to the PG&E website, "Diablo Canyon has continued to safely produce clean and reliable energy without greenhouse gases (GHG), avoiding 6 to 7 million tons per year of GHGs that would be emitted by conventional generation resources," the site states.
PG&E said in a statement it had not yet seen the lawsuit but that, as a regulated utility, will follow state policy.
The Associated Press contributed to this report. 
Loading...