---
Chevron CEO Warns That Premature Transition To Low-Carbon Would Be "Painful And Chaotic"
Authored by Tom Ozimek via The Epoch Times,
Chevron CEO Mike Wirth said that maintaining secure and affordable energy supplies amid the push to decarbonize is one of the biggest challenges of the day while warning that a premature shift to low-carbon risks a disorderly transition that would be "painful and chaotic."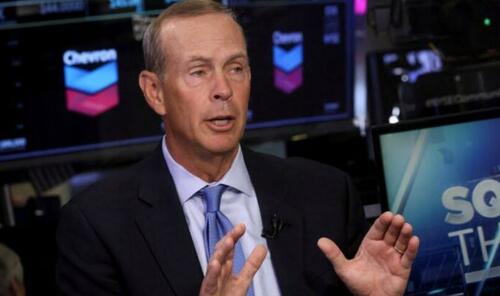 Wirth made the remarks during Monday's session of S&P Global's CERAWeek conference in Houston, Texas, one of the biggest annual events for the energy industry.
He told attendees that maintaining secure and affordable supplies amid the transition to the low-carbon economy was "one of the greatest challenges of all time."
Wirth warned that a disorderly energy transition could be "painful and chaotic."
"We have to be very careful about turning system A off prematurely and depending on a system that doesn't yet exist and hasn't been proven," he added.
His warning about the risks of a premature energy transition were echoed by other speakers, who urged industry leaders to avoid poorly thought-out policies that would disrupt energy supplies and drive up prices for consumers.
While some advocated for faster decarbonization, others emphasized the need for a well-planned and coordinated timeline for the transition.
Wirth's remarks highlight one of the key themes of the event, namely the so-called energy trilemma, which is balancing energy affordability, security, and transition.
'Cannot Responsibly Unplug the Energy System of Today'
Daniel Yergin, vice chairman of S&P Global and chairman of the CERAWeek conference, told Forbes that a major focus of the conference is how best to navigate in a "much more turbulent and confusing energy picture" that characterized the past year, which he said has been "very dramatic" for the industry.
Yergin cited Russia's invasion of Ukraine as one example of the turbulence impacting the industry. Disruption to fossil fuel supplies to both industry and consumers helped push fuel prices higher and contributed to decades-high inflation in the United States and elsewhere.
During Monday's conference, some industry insiders viewed the fallout from disruptions to Russian supply as a reminder to avoid hasty and ill-considered policies that cut off fossil fuels or drive up prices.
Sultan al-Jaber, chief executive of Abu Dhabi National Oil Company and president-designate of the COP28 climate summit, said in a keynote speech at the event that energy industry leaders should look to their experience and expertise to find ways to "decarbonize quicker" and "future-proof sooner."
At the same time, al-Jaber warned that the world "cannot responsibly unplug the energy system of today until the system of tomorrow is ready."
Liam Mallon, president of ExxonMobil Upstream Company, said during one of Monday's sessions that each country would naturally take a different path on energy transition, depending on the available resources.
U.S. energy envoy Amos Hochstein said that the most difficult part of decarbonizing is mapping out and coordinating a timeline.
"I think if you're going to go through the greatest transformation that the world has seen in over 100 years, of unplugging from one energy system and creating a whole other one, you can't just do it without planning it out," Hochstein said.
Energy Security
Yergin told Forbes that the disruptions of the past year or so have revived discussions about energy security, which had largely fallen off the table in the United States thanks to the shale revolution and with an added boost from former President Donald Trump's domestic energy policies.
"If you remember, seven or eight U.S. presidents talked about becoming energy independent, and it often seemed like, oh, well, that's just a campaign slogan, but it will never happen," Yergin told the outlet.

"But then, lo and behold, over a decade or so, the U.S. became energy independent. And that had a big economic impact. It's also had a big political impact. And it also meant that people sort of forgot about security. But that sure is back on the table today," he added.
In 2019, under Trump, the United States produced more energy than it consumed for the first time in 62 years, according to data from the U.S. Energy Information Administration (EIA).
Republicans have been critical of President Joe Biden for pushing energy policies that they see as hampering domestic production. They have often singled out Biden's cancellation of the Keystone XL pipeline and measures that restricted impending energy projects like halting new oil and gas leases.
Biden has made fighting climate change and de-carbonizing the economy one of the hallmarks of his presidency.
Trump, meanwhile, recently outlined his vision for America's energy policies, vowing to pull the United States out of the Paris climate deal if elected while pledging to eliminate regulations that hold back domestic energy production and promising to rapidly approve energy infrastructure projects.
Loading...