---
After its exuberant rip on the day that the latest OPEC+ deal was announced last week, crude prices have collapsed, with WTI plunging back below $60, as reality sets in on what that supply surge really means (combined with Iranian output rising) and demand fears (as European nations lockdown and China demand lags).
The OPEC+ decision to gradually raise output "was contrary to some expectations that the group would take a status quo approach over the near-term," said Robbie Fraser, manager, global research & analytics at Schneider Electric.

It also "suggests that members are both confident about a continuing demand recovery, and potentially cautious as U.S. shale looks to bounce back from 2020 losses."
But the rise in OPEC+ output combined with concerns over Chinese import demand may be factors in Monday's weakness.
The Financial Times reported Sunday that the People's Bank of China had instructed foreign and domestic lenders to keep loan growth in the first quarter at roughly the same level as last year, if not lower.
"This is not great news as the commodities cycle grows longer in the tooth and oil prices could be reacting adversely to this impulse," said Stephen Innes, chief global markets strategist at Axi, in a note.
Meanwhile, analysts pointed to signs of increased Iranian crude shipments despite U.S. sanctions, with a Reuters survey indicating Iranian supply rose by 210,000 barrels a day to average 2.3 million barrels a day in March.
The answer is evident as WTI crashed over 6%...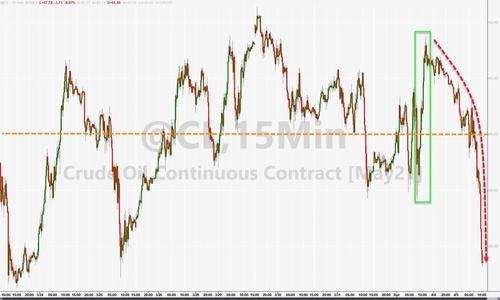 Of course, if ever you needed a reason to sell, it was Goldman Sachs' bullish call, saying that it anticipates strong demand that would require OPEC+ putting another 2 million barrels per day (bpd) on the market in the third quarter, after the around 2 million bpd that the alliance and Saudi Arabia decided to return between May and July.
"We forecast a larger rebound in oil demand this summer than OPEC and the IEA, requiring an additional 2 mb/d increase in OPEC+ production from July to October," Goldman Sachs said, as quoted by CN Wire.
The investment bank expects excess oil inventories to normalize by the fall of 2021.
That maybe the case, but for now, traders ain't buying it.